Alumni Updates Summer 2020
Updates from forestry alumni.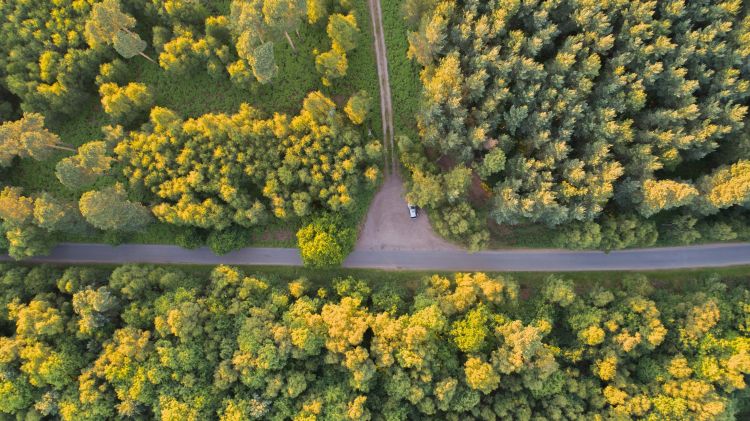 RODNEY RUGG | BS '54
After graduation, Rodney was hired by the Michigan Department of Conservation and started in Newberry working on FIA plots, then was transferred to Onaway and the Black River State Forest working with Andy Braidwood. He then worked in the Alpena State Forest with Bob Borak, before eventually becoming the area forester for the Chippewa River State Forest in Paris, Michigan. He retired from a couple of positions in the Cadillac office in 1984. After retirement, he was the Osceola County Gypsy Moth Coordinator for a couple of years. After living in Reed City for 55 years, his son Raymond (BS '81, see update on page 5) moved him out to Eagar, Arizona last year. He turned 93 this spring.
FRED R KUESTER | BS '57
I have had interesting careers since retiring from the U.S.. Forest Service. Since I passed the age of 80, I have been writing books. Foresters can be more or less literate when the stars are properly aligned. Titles are as follows: Adam and Eve for Atheists, which my mother regarded as a must read for anyone with scriptural concerns; Railroad Thinking, which has nothing to do with railroads but which my elderly sister, Arlene, highly recommends to all whose brain sometimes get off of the iron tracks; Poems, Lyrics and Short Takes, much of which has been set to professional music and which is widely acclaimed by several of my cousins; and everybody's favorite: Slow Reindeer Kicking up Snow, which is a children's book that I and many others who are familiar with the genre agree can be a sterling gift for children and for kind-hearted people who know children. These books are available online, from the publishers and at progressive bookstores.
BOB GOODMAN | BS '58
My present project involves gathering soils from a wide range of Nevada's playas, placing them in 10 gallon fish tanks, adding water, then photographing the life forms that appear from these seemingly lifeless landscapes. Last year's initial project from the Black Rock Desert playa produced two species of fairy shrimp, water fleas, round worms and a variety of algae. This year's soils are from central Nevada, and far eastern Nevada, in addition to those from the Black Rock in northern Nevada.
STEVE R PLEVEL | BS '60
As are many people, we are staying pretty close to home. Go out for groceries, prescriptions and a few face-to-face doctor visits. I sneak to the local hardware store when I don't have the stuff I need for a project. My daughter and I have tried for one motorcycle ride a week, usually about 200 miles – ideal PPE and social distancing. Our only grandchild, a young woman, is a Deputy Sheriff and lives in a 5th wheel trailer about two hours away. Needless to say, her father and I are her fix-it team.
As far as professionally, I try to keep up on forest and wildfire management through the web, publications and attending the local SAF meetings. I haven't done much consulting for the last two years. I do get to see Mike and Drew Moore when they are in Tucson during the winter. It is hard to believe that we have lived in Tucson since 1974; two thirds of my Forest Service career and all my retirement have been here! We must like the place. It may have something to do with children and grandchild being close.
BOB WESTFALL | BS '67, PhD '72
I have been a biostatistician with the U.S.F.S. Pacific Southwest Research Station for the past 35 years. My long-time colleague, Connie Millar, and I have spent our summers in the Eastern Sierra and Great Basin studying high-elevation five-needle pines (mainly limber and whitebark), rock glaciers and the American pika. Together, we have about 20 publications; I have about 10 more with others, plus a book chapter on establishing seed zones. Connie and I and our technician, Diane Delany, will be retiring (in name only!) at the end of this year.
On a personal level, my wife of 51 years, Sandy, died of colon cancer last November. She was director of Campus Recreation at UC Davis and retired in 2005. She was also an MSU grad, with a Bachelor's in social work and Master's in student personnel administration. Though we are childless, we have nieces and nephews on both sides of the family devoted to us (though living out-of-state).
RANDY SWICK | BS '77, MS '79
I retired from the U.S. Forest Service in 2015 after 37 years serving on nine different National Forests in five different regions. Most of my career was spent serving as a District Ranger (nearly 24 years) in the west, including my last three years as the Area Manager for the Spring Mountains National Recreation Area. My wife Sandra and I retired back to Coeur d'Alene, ID. We are blessed to have three daughters, two son-in-laws and four grandchildren, scattered from Florida to Cambodia. Our youngest serves as a missionary and we have been blessed to lead a couple mission teams to support her work in Cambodia. I also assist our church's senior help program and get called back periodically by the Forest Service for large fire support. In my spare time, I do a little backyard forestry on a couple woodlots my wife inherited. My best to my peers and those I was blessed to advise while in grad school.
RAYMOND RUGG | BS '81
After I graduated in '81, I worked a couple of seasonal forestry jobs, then joined the Peace Corps. I served in Pohnpei, Federated States of Micronesia. After a seasonal position as a Forest Pest Scout for MI DNR, I was hired by the Southern Forest Research Station, Southern Forest Survey, working on FIA plots in Texas, Oklahoma, Mississippi, Arkansas, Tennessee and Alabama. I then transferred to the Apache-Sitgreaves NF in Arizona were I worked several positions on the Alpine and Springerville RD's. I retired at the end of 2017 after 32 years. I had the opportunity to work in Forestry in 10 states and two states in a foreign country. I learned a lot of tree species.
CHRISTOPHER GIBBONS | BS '03
I'm happy to say that I've worked in the forestry industry since graduating in 2003. I started out in the Michigan Department of Agriculture, then went on to the Rainforest Alliance, and finally found my passion in FSC Chain-of-Custody certification consulting.
In September, I'm looking forward to celebrating my company's 10th anniversary. I started American Green Consulting Group a decade ago, with the goal of bringing together some of the best FSC consultants to create the most efficient path to FSC certification. I'm thankful to celebrate this milestone with such a great team.
Also in September, my wife Beth and I will celebrate the first birthday of our son Ciarán. We live in view of the Rocky Mountains in Windsor, CO.