Avoid significant yield loss in soybeans by sampling for soybean cyst nematode
Fall is the time to collect soil samples for soybean cyst nematodes to plan for 2022.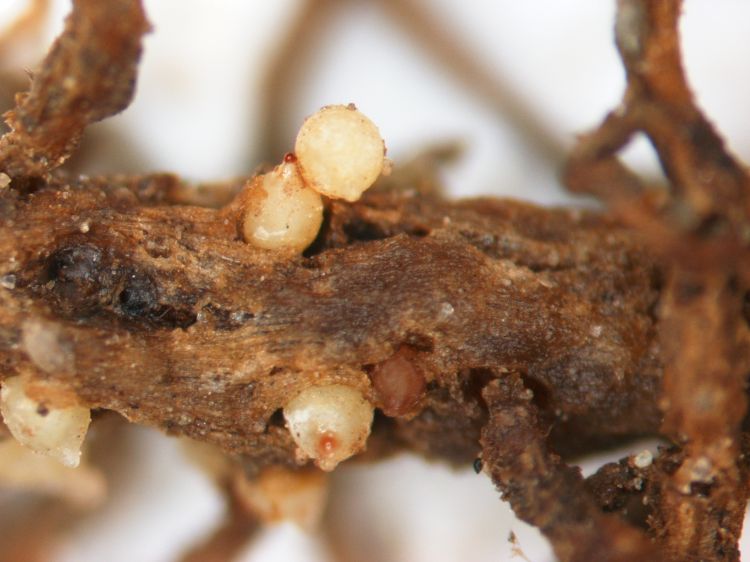 If you have areas with lower-than-expected soybean yields that cannot be explained, it may be due to soybean cyst nematode (Heterodera glycines). This nematode is a major limiting factor in Michigan soybean production. Soybean cyst nematode is known to exist in all of Michigan's major soybean producing counties. Soybean cyst nematode infestations can result in poor stands, stunted plants, yellow foliage and low soybean yields. Losses can range from 5 to 90 % of the yield potential. Hosts for soybean cyst nematode are mainly legumes such as soybeans, dry beans and snap beans. It has also been known to survive on some winter annual weed species, such as henbit (Lamium amplexicaule) and purple deadnettle (L. purpureum).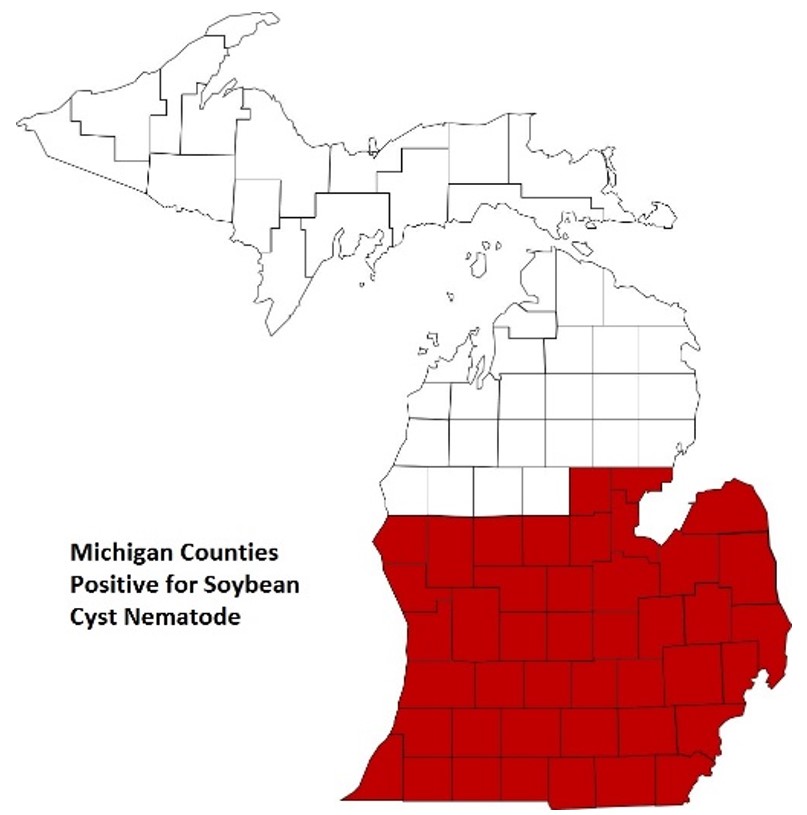 Fall is a good time to sample for soybean cyst nematode in preparation for the 2022 soybean growing season. Monitoring for soybean cyst nematode is an essential part of nematode management. Early detection is critical in avoiding drastic yield losses and high population densities of soybean cyst nematode.
Many Michigan growers rely on resistant soybean varieties to manage their soybean cyst nematode populations. Over 95% of all resistant varieties use breeding line PI 88788 as their source of resistance. In Michigan over the past seven years, type testing, which determines the ability of soybean cyst nematode populations to overcome resistant soybean genetics, has shown that all our soybean cyst nematode populations have overcome the resistance offered by PI 88788 genetics. This reinforces that it is essential for growers to sample for soybean cyst nematode for detection and to prevent significant increases in soybean cyst nematode population densities.
The costs of laboratory analyses for soybean cyst nematode monitoring through Michigan State University Plant & Pest Diagnostics is entirely supported by the Michigan Soybean Committee. Samples from soybean rotations consisting of roots, soil or both can be submitted to MSU Plant & Pest Diagnostics for nematode analysis. The sampling protocol and submission process for soybean cyst nematode and other plant-parasitic nematodes is described on the MSU Plant and Pest Diagnostics website under Detecting and Avoiding Nematode Problems.
There is a specific submission form available for growers to use to qualify for the Michigan Soybean Committee soybean cyst nematode sampling program. The Michigan Soybean Committee Soybean Cyst Nematode Submission Form can be printed off and included with each sample submission.
Take advantage of this free sampling program offered by the Michigan Soybean Committee to stay ahead of soybean cyst nematode infestations. Yearly monitoring can help keep fields free of soybean cyst nematode and manage infested fields to reduce yield losses. If you have questions about sampling for soybean cyst nematode or type testing, please contact us at MSU Plant & Pest Diagnostics.