Bugged newsletter features success across Entomology's work of teaching, research and extension during fall 2019
Read the latest news and highlights of the MSU Department of Entomology in the Fall 2019 issue of Bugged.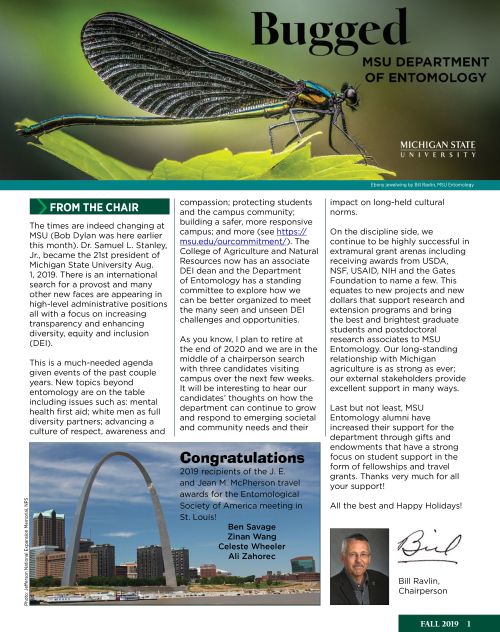 We are closing in on the end to another fall semester and it has been a busy one across our work of teaching, research and extension. Take a look at this Fall 2019 issue of Bugged:
Will Wetzel won an award for his outstanding leadership demonstrating worklife balance and support as a supervisor at MSU.
Five faculty and alumni contributed to a new book on IPM for tree fruit.
Four students traveled to the Entomological Society of America annual meeting in St. Louis thanks to J. E. and Jean M. McPherson travel awards.
Sarah Smith and Anthony Cognato with collaborators completed a three-year project developing an online tool for Xyleborini identification.
Students Gabriela Quinlan and Minali Bhatt tell us why they're passionate about entomology and studying at MSU.
Entomology alumnus Dan Herms explains how a doctorate in entomology has given him careers across the non-profit sector, academia and now with a commercial tree company.
Read the issue at: bit.ly/bugged11-2019
And things won't slow down. We are beginning on-campus interviews to fill the chairperson position after the departure of Bill Ravlin. It's also time to get those graduate student applications rolling. If you know undergraduates studying science who should consider graduate studies, please help them understand the strength and opportunities of an entomology degree by sharing our PDF with them: "Graduate studies in entomology at MSU: Solve big problems, take your career anywhere." You can print copies or share a link to this insert in PDF format at bit.ly/EntoGradStudies.
Stay in touch and enjoy the holidays ahead.