CANR Alumni Association announces 2023 student scholarship recipients
The College of Agriculture and Natural Resources Alumni Association awards scholarships to students who are well-rounded in their academic and non-academic pursuits and have a vision for their future career.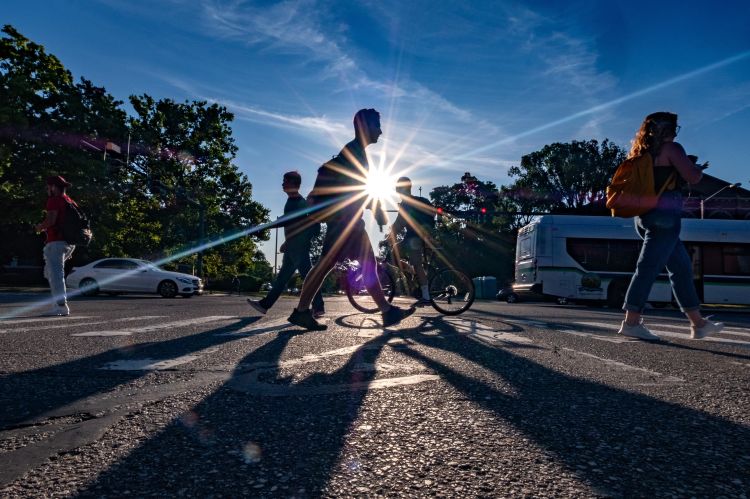 Each year the MSU College of Agriculture and Natural Resources (CANR) Alumni Association awards scholarships to students who demonstrate leadership and community service, possess effective communication skills, have a commitment to their chosen field of study, are well-rounded in their academic and non-academic pursuits and have a vision for their future career.
This year, two sub-committees met this spring to review scholarship applications for undergraduate students, graduate students and Institute of Agricultural Technology (IAT) students. The applicants selected were invited to move forward and participate in interviews. The committees chose to award nine scholarships to CANR juniors (now incoming seniors), three scholarships to CANR graduate students and two scholarships to IAT students.
The CANR Alumni Association (CANRAA) raises funds for these scholarships through alumni activities, as well as gifts from individuals. To support the CANR Alumni Association Endowed Scholarship Fund, please visit: https://givingto.msu.edu/gift/?sid=8188.
Congratulations to the 2023 CANRAA scholarship recipients:
Undergraduate Student Scholarship Recipients
Gurasees Dhingra, an Interior Design major with minors in Entrepreneurship and Graphic Design, serves as the communications coordinator for ComfyCozys for Chemo Club and is the incoming president for the MSU Interior Design Student Organization (IDSO). She is also involved with the United Students Green Building Council and Spartans Rebuilding Michigan. She plans on working in the commercial hospitality sector either in Detroit or in a warmer climate when she graduates. Dhingra competed for the first time on the ABC Construction Competition Team.
Megan Grusczynski is an Animal Science major and Agribusiness Management minor. She is active in the MSU Block and Bridle Club, the MSU Dairy Club, and the National Honor Society of Leadership and Success. Her college experiences include working at the Dairy Cattle Teaching and Research Center, the Potato Breeding and Genetics Program, Sklarczyk Seed Farm, and Northern Veterinary Services. After graduation, she hopes to apply to the MSU College of Veterinary Medicine to pursue a Doctor of Veterinary Medicine degree with a focus on large animals.
Emma Hockstein is an Interior Design major in the School of Planning, Design, and Construction (SPDC). She is involved in the Interior Design Student Organization (IDSO) and is the Friendship and Social Events Chair for Chi Omega Sorority. Hockstein balances her academics and extracurriculars with participating in MSU's Intramural Sports in soccer and basketball. Upon graduation, she plans to pursue a job at a large-scale architectural firm within the hospitality market, specifically focused on retail, restaurant, and multi-family design.
Kennedy Kramek is a Construction Management senior in at the College of Agriculture and Natural Resources. He aspires to use his career to positively impact his lifelong passion for environmental sustainability. After graduation, Kramek plans to pursue a career as a project engineer or manager for a company that focuses on sustainable energy and improving Michigan's energy grid. Kramek is also active with the Bailey Scholars Program, the Student Chapter of the Builders and Contractors Association, and the MSU Commercial Competition Team for Associated Builders and Contractors Student Chapter.
Cameron MacDougall, an Interior Design major, has had an interest in design since his youth. He is involved in the Interior Design Student Organization (IDSO), has been on the Dean's List every semester, and is in the MSU Diving Club. MacDougall aspires to work in an urban area upon graduation where he would like to devote time at a commercial design firm. Longer-term, he is interested in pursuing a master's degree in teaching.
Allison McCurdy, an Environmental Studies and Sustainability major, is active in the Baily Scholars Program and active in CHAARG (Changing Health, Attitudes, and Actions to Recreate Girls), MSU Swim Club, and Environmental and Sustainability Students United. McCurdy also holds a position as an undergraduate research assistant with the Parks and Connections Lab, where she collaborates with other research assistants, graduate students, and senior members and professors to help analyze and interpret data from ongoing research projects. After graduating, she intends first serve with AmeriCorps and then pursue a graduate degree in economics and politics of the environment at the Bren School of Environmental Science and Management at the University of California-Santa Barbara.
Mya Price is a Dietetics senior with plans to graduate in spring 2024. Price is an active member of the Food and Nutrition Association, the Residential Initiative on the Study of the Environment (RISE) and serves as a resident assistant (RA) for her residence hall on campus. She is also on the Diversity, Equity and Inclusion (DEI) board for the MSU Department of Food Science and Human Nutrition and works with other members of the college to help tackle diversity, equality, and inclusion. With a passion for dietetics, she would like to eventually work in community nutrition. Her long-term goal is to eventually be able to work in nonprofit world and give back to lower-income areas of Chicago as well as community centers and food banks.
Kayla Wilson is a Packaging major in the School of Packaging with minors in Environmental Studies and Sustainability and Business. Wilson is a member and past historian of Phi Sigma Rho, and was recently elected as an executive board member of the Coalition of Packaging Professionals and Academic Connections (CoPPAC) Club. After graduation, Wilson plans pursue an early career at a packaging company that has a diverse portfolio of products and projects to provide experience working on a variety of projects from food and beverage packaging to industrial packaging and packaging manufacturing lines. Her long-term vision is to own a packaging company that works with smaller companies to create custom sustainable packaging that meets their sustainability goals.
Zoey Zupin is an Agriculture, Food and Natural Resources Education (AFNRE) major expected to graduate in spring 2024. She has been active in the AFNRE Club, Collegiate Farm Bureau, MSU Dairy Club, National Agricultural Marketing Association (NAMA), and the Sigma Alpha Sorority. Additionally, she has served as a representative in the CANR Student Senate for a year. After completing her teacher internship, Zupin plans to pursue a master's degree in AFNRE. Ultimately, she would like to enter the Teach for American Program, and after completing a couple years with that program, return to Michigan to teach agricultural education and serve as an FFA advisor.
Graduate Student Scholarship Recipients
Alexa (Lexi) Heger is a Ph.D. student working with Dr. Timothy Miles in the MSU Department of Plant Pathology and Molecular Plant Sciences. Heger is studying the detection and management of Michigan's destructive vineyard pathogens, especially downy mildew on wine grapes. The PCR technology used in the Small Fruit and Hop Pathology Lab has been translated for use in other crops and has even had applications in recent years to help monitor the spread of COVID. She was active as a College of Food, Agricultural, and Environmental Sciences (CFAES) Ambassador at Ohio State University, where she received the unique combination of a bachelor's degree in Sustainable Plant Systems-Horticulture with a minor in Organization and Performance Psychology. Her long-term plans are to continue learning, asking questions, solving real problems, and to mentor as a professor at a land grant institution.
Lynn Olthof grew up on a west Michigan dairy farm and as a youth sports were her passion and she crafted her reputation as a great athlete. She is currently pursuing a Ph.D. under Dr. Barry Bradford, but first came to MSU in 2017 and completed the Dairy Management Institute of Agricultural Technology (IAT) certificate program. She then earned a bachelor's degree from MSU in Agribusiness Management and a master's degree in Animal Science. While studying at MSU Lynn served as manager of the MSU Women's Basketball team and she was president of the MSU Dairy Club. Olthof is interested in research that is beneficial to farmers and improves net farm income.
Michele Remer, is a Ph.D. student with a dual major in the Fisheries and Wildlife and Environmental Science and Policy Programs. She is involved in the Graduate Student Organization, Outreach and Engagement and the R Ladies organizations. Her current research interests include coupled human and natural systems, tourism, remote sensing, and community engagement, particularly in the Arctic region. As a recent Demmer Scholar Program intern she hopes to return to Washington, D.C., to join a think tank such as the Polar Institute, to help inform policy decisions at the national level. Remer aspires to be a consultant to advise clients on their environmental sustainability goals while also being an ambassador to MSU and the College of Agriculture and Natural Resources.
IAT Student Scholarship Recipients
Abby-Claire Eshlaman is working toward an associate's degree in Agricultural Operations, with a goal to be a farm manager or own and operate a farm of her own. Hailing from Vicksburg, she is enrolled in the IAT program through the Glen Oaks Community College in Centerville. She has been involved in the Collegiate Farm Bureau, FFA, the Glen Oaks Ag Club, and has worked as an assistant horse groomer at her family's horse business. She has also volunteered her time at the St. Joseph County Fairgrounds, an animal rescue project, and Second Impressions Thrift Store.
Audrey Martin is working toward an associate's degree in Agricultural Operations from the IAT program through Delta College. She is from Midland and has been active in Midland County 4-H for many years. Martin has a passion for agriculture, is committed to her field of study and is excelling academically. After completing her degree, she plans to research and educate others in effective agricultural practices with the goal of simultaneously increasing food production, water purity and soil health.