CANR alumni provide matching gift opportunity for Give Green Day
Valerie Wright, '89, and Andrew Schweitzer, '00, alumni from the School of Planning, Design and Construction, provided an additional gift for exceeding the CANR goal on Give Green Day.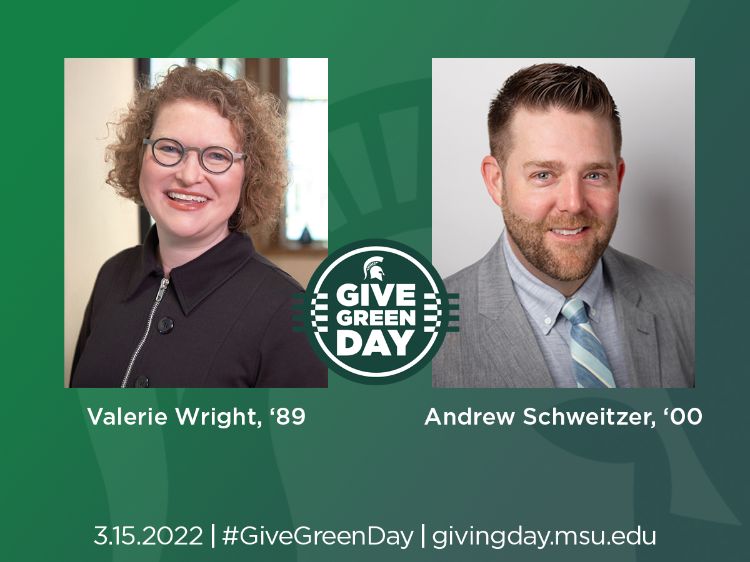 During last year's Give Green Day, Valerie Wright, a MSU College of Agriculture and Natural Resources (CANR) alumna and current president of the CANR Alumni Association, provided a matching gift opportunity for the college's Give Green Day project. By setting an example and challenging other alumni and peers to contribute, she felt a special connection. So much so, that she wanted to inspire our CANR community once again to come together and provide much needed resources for our students.
"I can't explain the feeling I had after making that gift, except to say that it provided a glow (probably green and white) in my head and heart, that now just resides within me. This year, I felt it was important to ask a fellow CANR alum and one of my colleagues, Andrew (Drew) Schweitzer, to go in on a lead gift together," said Wright, '89 interior design.
Wright and Schweitzer, both alumni from the School of Planning, Design and Construction, decided that if the college met the $10,000 goal for the CANR Whole Student Success Fund on Give Green Day, they agreed to add an additional $6,000 to support our students.
"Valerie talked to me about her gift and how it helps the students and the long-term benefits of helping the CANR program. I feel it is important for each student to be able to attend classes without worry of how they're going to afford it. Being a student at MSU helped shape me into the successful person that I am today. I want everyone to feel that way throughout their journey at MSU," said Schweitzer, '00 construction management.
"Now is definitely the time to give as much support as possible to the students and to the CANR fund," he added. "The global pandemic had an effect on everyone, especially those trying to attend and finish college. They need our help more than ever to be able to finish and be successful in starting their careers."
As a result of the Give Green Day efforts, $19,365 was raised for the CANR Whole Student Success Fund. With all matching and bonus funds from the university, including the lead gifts from Wright and Schweitzer, a grand total of over $21,000 was raised to support our CANR students on Give Green Day.
"Donating on Give Green Day, along with thousands of other Spartans, is a way for students to see alumni and supporters recognizing their needs and being invested in their lives now and in the future," said Kelly Millenbah, Ph.D., CANR interim dean. "We are grateful for the generous support of many donors and alumni, but my sincere thanks go to Valerie and Andrew for stepping up and setting an example with a lead gift."
The CANR Whole Student Success Fund will help address those food and housing insecurity, technology gaps, and other emergency situations or times of crisis that may arise and otherwise create a barrier or derail a students' academic progress.
Student success is often measured in terms of grades, academic progress, or graduation rates. However, for some of our most at-risk students, success may be measured by whether they have food to eat, a roof over their head, or the emotional support to navigate life. For others, it may mean being able to find funding to cover the last semester(s) of their graduate studies, when a global pandemic delayed the research project they have been working on for years.
"I don't think we really understand how many pressures students have on them today. This is a way for students to see us recognizing their needs and being invested in their lives now and in the future. With all the layers that the pandemic produced, now is the critical time to support students as a whole – the time is now, more than ever," Wright said.
"I am convinced that giving is a circle. The students we are helping today will be the alumni who will remember this and give when they have an opportunity. We must do what we feel comfortable doing in helping each other, especially our students," she continued.
Give Green Day is Michigan State University's day of giving – 24 hours to give and make a difference to impact current and future Spartans. Give Green Day began in 2016 and initially coincided with the national day of giving, Giving Tuesday. In 2021, the university moved Give Green Day to March.