CANR names new chair to lead Department of Entomology
Hannah Burrack, Ph.D., from NC State University, will start at MSU as chairperson in the Department of Entomology, effective January 2022.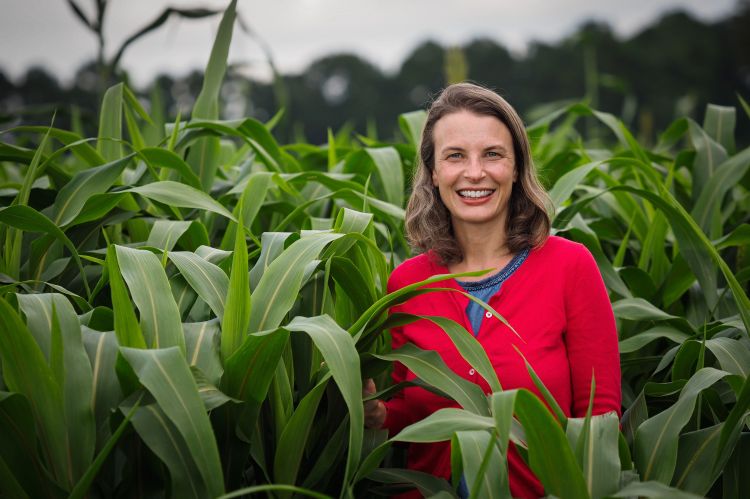 Hannah Burrack, Ph.D., was named chairperson for the Department of Entomology in the College of Agriculture and Natural Resources (CANR) at Michigan State University (MSU). The appointment is effective Jan. 1, 2022.
Burrack is currently a professor of entomology and extension specialist at NC State University in Raleigh, North Carolina. She has served in growing faculty roles at NC State since 2007, most recently serving as Director for Education & Outreach with the NC Plant Sciences Initiative, an interdisciplinary initiative with the goal of conducting transformational plant sciences research, education, and outreach.
"Hannah's background in extension, combined with her research experience and administrative skill set makes her a great fit for our college, its students and for our stakeholders in Michigan," said Interim Dean Designate Kelly Millenbah, Ph.D. "Hannah is also committed to undergraduate and graduate student development and has supported various mentoring initiatives."
Burrack's current research focuses broadly on the ecology of insect pests in tobacco and small fruit crops and utilizing the information to enhance pest management. Her extension appointment at NC State supports tobacco production and small fruit crop diversification as she works with local and regional growers.
In 2018, Burrack received the University Faculty Scholar Award and the Extension Service Award from NC State University.
As part of her work at NC State, Burrack has been the principal investigator and manager of several USDA National Institute of Food and Agriculture grants and panels related to research on spotted wing drosophila management, crop protection, pest management and methyl bromide transitions.
Burrack earned her doctorate and master's degrees in entomology both from the University of California—Davis and bachelor's degrees in rural sociology and entomology from the University of Wisconsin—Madison.
During her career, Burrack has been part of extension engagement and outreach with stakeholders; taught courses in entomology, horticulture and crop sciences departments; supported undergraduate research projects; and mentored students and visiting scholars. She has also been a part of various NC State University committees related to teaching and tenure, extension, research and technology, as well as faculty search committees.
Burrack said: "I have followed the innovative research, exceptional students, and impactful extension undertaken by the MSU Entomology Department from the very start of my career, and I am thrilled to be joining this team in January. I am passionate about science that connects with stakeholders—be that students, growers, industry partners, or the broader citizens of the state. Entomology as a discipline naturally fosters these connections, and I am so excited to work together with the faculty, students, and staff at MSU to do great things!"
Burrack will take over for F. William Ravlin, Ph.D., who has served as chairperson since 2014.