CANR Student Mission: Change the World
Students in the CANR aren't just preparing for future jobs or even successful careers - they're preparing to change the world.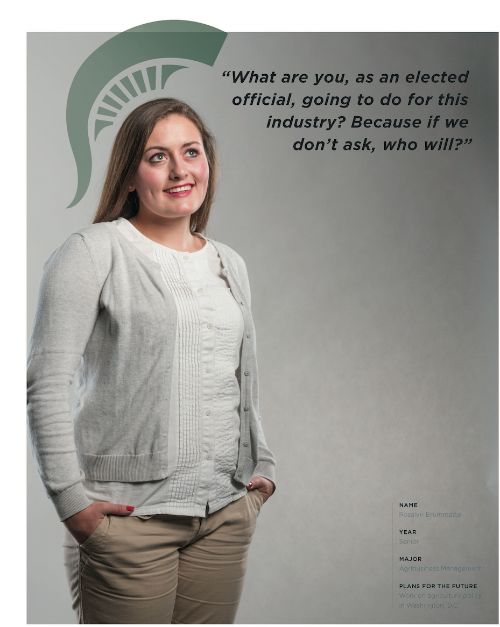 THE STUDENT FILES:
Rosalyn Brummette
Senior, Class of 2016
Agribusiness Management major
FUTURE PLANS: Work on agriculture policy in Washington, D.C.
Eric Brunk
Junior, Class of 2017
Packaging major
PODCAST INTERVIEW:
In this episode, Kraig Ehm chats with Rosalyn Brumette about her visit to Japan to the International Food Summit in Tokyo, Japan
FUTURE PLANS: Complete a master's degree in packaging at MSU, before heading to industry where eventually I'd like to work for Google or Apple in their packaging divisions.
Students in the CANR aren't just preparing for future jobs or even successful careers—they're preparing to change the world.
MSU agribusiness management senior Rosalyn Brummette dreams of moving to Washington, D.C., after graduation to be at the forefront of agriculture policy.
"I want to do all I can do to put agriculture on the agenda with policymakers. I want to ask people, 'What are you, as an elected official, going to do for this industry?' Because if we don't ask, who will?"
Life on Capitol Hill will not be new to Brummette, who spent her summer there interning with the National Association of Conservation Districts as part of the CANR's William A. Demmer Scholars Program for elite students in the field of natural resources. Working on conservation agriculture policy and stewardship education was a perfect fit for Brummette, who is minoring in environmental economics and policy.
"I want to be the intermediary between farmers and the environmental community when it comes to policy," Brummette said. "I didn't grow up on a large-scale farming operation and I'm not a farmer now, but through my experiences growing up, I've grown to really love the industry and the people in it. I think this unique perspective and passion will help me bridge the gap with policymakers and even consumers."
Brummette developed a deep love for agriculture at a young age, thanks to her involvement with 4-H. Operated by MSU Extension, Michigan 4-H was also what introduced Brummette to her interest in policy and Washington, D.C.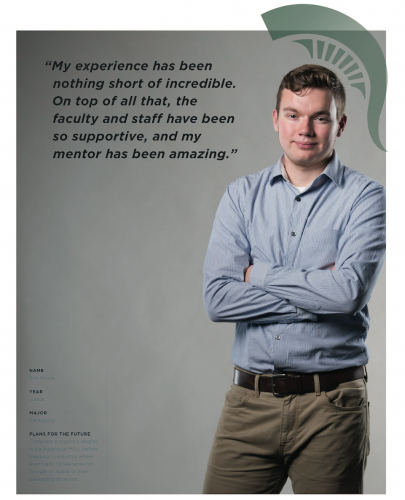 "My primary exposure to agriculture and policymaking was through 4-H, and I just fell in love."
An early passion for food, energy and the environment is a characteristic of CANR students—and also what sets CANR scholars apart.
"We have a lot of students who know early on that they want to come into the field of agriculture and natural resources," said Kelly Millenbah, associate dean of the CANR. "They may not have known what discipline they would pursue exactly, but they knew they had an interest in this area."
This attraction to agriculture and natural resources may in part be due to the millennial generation's growing interest in making more than just money—they want to make a difference, she said.
"Our students are interested in being in careers, not just jobs. They want to be in places where they can make a difference in spaces where they are passionate," Millenbah said. "Within the CANR, we are on the cutting edge of so many things that make a difference to so many people—an adequate food supply, safe water and access to energy—which means our graduates have limitless opportunities to do good in the world."
For packaging junior Eric Brunk, the chance to make a difference may start this year as he begins his undergraduate research project which will focus on front-of-package labeling. In addition to other components, Brunk's labels will be color-coded, providing an easy indicator of whether a food product is healthy or not.
"It's aimed at offering people a better understanding about their food choices," Brunk explained. "My research could provide an alternative to current labeling systems and, ultimately, influence change in the eating habits of children, adults and senior citizens."
Brunk's research project and Brummette's Demmer Scholars experience are just a few of the unique ways that CANR students begin to chart their own way, even before graduation.
"We recognize how important it is for scholars to experience more than just the classroom," Millenbah said. "That's why we offer them a host of opportunities: research, internships, study abroad, volunteering. There are so many hands-on opportunities in which students can engage."
The numerous experiences available are part of what has made Brunk's CANR undergraduate years so rewarding.
"I've had so many opportunities," said Brunk, who has assisted graduate students with research, written parts of a paper under review for publication, studied abroad in five countries and obtained a paid professorial assistantship. "My experience has been nothing short of incredible. On top of all that, the faculty and staff have been so supportive, and my mentor has been amazing."
Millenbah agreed that MSU CANR faculty and staff members are top-notch.
"We're the flagship college of this institution, and we have the absolute best people working here. Our students have the benefit of being influenced by these individuals every day."
The faculty may influence students today, but ultimately it will be CANR students influencing the world.
"Packaging plays such a critical role in sustainability and safety in today's world," Brunk said. "I'm very interested in research and finding alternative solutions. I don't know exactly what that means for me yet, but I want to do something innovative."
Filled with innovative ideas and unbridled passion—coupled with the world-class education and experiences provided by the CANR—surely MSU's agriculture and natural resources Spartans will accomplish what they set out to do: make a difference and change the world.
LEARN MORE AND LISTEN TO THE PODCAST AT:
This article was published in In the Field, a yearly magazine produced by the College of Agriculture and Natural Resources at Michigan State University. To view past issues of In the Field, visit www.canr.msu.edu/inthefield. For more information, email Holly Whetstone, editor, at whetst11@msu.edu or call 517-355-0123.