Check out MSU's new mobile food processing lab
Dr. Jeffery Swada describes MSU's new mobile food processing lab at a friends and alumni mixer via Zoom.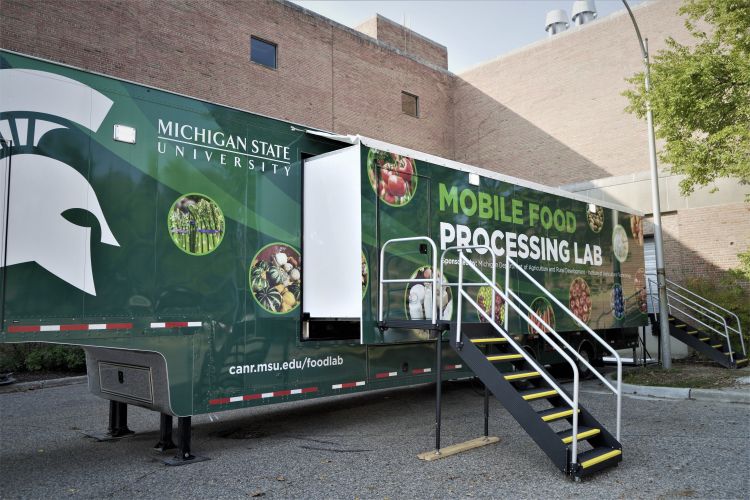 IFLR was delighted to join MSU's Department of Food Science and Human Nutrition at an Institute of Food Technologists (IFT)-related online mixer for friends and alumni of our MSU programs yesterday evening. We heard a very cool presentation by Dr. Jeffrey Swada about MSU's new state-of-the-art food grade mobile food processing lab.
The trailer is part of a $7 million grant from the Michigan Department of Agriculture and Rural Development. $4.6 million of the grant funds were used to renovate MSU's on-campus food grade Food Processing Complex, create a Food Processing, Technology and Safety certificate program in collaboration with MSU's Institute of Agricultural Technology (IAT) that will allow students to take food science courses at community colleges, and the design and purchase of the mobile lab. The objective is workforce development for the food industry in Michigan.
Swada describes the trailer as a food processing plant on a miniature scale, smaller than what you would see in industry, but with all the functionality of a larger plant found in industry. For a trailer, it is really massive when you see it in person. It is 8 feet wide x 54 feet long, and has a 30-foot bump-out on the side.
It boasts the same amenities of a normal plant, like culinary steam, electrical, water, water softening, compressed air, and even an analytical lab so they can test samples while they're processing. It is multifaceted, with a line that can take potatoes from peeling and dicing, all the way to retorting a finished canned product. There is a separate liquid processing line which can take apples, for example, from peeling and dicing, all the way to extracting the juice and pasteurizing. There are plans for more than one trailer in the future, with possibly the addition of a dairy trailer or a cereal processing trailer.
With the pandemic year, the trailer has yet to be deployed, but the plan is to visit community college partners around Michigan to do labs and different interactive activities. When it's not being used for teaching, the trailer could be made available to local industry. For example, it could be used to help out a farm that has a surplus of crops they need to process.
Congrats to our colleagues at MSU who made this a reality, and thank you Jeff for sharing the story with us last night!
Andrea Besley works with the Institute for Food Laws and Regulations. Enroll now for online courses for food industry professionals at https://www.canr.msu.edu/iflr/.