Agriculture runs deep with MS student McKenna Clifford, who's now working toward broadening her knowledge and scope of production agriculture within the AFRE graduate program.
Master's student McKenna Clifford grew up in agriculture. Heavily involved in 4-H, FFA, and her family's multi-generation farm, she's now focused on connecting farmers, producers, and industry stakeholders she's known her whole life, with university findings, resources, and innovations.
"I'm here to learn how to conduct beneficial research so I can take findings back to the farm and ultimately help people," said Clifford. "I want to create bridges between consumers and producers, institutions and stakeholders, and all levels of people involved in ag."
The fourth generation of her family to farm the same area of land in northern Indiana, Clifford found her passion and involvement in agriculture early. As a 10 year 4-H'er and four year FFA member she traveled the country competing locally and nationally in both. Such travel destinations even included the MSU pavilion for nine consecutive years to show at the Michigan Beef Expo. All this early involvement landed Clifford as the 2016 Miss Dekalb County, an opportunity which Clifford said "gave me the chance to give back to a community that gave so much to me."
When it came time to pick a college for her bachelor's degree, Purdue University was the only school on Clifford's list. She studied Agribusiness Management where she met a few mentors, including Department of Agricultural, Food, and Resource Economics (AFRE) alumna Nicole Olynk Widmar.
"Nicole saw that I was interested in the deeper side of agribusiness, and showed me what an amazing experience graduate school at AFRE would be," said Clifford.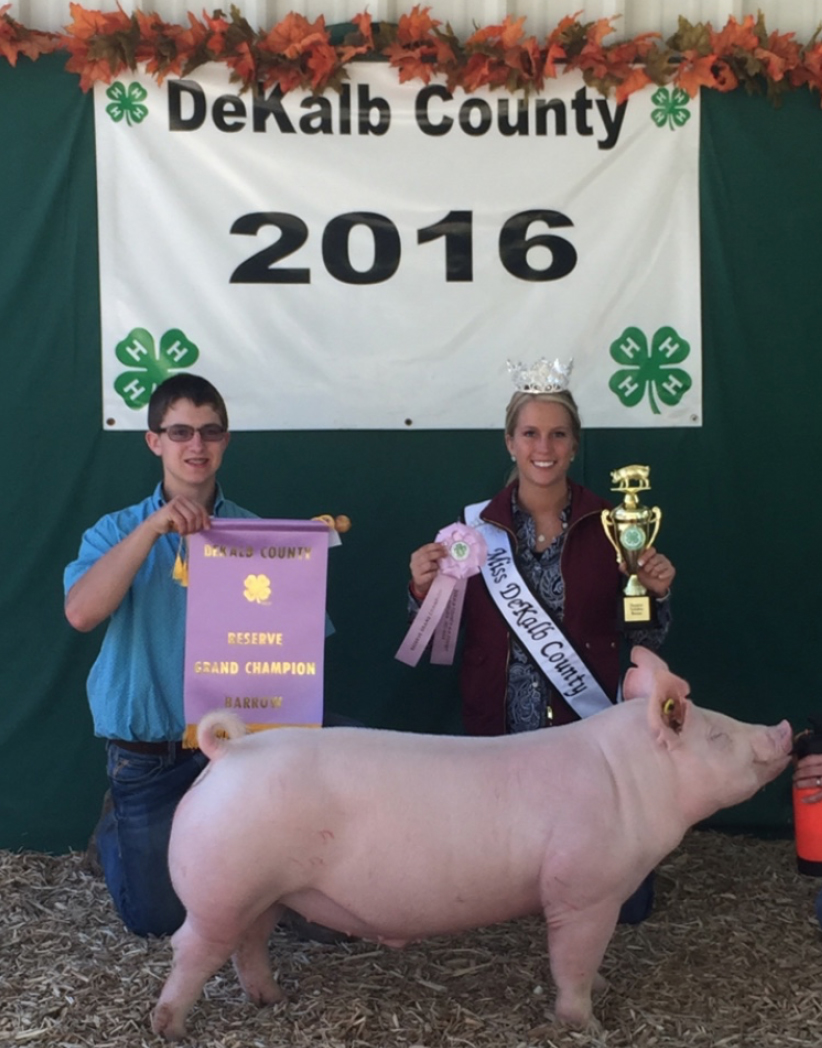 Already familiar with the campus from showing cattle when she was young, Clifford arrived at Michigan State ready to deepen her knowledge of production agriculture as a whole. Advised by AFRE assistant professor Melissa McKendree, Clifford hopes to one day work at a land grant university, teaching, researching, and doing outreach, to help her family and others like them.
"McKenna is exactly the kind of student we want in AFRE's graduate program," said McKendree. "Given her agricultural knowledge and her inquisitive nature, I know McKenna will contribute positively to our industry — and I'm excited to serve as her advisor as she grows as a student and researcher."
As one of her first projects at AFRE, Clifford is looking at managing risk within beef feedlots. "Agriculture has been faced with some pretty tough economic times lately. The beef industry has seen these financial challenges personally," said Clifford. "Especially now more than ever, it's important to help producers manage financial risk. We have to keep our producers above water."
Along with helping farmers and producers make informed decisions, Clifford also hopes to inspire, mentor, and connect young people involved in agriculture to the same resources her mentors provided for her.
"I wouldn't be here if it wasn't for faculty members taking the time with an undergrad," said Clifford. "I'd love to be that person for other undergrads, and show them the possibilities beyond their first degree — beyond their family farms."