Collaborative Mural Captures Values and Themes from the 2016 Michigan Good Food Summit!
Do you know an organization that would like to own and display the Michigan Good Food Summit mural? Keep reading to find out how you can nominate and vote for a business or organization to receive the mural!
November 4, 2016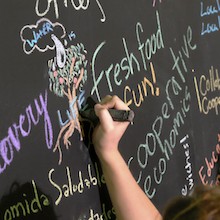 What started out as a blank canvas was filled up with words and images by many of the nearly 500 people at the 2016 Michigan Good Food Summit, held October 28, 2016 at the Kellogg Center in East Lansing. At the end of the day, the eight foot by eight foot mural stood tall as a visual depiction of the values underlying "Good Food for All: The Road to 2020," the theme of this year's conference.
During the opening session at this year's Summit, event facilitator Stephen Arellano invited everyone to take some time to meet someone new and then contribute a word or image to the mural reflecting a core value they heard from their new acquaintance. Throughout the day, attendees made further additions based on themes and values in the day's talks, videos and performances – from the light-hearted shout out to the SEEDS youth musical performance "Fruit salad! Yeah!" to the calls to "Listen to one another" and "Meet the community where it's at."
Now is your chance to help determine a home for the mural! Nominations submitted at the Summit were: Detroit's Eastern Market, Grand Traverse Food Innovation Hub, Flint Farmers Market, Samaritan Center (Detroit), New City Neighbors, Muskegon Farmers Markets, the Michigan State University Student Organic Farm and not yet specified locations in Lake County and Marquette.
We are now opening up the collection of nominations for five more days – through Wednesday, November 9! To submit, complete this online form, including an organization name, location and contact person.
Once the nomination process is complete, and we've had a chance to follow-up with the organizations nominated on their interest and ability to receive the mural, we'll open up an online voting process through Facebook. Stay tuned!
Special thanks to Cynthia Price with Greater Grand Rapids Food Systems Council and Lindsey Scalera of the Ecology Center, for their efforts in planning and preparing the mural.