Community Sustainability is where the family is
The Department of Community Sustainability connects one family through the generations. Emeritus professor of CSUS, Dr. Jim Bingen, celebrates his granddaughter, Juliette Chojnacki, graduation from CSUS.
As families and friends came together on May 6th to celebrate the graduating class of 2023, Community Sustainability faculty donned their academic regalia to participate in the tradition of conferring degrees to the graduates. This year, CSUS had the honor of one additional faculty member joining the procession, welcoming back Emeritus Professor Dr. Jim Bingen, to celebrate the graduation of his granddaughter from CSUS.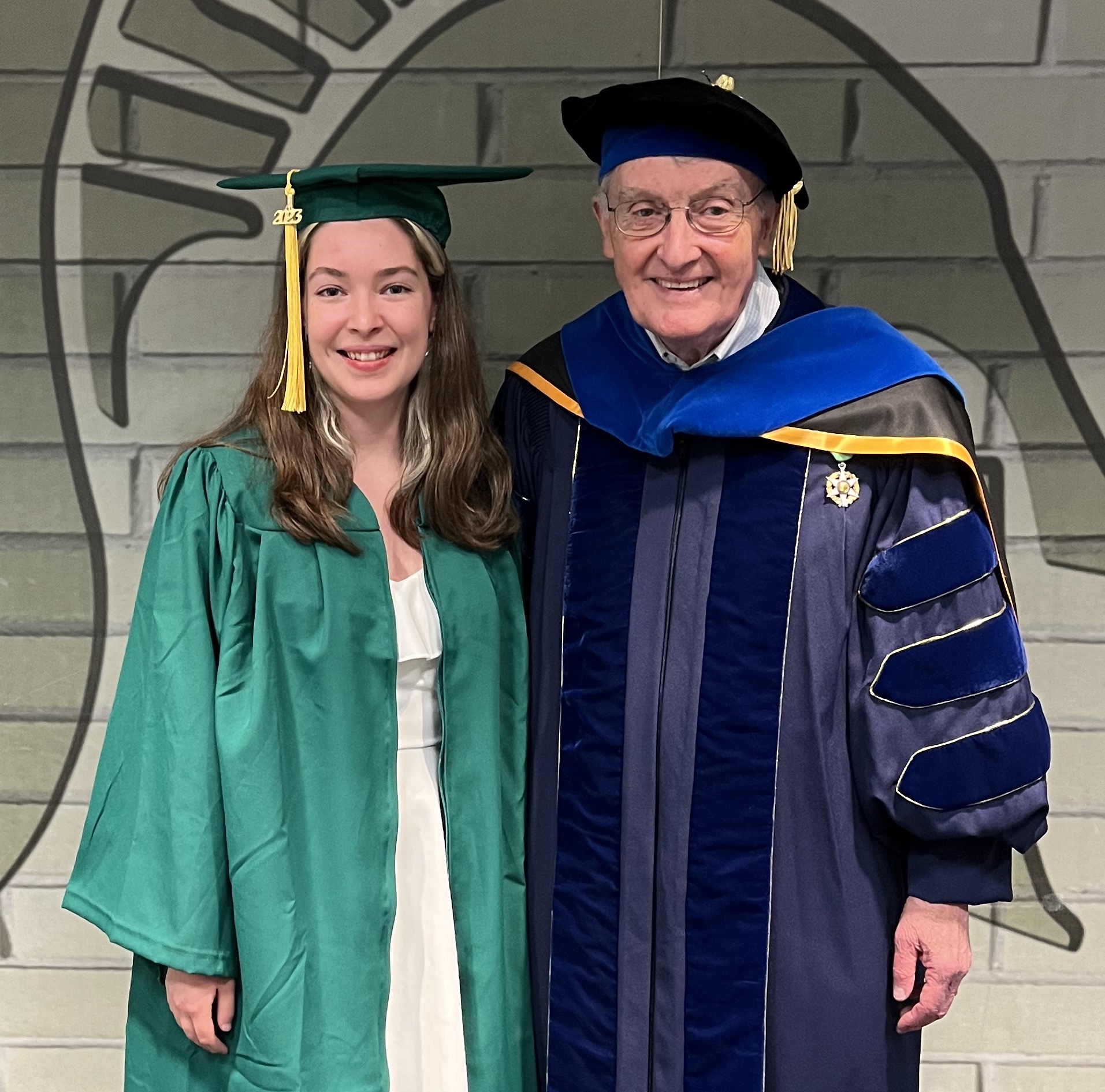 Juliette Chojnacki, CSUS class of 2023, majored in Environmental Studies and Sustainability, following in her grandfathers footsteps with an interest in sustainability. Dr. Bingen joined MSU in the Department of Resource Development and stayed with the unit until 2013 as it transitioned and merged with other units, becoming the Department of Community Sustainability. During his time at MSU, Dr. Bingen worked on a range of food, farming, and rural development issues across Michigan, Europe, and Africa over the span of his 30 year career at MSU.
We caught up with Juliette and Dr. Bingen on May 6th, 2023 during graduation to discuss their special family connection to CSUS. The following interview with Dr. Bingen and Juliette has been lightly edited.
How did you feel when you learned that your granddaughter would be majoring in the program that you taught and worked in?
Dr. Jim Bingen: I was absolutely overjoyed that she was in the department and that she found this major. Now, I find that she is interested in the work that is near and dear to me. I did several study abroad programs in France around the wine industry, particularly around the concept of terroir, and now she's working in this same space. it's amazing, we've never really talked about it but we end up having the same interests.
Juliette, what inspired you to major in Environmental Studies and Sustainability?
Juliette Chojnacki: I originally started in the James Madison college because I wanted to make environmental change through policy. My second semester in the college I took an environmental class that they offered, and my entire perspective changed. I realized that I didn't want to make a difference by writing policies and that I would rather be on the ground making a change. I did some looking around to see if there was a major that would work better with that kind of work and found the ESS major. I felt like it was a good fit and at the end of my freshman year decided to change my major and I've never looked back.
Did your grandfather inspire this choice at all given his past work?
Juliette Chojnacki: Honestly it's hard to say, for a long time I didn't actually know what he did, but I think maybe just spending summers at my grandparents house may have influenced me. We didn't talk about his work, but we would spend hours in the garden and outside and I think that really influenced me.
Dr. Jim Bingen: I don't think she really knew what I did, I did not talk about it much.
What was your favorite experience from your time here in Community Sustainability?
Juliette Chojnacki: My internship was one of my favorite experiences. My advisor sent out an email from Allen Neighborhood Center looking for interns and I decided to apply because the job sounded fun. During the summer I really got an inside look at how nonprofits can work, and I got to take a deep dive into Lansing's food system. The internship really pushed me to think about what kind of work I would want to do in the future and how I could accomplish it.
Dr. Bingen, do you have any words of advice for your granddaughter and graduates today?
Dr. Jim Bingen: Keep pushing the envelop and following your dreams.
What about you Juliette, do you have any advice for incoming CSUS students?
Juliette Chojnacki: I would say that it's ok to not have everything figured out, just follow your own path and everything will work out.
Where are you headed next professionally after graduation?
Juliette Chojnacki: I have a job working at a vineyard!