Considerations for meat processors accepting venison to prevent spreading Chronic Wasting Disease
Protocol for meat processors to follow when accepting venison this hunting season.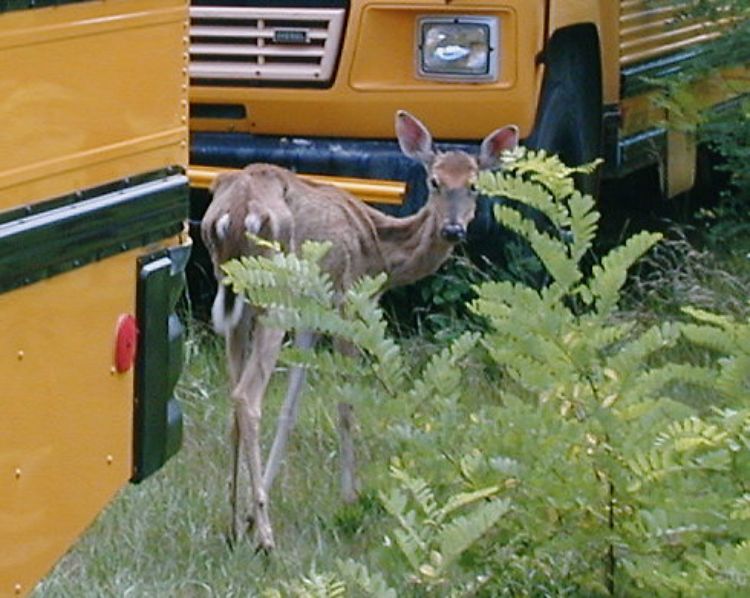 Chronic Wasting Disease (CWD) is a disorder of the neurological system that affects cervids. Cervids are members of the deer family, such as deer, elk, and moose. CWD is caused by a prion, or misfolded protein. Cervids that contract CWD may take months or even years before they show symptoms of having the disease. Symptoms can include extreme weight loss, lack of coordination, drooping head and/or ears, excessive drooling, excessive drinking, and excessive urination. CWD is always fatal to infected cervids.
Cervids contract CWD through direct contact with an infected animal or through indirect exposure via infected soil or plants. Research from The University of Texas Health Science Center at Houston has shown prions have been able to bind to the roots and leaves of wheat grass plants when incubated with contaminated material, even when incubated in highly diluted amounts. They also found that plants grown in infected soil can transport the deadly prions. Hamsters that were fed the contaminated plants contracted CWD in the research project. Chronic Wasting Disease is not known to affect humans, although the Centers for Disease Control and Prevention and World Health Organization both recommend not eating infected meat from an infected cervid. Prions are not easily killed by traditional strategies such as heat.
When accepting and handling deer, especially from Michigan's CWD Core Area or Management Zones, wear rubber or latex gloves. Ask the following questions for incoming deer:
Where was this deer/venison harvested?
Was the deer taken to a DNR check station?
Was the deer tested for CWD? (it should have a yellow tag/number attached to it)
Consider rejecting any carcass that has a pending CWD test until the outcome is known. If you choose to accept venison that has a pending CWD test, isolate the carcass or meat products until a negative test result is obtained. Isolate by covering the carcass(es) with plastic bags and creating space between other carcasses. This separation is preferably done on a separate rail but a separate pallet in the cooler could be used. It is also recommended to clearly identify segregated carcasses and hold from processing pending test results.
CWD testing is recommended, but not required. In 2021, deer heads for testing are being requested from Allegan, Barry, Branch, Calhoun, Eaton, Gratiot, southern Isabella, Hillsdale, Jackson, Kalamazoo, Lenawee, Livingston, Macomb, Monroe, Oakland, St. Joseph, Washtenaw and Wayne counties, and also from the core CWD surveillance area in the Upper Peninsula (portions of Dickinson, Menominee and Delta counties) for CWD surveillance. Deer heads from these counties can be submitted at any open Michigan DNR deer check station from October through January.
Deer harvested in Clinton, Dickinson, Ingham, Ionia, Kent and Montcalm counties can be tested for CWD through the DNR from Nov.15-18 only. CWD testing is available outside of these time frames for a fee through the Michigan State University Veterinary Diagnostic Lab or the Wisconsin Veterinary Diagnostic Lab.
If you receive notification that a carcass in your possession has tested positive for CWD, you can contact the DNR Wildlife Disease Laboratory at 517-336-5030 for assistance with removal of the carcass. Results from CWD testing are available from the Michigan DNR at mi.gov/dnrlab as soon as possible but may take up to 30 days of sample submission in peak season.
Movement restrictions apply to animals harvested in Montcalm County in its entirety; Otisco, Orleans, Ronald and North Plains Township in Ionia County and Nelson, Spencer, Courtland, Oakfield, Grattan and Cannon Townships in Kent County, unless:
It is deboned meat, quarters or other parts of a cervid that do not have any part of the spinal column or head attached, antlers, antlers attached to a skull cap cleaned of all brain and muscle tissue, hides, upper canine teeth, or a finished taxidermist mount may be moved out of the area
OR
The deer carcass is taken directly to a registered processor; and/or
The intact deer head detached from the carcass is taken directly to a licensed taxidermist.
If you are a processor outside of the CWD Core Area or CWD Management Zone and suspect the deer was taken out of these CWD areas but is not accompanied by a portion of a DNR issued CWD survey tag for that animal, refuse to accept the deer and require it to go to a DNR checkpoint within 24 hours of harvest prior to accepting it. It is okay to accept deboned meat, quarters or other parts of a cervid that do not have any part of the spinal column or head attached, antlers, antlers attached to a skull cap cleaned of all brain and muscle tissue, hides, upper canine teeth, or a finished taxidermist mount.
If you are processing deer from the CWD Core Area or Management Zone, the waste, inedible materials, spinal cord, brain tissue and other material should be handled in a specific manner. Waste created from the processing of the carcass should be bagged and sent directly to a landfill. Do not render, burn, compost, or place in the environment parts from deer that potentially have CWD as this could contaminate the environment or soil and spread the disease.
Segregate any suspect venison from larger comingled batches of sausages/snack sticks/etc. and do not process until the test results come back negative. Additional processing protocols, including sanitizing knives, equipment, and surfaces in a 50 percent bleach 50 percent water sanitizing solution for one hour, to help stop the spread of CWD.
Printer-friendly Meat Processor Deer/Venison Intake Recommendations and Meat Processor Deer/Venison Processing Recommendation resources are available online from Michigan State University Extension. Please share this information with your employees.