Consumer trends in ice cream and cheese consumption
Novel coronavirus pandemic has significant effect on consumer demand for ice cream and cheese.
According to the National Agricultural Statistics Service (NASS), Michigan ranked sixth in the U.S. for production of milk in 2019, with cash receipts of over $1.9 billion. As a result, Michigan is a leading producer of dairy products, including fluid milk, ice cream, cheese, and several other dairy products and ingredients. Consumer demand for dairy has shifted significantly during the novel coronavirus pandemic, with increases in demand for products consumed at home and for products that offer comfort, indulgence, and variety. Results from two recent consumer surveys highlight consumer changes over the past year with an outlook to what may come.
In 2020, consumer demand for many retail products shifted significantly due to changes in shopping and eating patterns brought about by the novel coronavirus pandemic. Two recent consumer studies, published by Mintel in 2020, highlight shifts in consumer demand for ice cream and cheese during the ongoing pandemic.
Cheese
Between March and June 2020, with lockdown orders in place in many U.S. states, consumer demand for packaged and shelf stable groceries exploded due to consumer hoarding and fears of potential shortages. According to Mintel, reasons for increased cheese consumption among U.S. consumers were mainly because consumers were snacking on it more often and using cheese more in meals cooked at home (see table from Mintel below). Year over year, sales in the cheese sector increased 15% between 2019 and 2020. According to the Mintel study, sales of cheese are forecast to decrease about 10% in 2021 and as the effects of the pandemic recede.
Ice Cream
Eating and shopping patterns have changed significantly during the novel coronavirus pandemic. In an August 2020 Mintel survey of U.S. consumers 45% of consumers said they are prioritizing staying in touch with family and friends and 40% said they are making their mental well-being a high priority. Eating patterns have changed significantly during the pandemic, with many consumers "cocooning," limiting shopping trips, and eating for comfort as well as nutrition.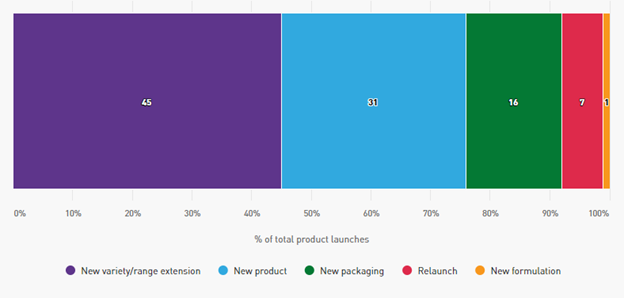 According to Unilever, a major global manufacturer of ice cream and novelties, away from home ice cream sales declined by 30% in the first half of 2020 while sales of ice cream for at home consumption increased by 26% in the second quarter of 2020. Globally, ice cream brands adapted to the novel coronavirus pandemic by offering new variety and new product launches to please stay at home consumers who were demanding comfort, indulgence, and variety. According to a September 2020 report on the global market for ice cream, 76% of ice cream manufacturers brought a new variety/range extension or a whole new product to market (see table above).
Want to learn more about consumers?
Mintel is a global consumer research firm and a leader in market intelligence. The Michigan State University Product Center works with Mintel to provide insights into consumer demand and behavior to our clients. For more information, visit the MSU Product Center online or email product@msu.edu.