"Cooking Matters" to Detroiters
Detroit nutrition education program geared toward low-income families experiences growth, success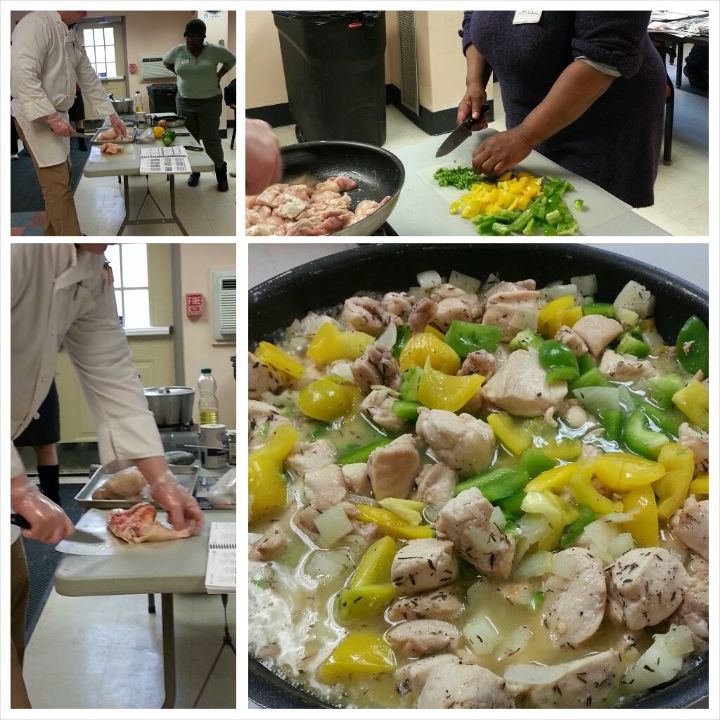 By Katy Joe DeSantis, Michigan Good Food Charter Intern
Most of us have heard the old adage, "Give a man a fish and you feed him for a day; teach a man how to fish and you feed him for a lifetime." Last year, Gleaners Community Foodbank of Southeastern Michigan (Gleaners) put that proverb into action in the most literal sense with Share our Strength's Cooking Matters Michigan™ shopping and cooking courses.
As part of the No Kid Hungry campaign, the national organization Share our Strength developed the program "Cooking Matters" in 1993 to help teach adults, teenagers and children how to shop for and cook inexpensive and nutritious meals for themselves and their families. Through this program, professional chefs and nutritionists lead a variety of hands-on courses for participants to teach that healthy cooking can be affordable, enjoyable and delicious.
Graduates of a Cooking Matters Detroit class. Photos courtesy of Cooking Matter's Michigan Facebook page
Cooking Matters Detroit, which operates under Gleaners, kept very busy in 2013. In April, they worked with national partner Wal-Mart for one day to facilitate 22 Cooking Matters at the Store tours, where shoppers learned budgeting strategies for shopping with high nutrition goals in mind.
This summer, Gleaners set a record for the most volunteers involved in Cooking Matters classes at one time, with over 125 volunteers helping the program throughout the year. The group facilitated over 121 courses with over 1,378 graduates, 979 of whom were children. Specifically, Cooking Matters at the Store boasted 161 local graduates in their program, and the group as a whole held 13 one-time events throughout the Gleaners' service area.
Along with Gleaners, other statewide partners in Cooking Matters Michigan include Generation with Promise (through Henry Ford Health System), Michigan State University Extension (their largest partner across the state), Van Buren Intermediate School District, Greater Grand Rapids YMCA, Genesee Intermediate School District, and Copper Country Mental Health Services Institute. Cooking Matters Michigan currently conducts classes in more than 50 counties throughout Michigan including in the Upper Peninsula. There are classes scheduled in almost every major city including Detroit, Sterling Heights, Grand Rapids, Flint, Benton Harbor, Kalamazoo, Alpena, Gaylord, Sault St. Marie, Marquette, and Houghton.
Cooking Matters Detroit is continuing full force in 2014, with a new series of courses and one-time events planned for the year. The group is always looking for volunteers in the Detroit area, and to sign up for training to volunteer, click here.
---