CSUS 2023 Graduate Endowed Award Winners
The Department of Community Sustainability announces the seven endowed graduate fellowship award winners for 2023. Congratulations to these excellent graduate students!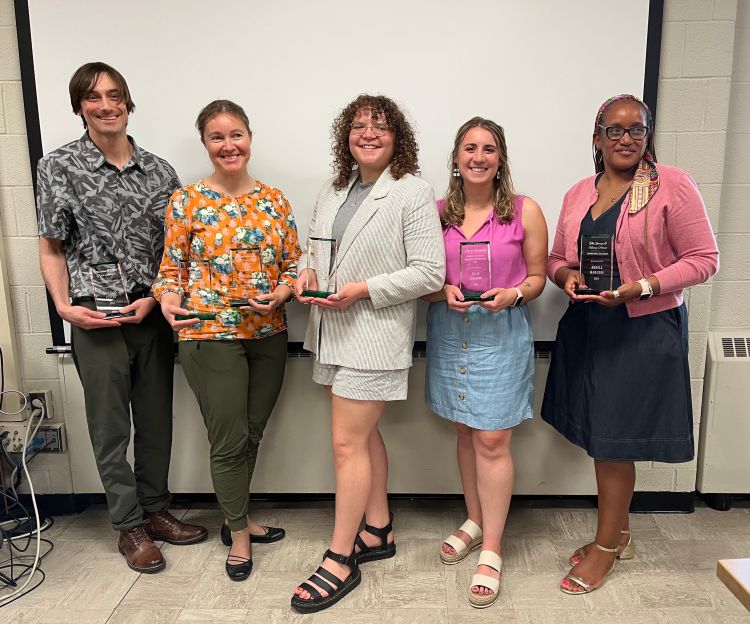 The 2023 Endowed Fellowship Award winners were presented on May 12th for the seven endowed awards within the department. These awards have been created throughout the years from generous members, friends, and families of CSUS to support graduate students in their pursuit of scholarship and research to advance the mission of CSUS. Each award listed below shares some background about the endowed fellowship and the award winner. Winners were presented their awards by their CSUS faculty advisor.
The Jon F. Bartholic Ensuring the Future of Michigan's Natural Resources Award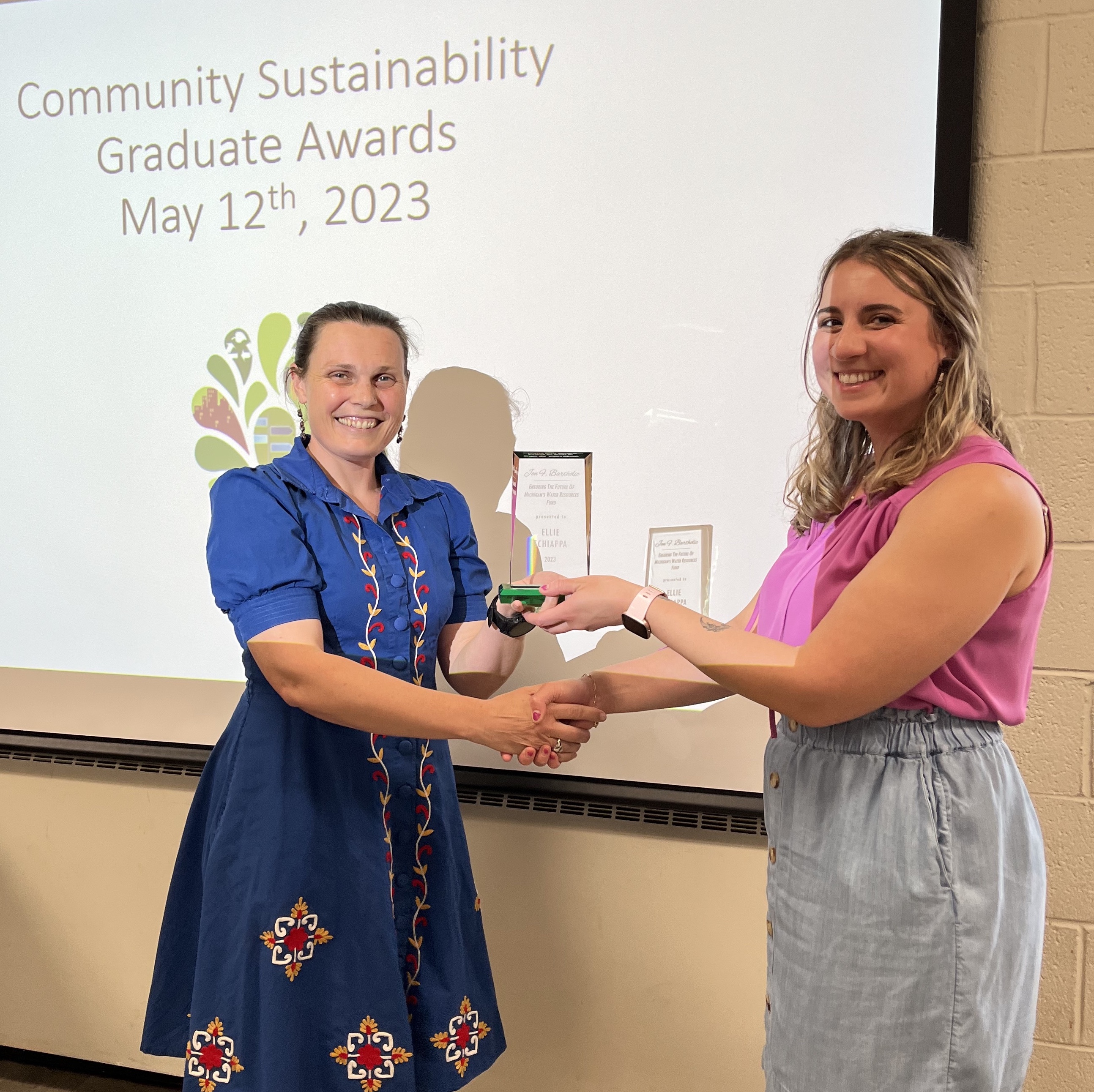 About the award: Dr. Jon Bartholic created the Ensuring the Future of Michigan's Natural Resources fund to support MS and PhD graduate students in the CSUS who embrace the role of scholar-practitioner modeled by Dr. Bartholic throughout his career. The fund is intended to support students who identify and study natural resource problems in Michigan and work toward their resolution through collaborative efforts with community leaders, government agencies, non-profit organizations, and industry. This fellowship is awarded to students working with such partners to develop and apply new knowledge for natural resource management that sustains resources while meeting the needs of a growing human population.
Winner: Ellie Schiappa (presented by Dr. Bess Perry)
Research focus: Climate Change adaption planning in parks.
Nancy and George Axinn Award in International Scholarship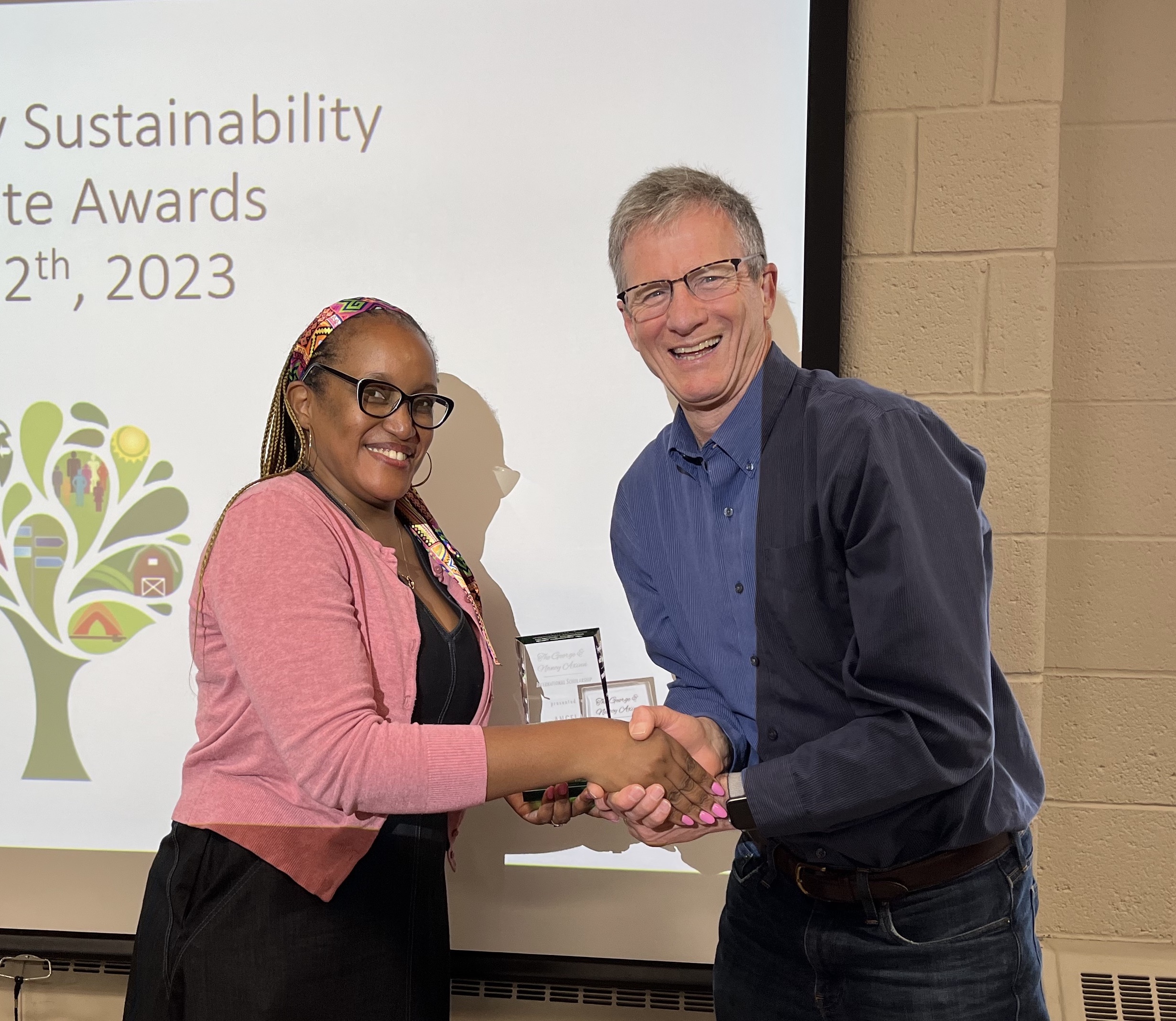 About the award: Nancy and George Axinn were committed to international development, and to improving life conditions of poor people in developing countries. Professors George and Nancy Axinn endowed this scholarship to support graduate students who are pursuing careers in international development. Recipients must be enrolled as graduate students in the Department of Community Sustainability (CSUS) and must focus their studies and careers on international development.
Winner: Angela Manjichi (presented by Dr. John Kerr)
Research focus: Understanding Learning Processes in the Promotion of Sustainable Land Management in Mozambique.
Gilbert W. Mouser Memorial Scholarship in Conservation and Environmental Education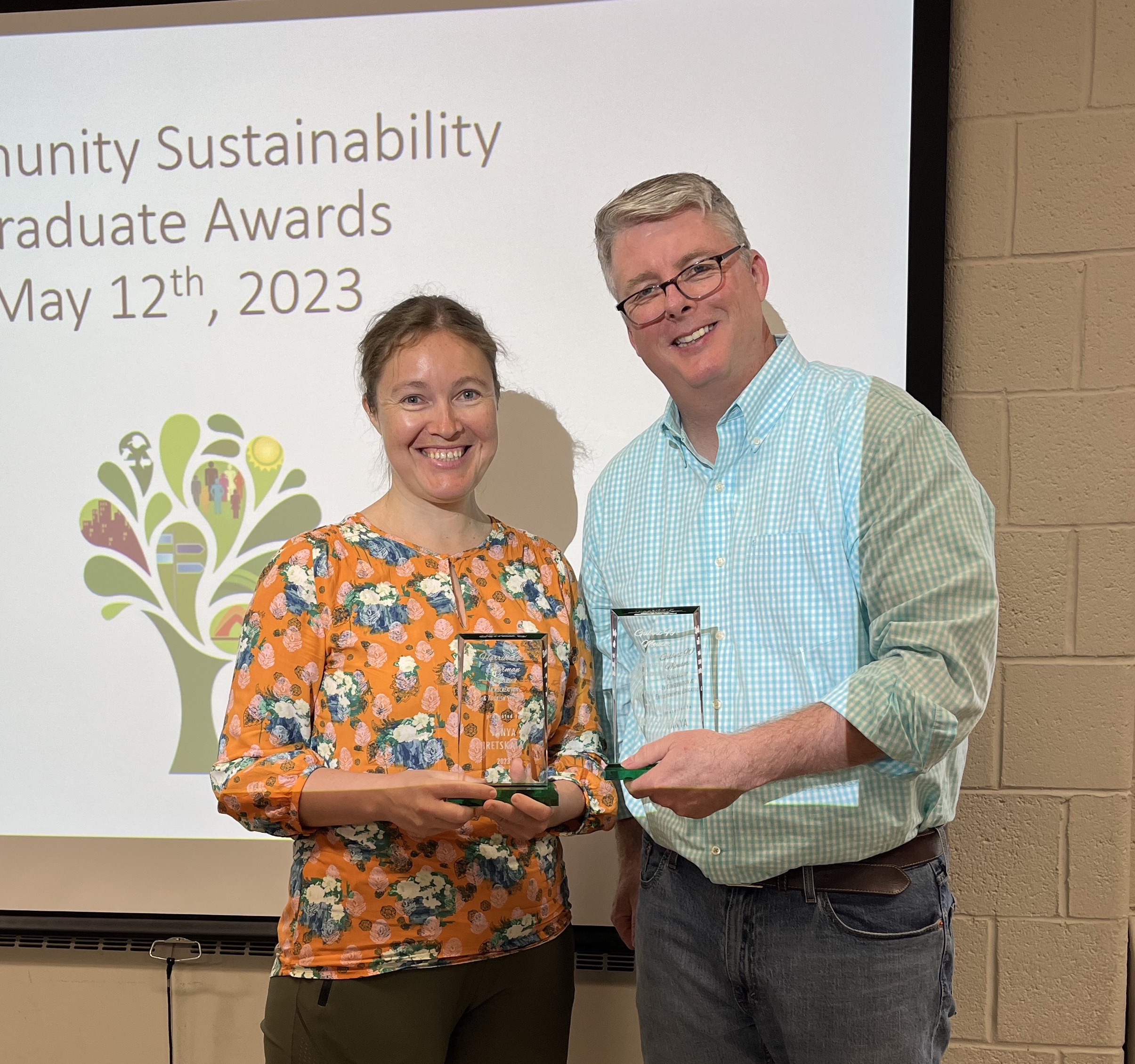 About the award: The Mouser Memorial Scholarship was established by Dr. John McVickar to recognize outstanding graduate students in CANR who focus on the study of conservation and environmental education. Dr. John McVickar received a MS in Resource Development from Michigan State College in 1953. Dr. Gilbert W. Mouser was one of his major professors, and had a profound impact on Dr. McVickar. Over the years, his professional relationship with Dr. Mouser formed the basis for his strong and positive memories of MSC. The excellent program that Dr. Mouser and his colleagues provided for students became the motivation for Dr. McVickar to create this scholarship in Dr. Mouser's memory.
Winner: Tanya Iretskaia (presented by Dr. Dan McCole)
Research focus: Nature-based travel, more specifically wildlife-focused travel as seen through telecoupling and cultural ecosystem services lenses.
Harriette Barbara Sherman Scholarship in Recreation and Tourism Systems
About the award: The Harriette B. Sherman Fellowship was created by Mr. Robert Ruigh. The goal of this award is to recognize non-traditional students who are enrolled in the Department of Community Sustainability and who are working toward a graduate degree in Sustainable Tourism and Protected Areas Management. Criteria for this award are that applicants meet at least two of four criteria, all indicators of the determination of non-traditional students to pursue an advanced degree.
Winner: Tanya Iretskaia (presented by Dr. Dan McCole) (pictured above)
The Frank Fear Fellowship for Excellence in Community Engagement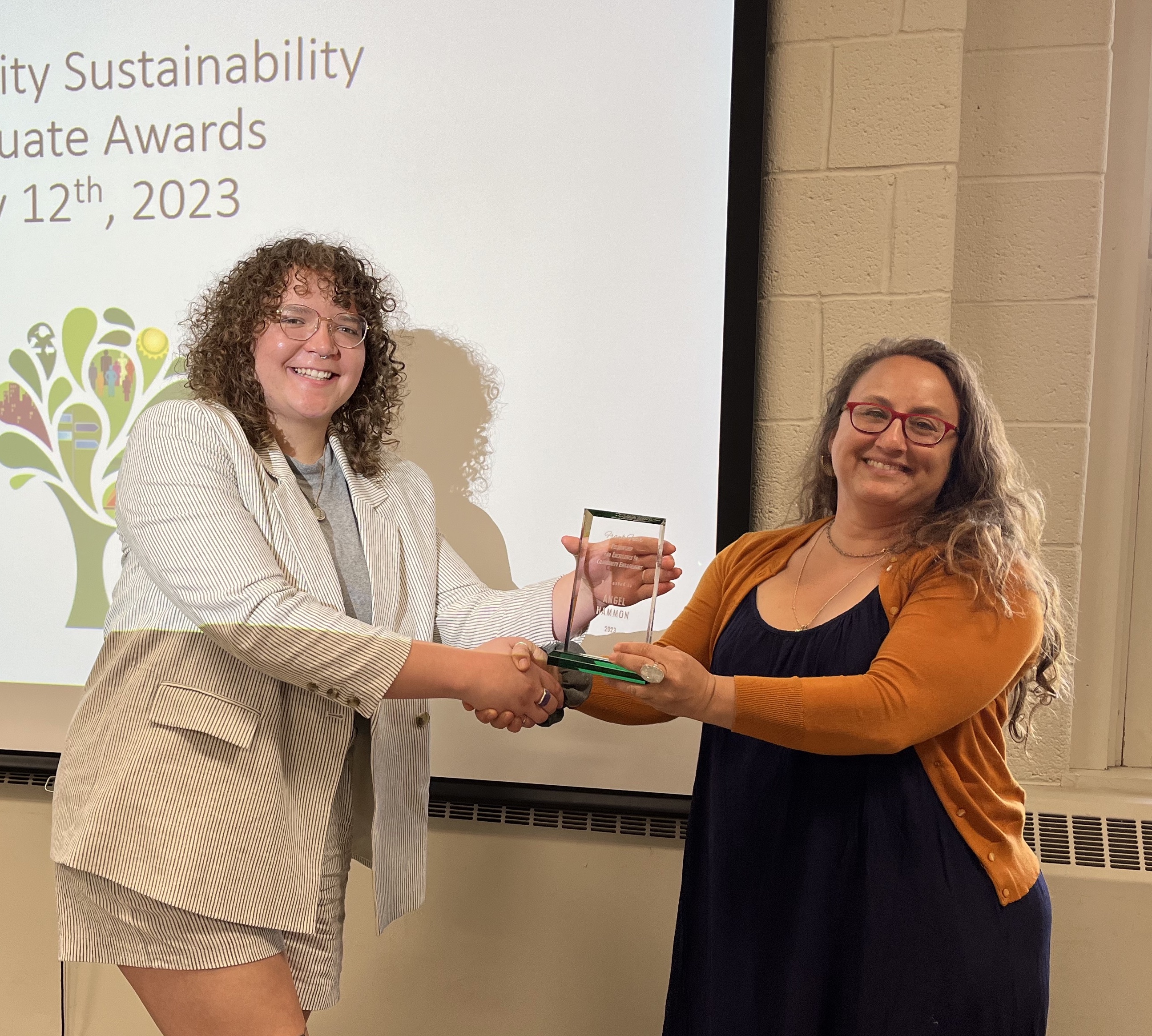 About the award: The fellowship fund has been created in honor of Frank Fear by his colleagues and friends to recognize outstanding graduate students in the Department of Community Sustainability who excel in scholarship that reflects the democratic practice of community engagement. The fellowship celebrates Frank's contributions in his long career at Michigan State University, where he worked tirelessly to create an environment that allowed students, colleagues, and staff to flourish. His work inside and outside the university has been characterized by a democratic practice of engagement, with the ultimate goal of transforming higher education and advancing the public good.
Winner: Angel Hammon (presented by Dr. Lissy Goralnik)
Research focus: Effects and dynamics of mobile farmers markets in Michigan.
Mllton H. Steinmueller Fellowship in Natural Resources and Environmental Policy
About the award: The Milton H. Steinmueller Fellowship was established with gifts from alumni, colleagues, and friends wishing to honor the career of Dr. Milton Steinmueller, who served for over 30 years as Professor in the Department of Resource Development (now CSUS). The long-term goals of this fellowship are two-fold: (1) to create a living memorial in honor of Professor Steinmueller, a devoted teacher (2) the fellowship aims to recruit and retain highly qualified graduate students to the Department who intend to emulate the career of Professor Steinmueller.
Winner: Rafael Cavalcanti Lembi (presented by Dr. Maria Claudia Lopez) (both not pictured)
Research focus: Applying social-ecological systems approach and on resilience theory and practice to food systems.
The Malcolm and Ann Kerr Award for Excellence in Scholarship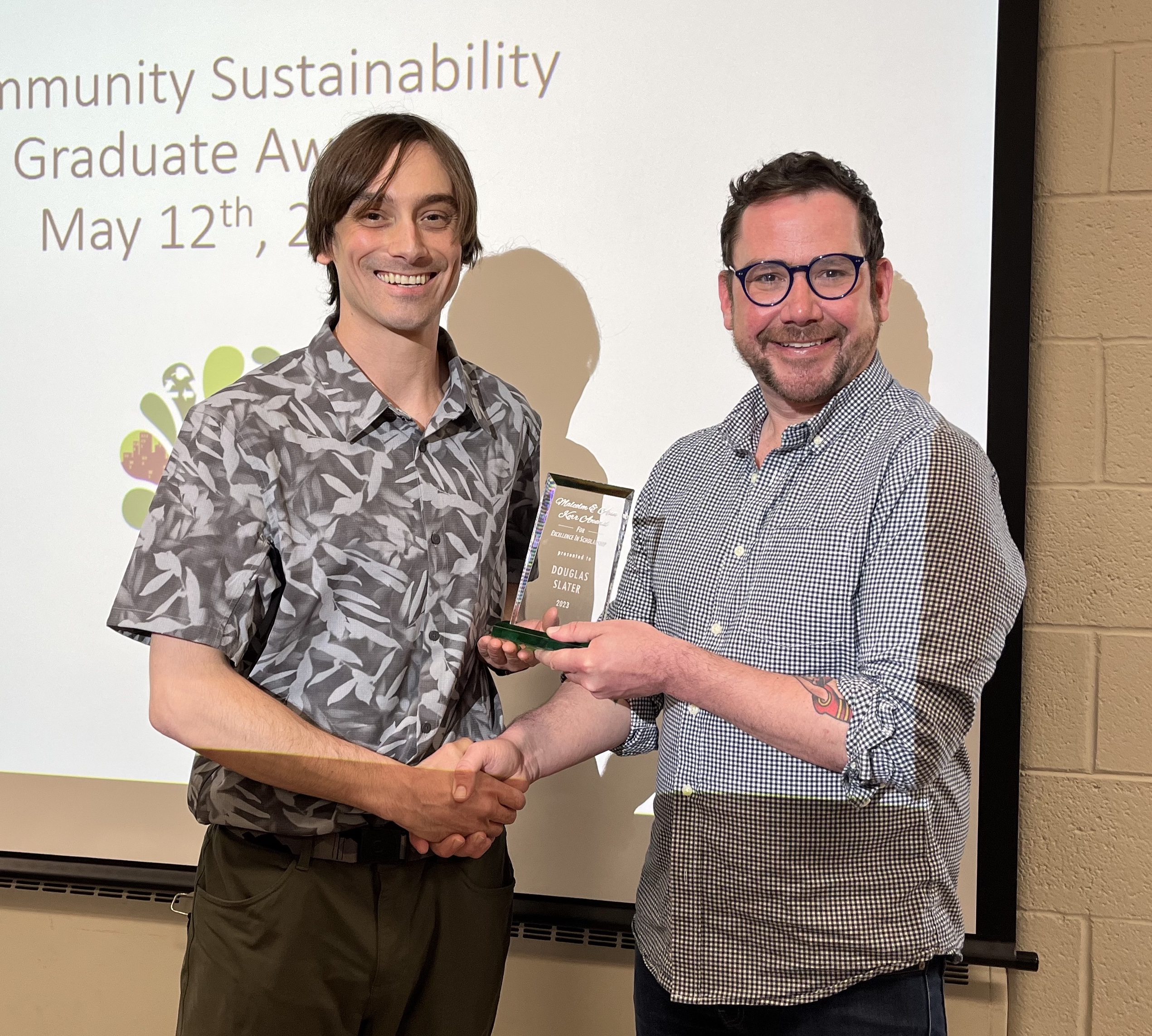 About the award: Malcolm and Ann Kerr devoted their professional careers to improving people's lives through education and understanding. This commitment was based on a belief that education helps us to see ourselves and our humanity through understanding others. The objective of the scholarship is not only to provide financial support but to help them bolster their academic record through a teaching experience to make them more competitive for a faculty position once they have completed their studies. In that way, the aim is to assist the scholarship recipient in continuing to promote higher education in the future.
Winner: Doug Slater (presented by Dr. Steven Gray and Dr. Phil Howard (not pictured))
Research focus: SES approach to sustainable food production through representing human behavior and decision-making processes in systems models.
Congratulations to all award winners!