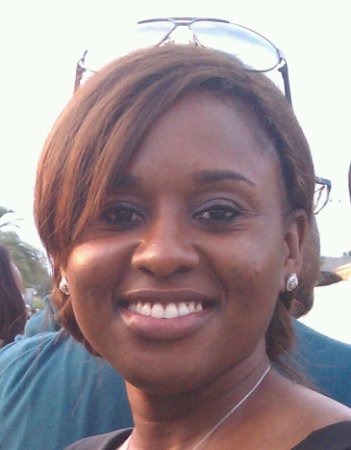 Angel "Gelica" Forde was one of the 2020 CANR Alumni Association Scholarship awardees. Forde is in a doctoral program studying sustainable tourism and protected area management through the Department of Community Sustainability (CSUS). She hopes to bring knowledge and skills back to her home country following graduation in spring 2021.
Name: Angel "Gelica" Forde
Hometown: Adelphi, Jamaica
Degree in process: Ph.D.
Expected graduation date: Spring 2021
Research focus: Sustainable tourism and protected area management program in the Department of Community Sustainability
What inspired your interest in an advanced degree area?
I believe in conserving the natural environment for the next generation. Therefore, I wanted to gain theoretical knowledge of best practices.
Additionally, I am from the island of Jamaica, and tourism is our primary economic contributor. Thus, developing an understanding of sustainable practices in tourism will assist the ministry of tourism and the Jamaican government in implementing sustainable practices that will advance the tourism section while ensuring prolonged benefits to all stakeholders.
Why did you choose to study at Michigan State University (MSU)?
I chose MSU because it is the pioneer land-grant university. Also, the program offered by the CANR allowed me to develop my course of study. I was able to incorporate a mixture of several subject areas to better equip me in gaining a broad foundational base to enhance my understanding of sustainable tourism and conservation practices. The interdisciplinary program format allowed me to do a blend of focus areas.
What do you want others to know about this program?
There is no limit to how you fashion your program of study. The graduate coordinator and your advisor will work closely with you in creating a course study that aligns with your interests and career goals.
What has been one of your best experiences within graduate school so far?
Thus far, my best experiences have been working with Bailey Scholars Program. I have a great appreciation for the sense of community, and how students are allowed to develop their identity while cultivating multiple leadership skills.
What are some of the best things about being an MSU student?
One of the best things about being a Spartan is knowing that you have a forever family. Once a Spartan, always a Spartan. Knowing that you will be a graduate of a global institution adds volume to your resume or CV, but you will also have numerous resources at your fingertips.
What are your future plans?
To gain a full-time position as a professor and work as a consultant to the Jamaican Ministry of Tourism.
Any thoughts or advice for current students?
You are joining a community that fosters individual development while creating team cohesiveness. Be open to changes. Adopt a growth mindset. It will help you in honing your identity, and you will be able to make strides to achieving your personal and career goals. Welcome constructive criticism. It will help you grow as a person.