Double Up Food Bucks Connects Low-Income Shoppers with Local Farmers
The DUFB program is a great strategy for implementing the 3rd agenda priority of the charter-Maximize use of current public benefit programs for vulnerable populations and link them with strategies for healthy food access!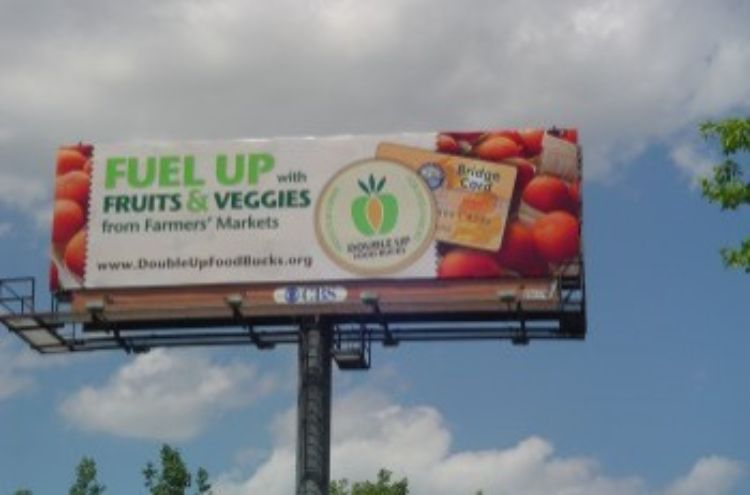 By Rachel Chadderton, Fair Food Network
Last summer at 54 farmers' markets throughout Michigan, shoppers using Bridge Cards (EBT/Food Stamps) had the chance to get more fresh fruits and veggies with Double Up Food Bucks (DUFB). DUFB matches Bridge Card purchases at participating markets with up to $20 in DUFB tokens. These tokens can then be spent on fresh, Michigan-grown fruits and vegetables from vendors in participating markets.
DUFB is demonstrating that a monetary incentive can cause a shift in purchasing patterns for customers using federal food assistance benefits – and that shift in purchases directly benefits Michigan's food producers. Between June and October 2011, customers used Bridge Cards and DUFB matching tokens to purchase over $1.2 million worth of fresh, healthy, locally-grown foods from their local farmers' market vendors.
DUFB has ended for the season, but will resume in late spring 2012 at the same 54 market sites that participated in 2011 plus an anticipated 5-20 additional markets. Any farmers' market that is equipped to accept Bridge Card/EBT/Food Stamp benefits can apply to participate in 2012. Preference will be given to markets in currently unrepresented areas and those with the support of a local foundation. For more information and to receive an application form, email info@doubleupfoodbucks.org.
Double Up Food Bucks is a project of Fair Food Network, a national nonprofit based in Ann Arbor. DUFB is supported by over 30 private foundations and corporations, including Open Society Foundations and the W.K. Kellogg Foundation. Additional support comes from the Michigan Nutrition Network and in-kind contributions from the Michigan Department of Human Services. See www.doubleupfoodbucks.org and www.fairfoodnetwork.org for more information.