E-Learning Program expanding to incorporate fire ecology studies
Michigan State University's Forest, Carbon, and Climate Program (FCCP) is adding fire ecology and management to its curriculum as part of a suite of existing courses in the FCCP.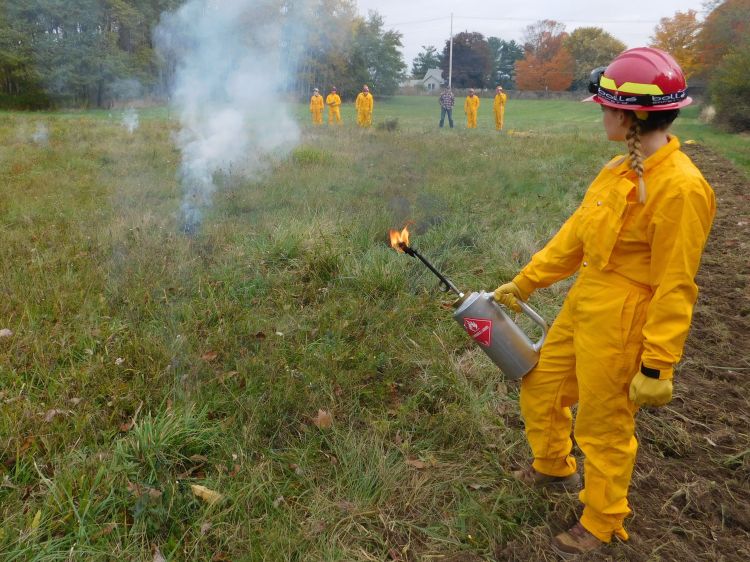 Previously, FCCP has taken a comprehensive look at understanding forest carbon and how it should be incorporated into the forest management decision-making process. This new direction builds on these higher-level themes and takes a deep dive into relationships between wildland fire, forest management, and forest carbon.
This initiative, led by Asia Dowtin, Andrew Vander Yacht, Lauren Cooper, and Kylie Clay from the Department of Forestry, will provide a synthesis of research to date as well as regionally specific management recommendations as climate change continues to drastically alter fire regimes and associated impacts on forest carbon stocks.
"We are seeing a lot of interest outside of traditional forestry spaces, for instance, among policymakers or even those in the oil industry and other non-forest sectors," Clay said. "There is a demonstrated and widespread interest in understanding how fires might impact uncertainties in forest carbon (for the sake of the land and landowners, as well as carbon markets)."
There are currently no existing educational programs that help landowners navigate the complex and dynamic interactions between fire, carbon, climate, and forests. Recognizing this gap in educational opportunities, the program will assemble an expert panel to formulate a nationally focused, interactive e-module, as well as regionally focused modules.
"The nature of the topic requires diverse expertise. It's a unique opportunity to be able to develop something like this and not surprising that there isn't a course like this already," Clay said.
The panel of experts will span 12 different extension institutions and 11 topic-related institutions, such as climate hubs, research centers, and nonprofit organizations. They will combine their collective expertise, identifying knowledge gaps and review curriculum, which will then be examined and critiqued.
The panel of experts will have equal representation from four U.S. regions: northeast, southeast, pacific northwest and southwest.
Vander Yacht has concerns about the direction forest management recommendations head when forest carbon is the sole focus. Wildland fire emits carbon, which exacerbates climate change and leads to increases in the size, frequency, and severity of wildfires. However, eliminating fire from forested systems is a short-sighted approach to the problem. Historically, fire-resilient forests were maintained by fire as it manipulated the structure, species composition, and distribution of forested communities.
"The importance of managing forest carbon, forest biodiversity, and ways in which fire manipulates each is so intertwined, it's hard to pull them apart," Vander Yacht said. "Often, carbon emissions during safely applied prescribed fires are less relative to that emitted by wildfires – and applying prescribed fire ensures landscapes include fire-resilient forests capable of continuing to store and capture carbon long after wildfires occur."
"Changes in wildland fire regimes in response to climate change could undo or will certainly shift the strategies recommended for forest carbon management." -KYLIE CLAY
A main goal of the program's expansion into fire ecology and management is to empower practitioners and policy makers to navigate the complex research relating wildland fire, forest management, and forest carbon.
"A paradox often captures this complexity – how can we maximize the capture and storage of forest carbon while also managing for fire-resilient forests and fire-dependent biodiversity? The latter often requires fire, and this curriculum aims to synthesize answers to this complicated question" said Vander Yacht.
The program will be an expansion of FCCP's well-established course delivery format involving knowledge transfer via webinar series and asynchronous learning environments geared toward professional audiences.
Course content will be developed by the MSU team in collaboration with experts from each region, making sense of literature and land management approaches, and by engaging with local professionals on how recommendations are best applied by geographical area.
The program will also add new knowledge-transfer materials to the existing Online Resource Library (OLR), such as key figures, infographics, and short informative videos that learners can share with landowners or policymakers.
Collaborators on the program agree that the addition of this course is a logical next step toward expanding the FCCP's knowledge-transfer resources.
"Changes in wildland fire regimes in response to climate change could undo or will certainly shift the strategies recommended for forest carbon management," Clay said. "You can't look at forest carbon management in isolation from the effects on or impact of wildland fire."
Program development will launch the Fall of 2021, beginning with outreach to expert partners and working through a needs assessment, with an estimated course program launch of 2023.