East Michigan vegetable update – April 24, 2019
Spring planting and greenhouse chores are piling up in a race for growers' attention.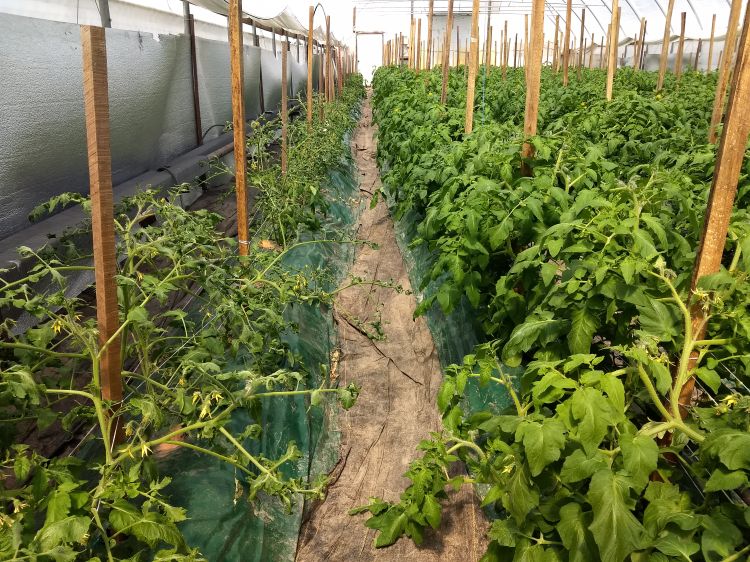 Weather
Soil temperatures at 2 inches are dipping below 40 degrees at night and over 60 degrees in the day. The regular daily rainfall April 15-19 has delayed some planting, but this week growers are back in full gear seeding and transplanting. The growing degree day (base 50) averages right now range from 44 in Sandusky, Michigan, and 78 in Flint, Michigan. This is below the five-year average by about 10 degree days, but right on par with the 2014 and 2015 seasons.
You can find more detailed weather information for your area by visiting the Michigan State University Enviroweather station closest to you:
A note to greenhouse producers and spring marketers
MSU plant pathologist Mary Hausbeck and her lab have developed a nice table of registered products for common greenhouse diseases on vegetables and herbs.
MSU entomologist Dave Smitley and MSU horticulturist Garrett Owen have developed a similar table of registered products for common greenhouse insecticides on vegetables.
Further, I wrote an article summarizing greenhouse use of pesticides and included a large table of pesticides commonly labeled for vegetables, along with their greenhouse use restrictions.
Looking to reduce labor through streamlining production? Check out this nice article overviewing some of the many ways greenhouse growers are doing this.
I have seen a lot pre-packaged onion sets and garlic cloves for sale. Here is what your sales staff needs to know: Consumers will have limited success of getting large cloves with a spring planting of garlic. Elephant garlic will produce monobulbs in the first season and must be overwintered into the second year before they break into cloves. Onion sets can be planted now, but it is very important you label your selections as long-day or short-day onions. The most a Michigan gardener can expect from a short-day onion planted now is green leaves. These varieties initiate bulbs as days get shorter, like when they are planted in autumn in Texas and Georgia, or a Michigan hoophouse. Our northern latitude summer season requires long-day onions that initiate bulbs as the days lengthen.
I have also seen some consumer pepper plants already flowering, even after Sumagic (uniconazole-P) were used to slow their growth. Here is what your sales staff needs to know: Consumers will have limited success without frost protection or pruning. Transplanting flowering and fruiting peppers into the ground will not yield many fruit, and plants will be smaller. They can be transplanted as-is into larger pots indoors with flowers pinched and moved to porches later, or they can be pruned back to three to four leaves to keep them vegetative until the danger of frost has passed before transplanting outside.
Vegetable crops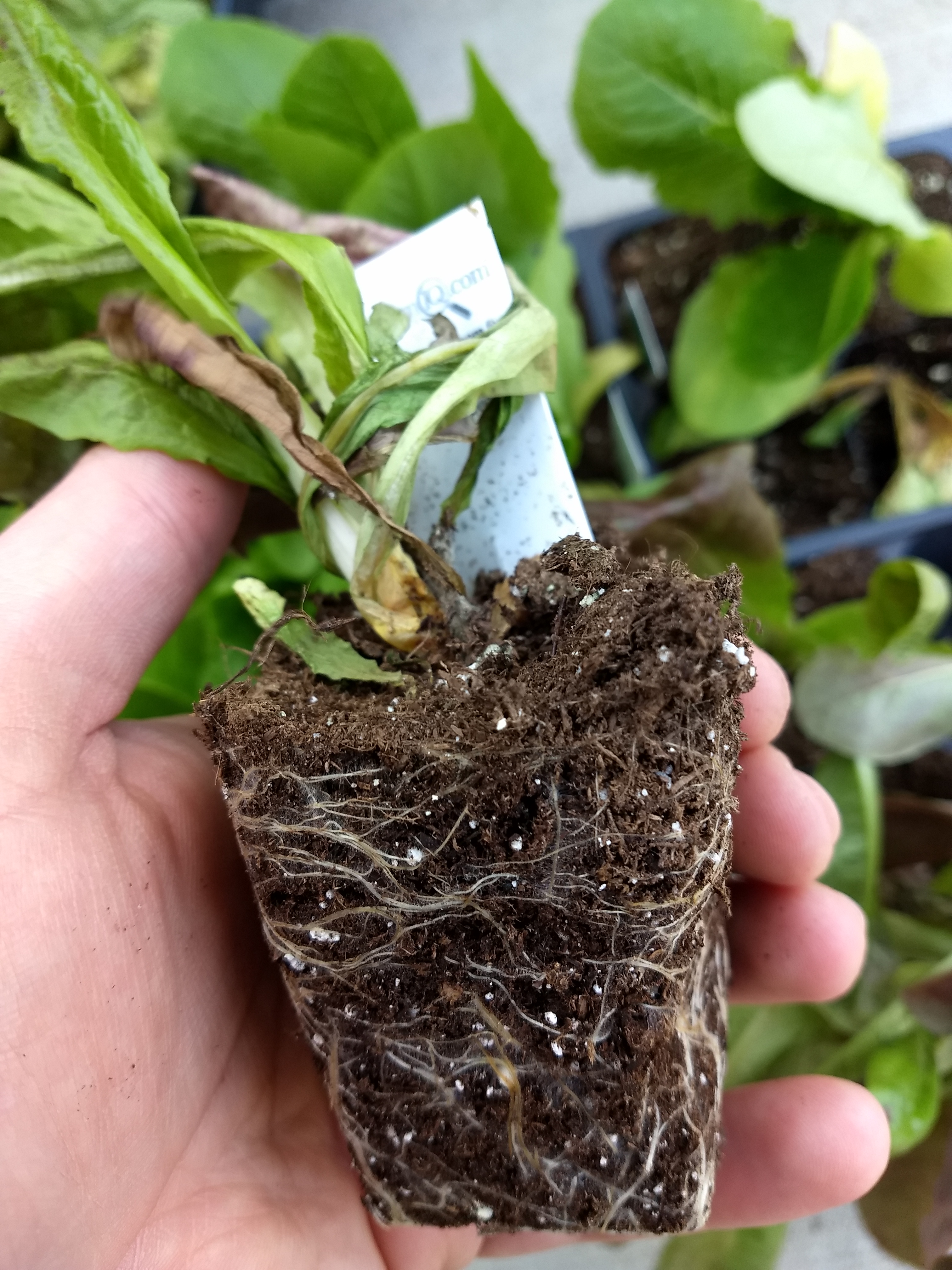 Transplanted field lettuce has begun and has been continuing as conditions allow. I visited a Macomb County greenhouse with some issues with lettuce in seed trays rotting right at the crown (Photo 2). It was a fairly textbook case of damping off (likely a Pythium and Rhizoctonia complex) that was promoted by the cool, cloudy weather last week and overwatering. But these particular cell-packs were from a pelletized seed package that included multiple seeds and varieties per pellet for consumer transplant sales. This sort of arrangement also crowds cells and can take longer to dry between waterings. Culling symptomatic cell-packs and judicious irrigation going forward can slow or stop the spread. Additionally, Subdue MAXX, Iprodione and Previcur flex can be used for these pathogens on lettuce in the greenhouse.
Garlic is 4-6 inches tall in Clare and Midland counties. Mulches remain on some farms. Sweet onions imported from Texas and Georgia are being transplanted this week in Bay County. Storage onion seeding has been on-going in Lapeer County. Greenhouse-grown sweet and storage onions are also on the transplanting docket. One visit with a grower in Midland County expressed concern about seedlings in transplant trays getting stuck in the loop stage. Under conditions that inhibit vigorous growth, the tips of the first onion leaves can get stuck on their seed coat or light crusting of the soil or media. The cloudy days last week may have caused this lack of vigor.
Strawberry mulch is coming off, with irrigation pipes going in for frost protection and no more than 20 pounds per acre nitrogen. Some growers are considering an early season herbicide treatment for composites (dandelions, salsify). Stinger (clopyralid) can be used at the 5.3 fluid ounces per acre rate this spring, with a follow up after renovation, for a max seasonal application of 10.6 fluid ounces.
Heated hoophouse tomatoes (determinate) are golf-ball sized. Plants are on their third or fourth flower cluster in the oldest plantings and their third tier of string-trellising. I was on an interesting case this spring to identify ethylene or 2,4-D-like injury occurring most severely on the edge rows (see Photo 1). The house is on the end of a bank of four similarly-sized hoophouses in Clare County. They are all on a south-facing slope, with a muddy bottom land just outside their end-wall doors. They are heated with an external firebox running hot water through fin-pipe along the outer edges of the house. The snow pack between the two houses was 6 feet high this spring, and resulted in a slow seeping of cold water under the edges of the hoophouse. The snow pack on the other side was not as deep, and the symptoms were less on that side. The symptoms were also worse on the south end, where the water collects.
Two distinct stressors occurred that resulted in this injury. The heat provided by the radiator fin-pipe at leaf level sent the foliage into high gear, while the roots were soaking in ice water. In addition, anaerobic soil-microbes in soils with high organic matter can produce ethylene when waterlogged which can be taken into plant roots. Usually we see symptoms from leaky heat units in heated hoophouses at this very same time of year, but this another way in which those symptoms can occur. The grower is planning to install 4-inch tile to drain around the hoophouses and bottom land to direct this snow melt away.
Field tomato and pepper transplants have two leaves.
Brassica transplants are ready to go at many farms, with some planting underway.
Celery, celery root and other herbs have three to six leaves.
A purple asparagus variety in Midland County was up 2 inches.
Rhubarb in the hothouse is finishing up, with some portion being retrenched. Field rhubarb is 3-4 inches tall.
Worker Protection Standard
At this time, MSU can provide the respirator medical evaluation service for anyone who needs to use a respirator for mixing, loading or applying pesticides with a respirator requirement. Interested individuals will need to complete the Initial Respirator Questionnaire and send it, along with a check for $30, to the address at the end of the form. Each individual submitting the questionnaire will receive a response in writing that will either say: 1) they are medically approved to wear a respirator and for how many years; or 2) they will need a physical examination and/or further testing. MSU can also provide respirator fit-testing. Contact Melissa Millerick-May at 517-432-0707 or melissa.may@hc.msu.edu for more information.
I had the opportunity to meet with Great Lakes Bay Health Centers last winter at the Great Lakes EXPO where they provided free medical evaluations for growers. I learned they provide free dentist and medical care to migrant camps all summer long using mobile offices on wheels. Contact Jesse Costilla at 989-922-5658 or JCostilla@glbhealth.org to line something up for your workers. Costilla also has a Facebook page to communicate with migrant camps called Elpaisa Delnorte (Northern Brother).
Meetings
It is never too early to make accommodations to attend the Great Lakes Fruit, Vegetable and Greenhouse Growers EXPO, Dec. 10-12 in Grand Rapids, Michigan. Hotel blocks are open and tend to go fast. The combination of grower-focused, research-backed presentations and an exhibit hall featuring a diverse set of vendors make it a can't-miss event.
Need your water tested for the Food Safety Modernization Act (FSMA)? Check out the Michigan Ag Water Lab Map: https://tinyurl.com/MIagwaterlabmap
Please contact me at phill406@msu.edu or 616-901-7513 with questions, concerns or to schedule a farm visit. You can also send plant materials to MSU Diagnostic Services.