East Michigan vegetable update – May 22, 2019
Growers are catching up this week.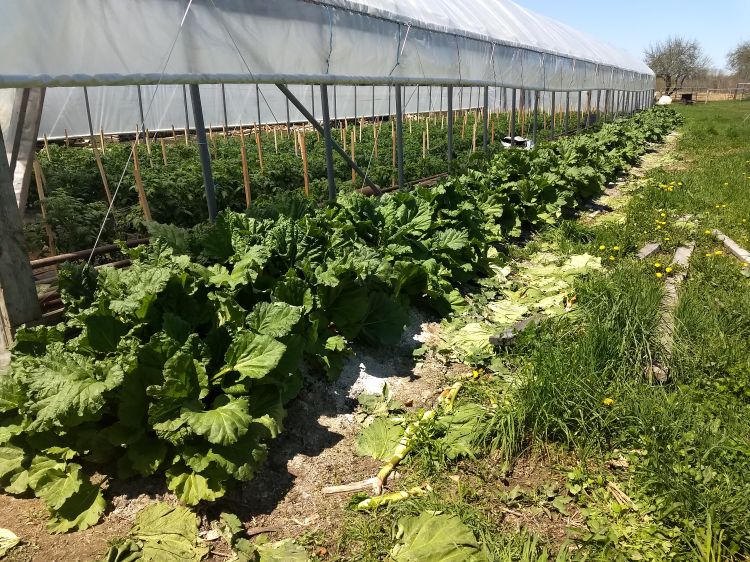 Weather
A weather system from the southern plains is moving in today, May 22, bringing rain, warm temperatures and a lingering humidity. There is another system predicted Friday. Sunday and Monday look dry, with more chances for rain on Tuesday. This has been a challenging spring.
Here is a table that summarizes the maggots of concern and the degree-days that signify when they will be laying eggs in the areas around seedlings. I used Lapeer as an example. The seed corn maggot and cabbage maggot models are from Michigan State University's Enviroweather, and the onion maggot model is from NEWA. Both onion maggots and cabbage maggots began to emerge in the last week, but peak flight has yet to occur. Delay planting if possible, or time banded insecticide applications for the peak flight of overwintering flies.
| | | | |
| --- | --- | --- | --- |
| Current degree days (Lapeer) | 583 | 521 | 410 |
| Overwintering flies start to emerge and lay eggs | 201 (occurred April 18) | 390 (occurred May 15) | 298 (occurred May 11) |
| Peak flight and egg laying of overwintering flies | 342 (occurred May 4) | 735 | 565 |
| Peak flight and egg laying of first generation flies | 1,235 | 1,752 | 1,476 |
| Peak flight and egg laying of second generation flies | --- | 2,975 | 2,652 |
You can find more detailed weather information for your area by visiting the Enviroweather station closest to you:
Vegetable crops
Asparagus picking has begun in earnest. Asparagus beetle feeding and egglaying can be controlled with acetamiprid (Assail), carbaryl (Sevin), chlorpyrifos (Lorsban), methomyl (Lannate), permethrin (Perm-Up). These all have a one-day preharvest interval (PHI).
After the main harvest ends, products like dimethoate, spinetoram (Radiant) or spinosad (Entrust) can be used to prevent beetle proliferation on ferns. The PHI is longer on these products.
Field rhubarb picking continues. I was approached about a rhubarb variety trial, but in order to collect data, I need to know what is important to figure out how it could be best measured. Please take the time to add your two cents in this google form below.
Heated hoophouse tomatoes are being picked. They are mostly cherries right now, but beefsteak types are blushing.
Pickling cucumbers are just beginning to be seeded this week as conditions allow.
Early sweet corn plastic has been removed on some farms.
Zucchini, summer squash and cucumbers were being transplanted into the field on black plastic and under low-tunnels last week, and melons and watermelons have just started going out this week under low tunnels and hot caps.
Tomatoes and peppers were both being transplanted into the field on black plastic and under low-tunnels last week and continued this week.
Radishes were being bunched this week in Bay City, Michigan. This is a great time to begin trying Lorsban alternatives. We have not reached peak flight yet
Winter spinach, carrots and red beets were nearing harvest at a high tunnel in the Thumb last week.
Meetings
We are planning one more Produce Safety Alliance (PSA) Grower Training event in South Haven on June 4. If you were hoping to sign up for an On-Farm Readiness Review (OFRR) this season, we ask that growers attend a PSA Grower Training before scheduling an OFRR. This will be the last opportunity to participate in a grower training, and therefore an OFRR, until this coming October. Register at Produce Safety Alliance (PSA) Grower Training.
It is never too early to make accommodations to attend the Great Lakes Fruit, Vegetable and Greenhouse Growers EXPO, Dec. 10-12 in Grand Rapids, Michigan. Hotel blocks are open and tend to go fast. The combination of grower-focused, research-backed presentations and an exhibit hall featuring a diverse set of vendors make it a can't-miss event.
Please contact me at phill406@msu.edu or 616-901-7513 with questions, concerns, or to schedule a farm visit. You can also send plant materials to MSU Diagnostic Services.