Emerging markets: Finding new ways to get local products to consumers
The goal of the MSU Center for Regional Food Systems is to see how much of the food Michiganders consumer each year can be sourced, processed and delivered within Michigan in profitable ways while preserving natural resources.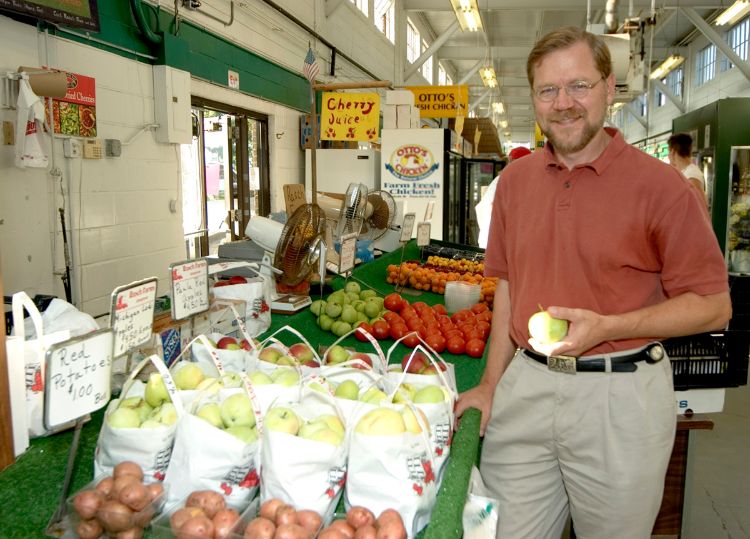 Michiganders consume 12 billion to 15 billion pounds of food a year[1]. The goal of the MSU Center for Regional Food Systems (CRFS) is to see how much of that food can be sourced, processed and delivered within Michigan in profitable ways while preserving natural resources.
"Michigan is in the middle of the Midwest with the second most diverse agriculture in the country," said Michael W. Hamm, MSU AgBioResearch scientist and CRFS director. "CRFS is focusing on all the things that can be done to build sustainable, local food systems."
CRFS research, education and outreach on helping Michigan build better regional food systems officially began in February 2012. Hamm began similar work in 2003 when he arrived at MSU as the C.S. Mott professor of sustainable agriculture.
A major CRFS project, carried out with assistance from the Michigan Department of Agriculture and Rural Development (MDARD) and Morse Marketing Connections, is the development of the Michigan Food Hub Learning and Innovation Network. Food hubs are centrally located facilities with a business management structure to facilitate the aggregation and distribution of food products from small and midscale farmers in a particular region.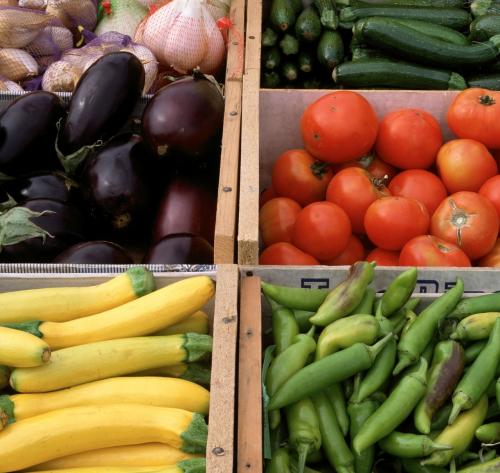 After farmers deliver their products, the food hub stores, processes, packages and markets the food to wholesale buyers such as restaurants, hotels and universities. Food hubs differ from other distribution systems because they work specifically with small and midsized farmers to provide local and regional foods. The sales benefit the local economy, community well-being and the environment by decreasing transportation distances.
Michigan, with a $91 million agriculture industry, has become a national leader in the development of food hubs. To support the statewide endeavor, MDARD provided approximately $900,000 in grants in 2012 to food hub projects in Detroit, Ann Arbor, Lansing, Traverse City and the Upper Peninsula. The CRFS has ongoing projects to help develop these locales and establish new hubs in Michigan.
CRFS also recently completed the 2013 National Food Hub Survey in collaboration with the Wallace Center at Winrock International. The survey shows that food hubs throughout the United States continue to develop as financially viable businesses providing locally produced food to wholesale customers.
"Surveys such as this one provide much needed data for those looking to fund, evaluate and further investigate the role of food hubs in regional food systems," Hamm said. The survey also provides a way to track changes in food hub development over the next decade. The center assumed national responsibility to conduct the survey every two years for the U.S. Department of Agriculture.
The survey revealed that more than 65 percent of U.S. food hubs operated independently without external funding sources and contributed significantly to the growth of local economies. Many hubs operate in rural or urban areas that have limited access to food items such as fresh fruits and vegetables.
Another focus of CRFS is the development of a statewide farm-to-school network that helps link schools with local growers, producers and processors with the goal of schools sourcing about 20 percent of their food products from Michigan. One project is a funding program with K-12 food service directors to help them get started buying Michigan agricultural products.
CRFS also brings together researchers, producers and marketers associated with the meat industry to look at how regional markets for Michigan meat products can be developed.
"Right now, Michigan meat products almost never go to Michigan markets," Hamm said. "This work group is attempting to find out if there is a way to create value-added products within a regional supply chain."
With an eye to the future, the center is working with agricultural economists to examine the impact of Michigan food on the state and develop tools to help regional governments evaluate the effect of local food on the local economy.
"There is a lot of research out there that overestimates the impact. We want to get more robust numbers that are more within the realm of reality," said Hamm, who envisions a process that can help communities understand what data they need to collect and then develop a process to use that data in an analytical framework.
Hamm believes that regional food systems should be part of a household food supply.
"Our food supply should include national and global trade but balance that with regional sources and markets," Hamm explained. "From our analysis, part of the key to food security is that balance between regional, national and global."
[1] M.W. Hamm (2010), The Food System: A Potential Future. Available at http://www.glynwood.org/files/2010/11/The-Food-System-A-Potential-Future.pdf.