Entomology alumni John Wallace on making a difference
Wallace leveraged his MSU Entomology studies and network to help exonerate innocent men and pursue solutions to the mystery disease, Buruli ulcer.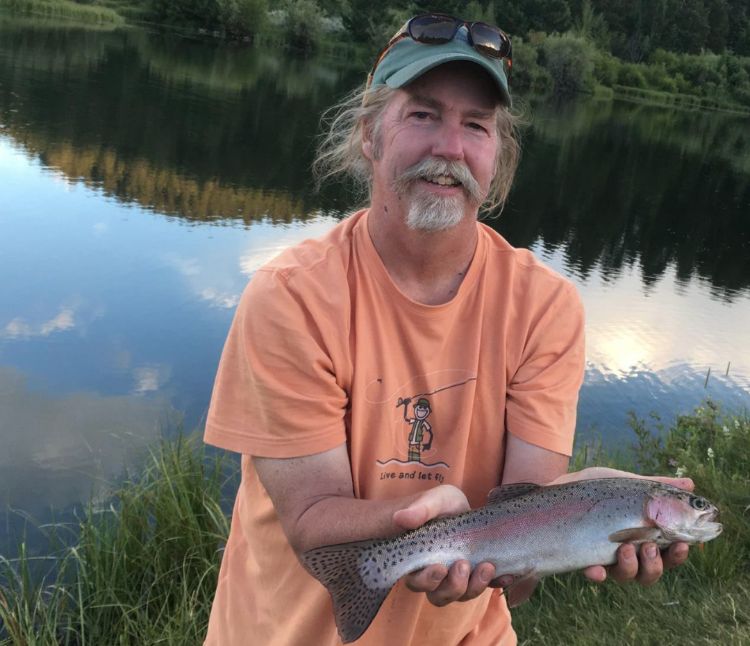 John Wallace is the 2021 recipient of our Department of Entomology's Distinguished Alumnus Award. A professor at Millersville University, he is an expert in medical entomology and stream ecology. In talking with Wallace, he noted "a river has always run through my work." Working in streams, networking with others, he feels a deep flow of connection to MSU and a desire to pass opportunities on to others.
His interest in entomology started early. Like many entomologists, he remembers being a child running through fields and capturing insects to rear into adult stages. He graduated from Penn State University with a bachelor's degree in environmental education and then joined the United States Peace Corps serving in Guatemala for nearly four years with the beekeeping and wildlife management programs and later training Peace Corps volunteers in the beekeeping program.
"Peace Corps gave me the opportunity to learn about other cultures and apply my knowledge of biological science in several countries," Wallace said." I knew I wanted to go to graduate school and for international work to be a part of my research program." Either through his own research crossing international borders or through encouraging his students to do the same, he has maintained an international thread trickling through it all.
Wallace earned his master's degree in biology at Shippensburg University with Fred Howard, an MSU Entomology alumni who was a student of well-known MSU aquatic entomologist Ken Cummins. This is when Wallace's "river" of connection began to flow. Cummins served on Wallace's advisory committee and recommended him when MSU's Rich Merritt was looking for a doctoral student to work on larval mosquito feeding ecology. Through doctoral studies with Merritt, Wallace gained the skills and knowledge to continue his mosquito work during a post-doc at the University of Notre Dame and now at Millersville University in Pennsylvania.
Wallace has a significant teaching appointment at Millersville University but has maintained a strong externally funded research program addressing medically important issues surrounding surveillance and control of mosquitoes and blackflies as well as stream studies focused on stream restoration, and freshwater and estuarine forensic botany and necrobiomes. The key to his success has been collaborations with colleagues at other universities, some of them his former students as well as MSU entomologists. Most of his international work has centered around Buruli ulcer, a skin disease caused by a bacterium that creates severe disfiguring ulcers if not diagnosed and treated early. Wallace has continued studying aspects related to the transmission of Buruli ulcer through collaborations first with Merritt and now with MSU's Eric Benbow and University of Melbourne's Tim Stinear that have taken him to West Africa and Australia.
"Buruli ulcer and the bacterium that causes it have been known for approximately 80 years and the disease has earned the nickname of 'the mystery disease' because it is still unclear how the bacterium is transmitted to people," he said. "Treatments have improved but this disease can be very devastating and if we can understand how it is transmitted, then we can work to eliminate it."
Like Merritt, Wallace is applying his aquatic ecology skills to review forensic evidence in criminal cases, including a case made famous by the Netflix series, the Innocence Files (S1, Ep1, 2). In two separate incidents in the same small town, innocent men were convicted of raping and murdering a child, one man sentenced to death and the other life imprisonment. The Innocence Project asked Wallace to review expert evidence tying bite marks to the suspects. Adapting techniques from his entomological forensic training, Wallace determined the bite marks were consistent with those caused by crayfish and this contribution was part of the final evidence needed to exonerate both men.
Like most professors, the river continues to flow for Wallace as he teaches and trains students. He has recommended several students to MSU Entomology, including Joe Receveur who is now a doctoral student with Eric Benbow and Laura Lazarus who worked with Deb McCullough. His advice to graduate students is to step outside of their comfort zones. "Explore different opportunities such as assisting with hosting conferences, networking at meetings and maintain those connections after completing your studies. One never knows from where the next collaboration may come."
As for his undergraduates, he advises them to do internships, get involved with research, write grant proposals and present at meetings. This advice has helped them whether they go into the job market or pursue graduate studies. He said, "Employers want to see some sort of science passion in an applicant. Students who show a diversity in experiences but more importantly, passion in what they did, are far more successful in job interviews."