Featured entomology graduate student Keith Mason
Research technician by day, graduate student by night. With the help of coffee and having a supportive major professor and boss all in one, Keith Mason shares what it's like to take on a PhD while working at Michigan State University.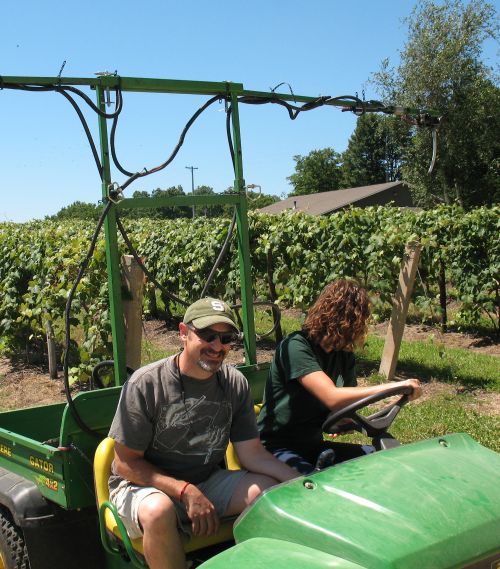 Research technician by day, graduate student by night. With the help of coffee and having a supportive major professor and boss all in one, Keith Mason shares what it's like to take on a PhD while working at Michigan State University.
Name: Keith Mason
Hometown: Flushing Meadows, New York (Yes, I am a loyal Mets fan)
Previous education: Two bachelor's and a master's from Florida State University
Major professor: Rufus Isaacs
What are you researching? My research focuses on the chemical ecology of an important economic pest of vineyards in eastern North America, the grape berry moth. I am working to understand how host plant characteristics, temperature and day length influence pheromone communication, mating behavior and seasonal phenology in this pest. My goal is to help refine current monitoring tools and improve prediction and control of this key pest.
How do you balance graduate school and being a research technician with the Isaacs Lab? I love coffee, and I have my own office. Seriously, I really am a career student, and somewhat of a workaholic, two traits that have served me well. Luckily, I have lived and worked in college towns for most of my life, so I guess taking on a PhD while working at MSU just came naturally. Having a supportive major professor and boss, all in the same person, is also crucial to my work/school balance.
What are some of the pros/cons to balancing both? Without a doubt, being a technician before I started my PhD was a huge help. I was familiar with the university and the workings of the department. I had already worked in vineyards, so I knew the growers that I could work with and knew where good study sites would be. It was like I didn't need a technician's help for any of my research! Yes, I know it sounds a bit like cheating, but I couldn't have done it any other way.
The downside of doing both is that it can be difficult to separate my work and student life, which makes scheduling time to work specifically on my research challenging at times. As a result, it will likely take me some extra time to graduate, but again I have excellent support and understanding from my advisor and my guidance committee.
Why study entomology? Jobs. Entomology is like a gateway discipline to many other areas of the biological sciences. That is, insects are so important to the ecology of the earth, human health and agriculture, that the career opportunities related to insects are limitless. In addition, insects are excellent and ubiquitous model systems for many types of research from molecular biology to ecosystem function. I think the bottom line is insects are so important to humans that many solid sources of funding are available, and this leads to jobs.
What or who inspired your interest in entomology? My interest in entomology began as an undergraduate when I was writing a paper on the evolution of symbioses for a class. During that time, I came across Dan Janzen's work on the Pseudomyrmexspecies of ants that inhabit and protect bull's thorn acacias. These ants protect the acacias from herbivores in exchange for the use of the domatia inside the thorns and access to food from extra-floral nectaries. After learning about this system, there was no turning back.
What is your favorite thing about MSU? I love the campus, especially the northern portion, and most of all during spring and fall. The old brick buildings and ivy will always make me feel at home, and there are many interesting events to attend and things to do on campus. I am not the only one that feels this way, as I know many MSU families that will come to campus to enjoy a day out.
What is your favorite insect? Hands down, I am a myrmecophile. I studied ants for my master's and I am always happy when our lab's research involves looking into the ant community in grapes or blueberries, or investigating how ants interact with crop pests. I can't single out one species as a favorite, but rather I follow the thinking of my master's advisor, Walter Tschinkel, in that "any ant is a good ant."
What is your favorite activity/way to spend your time outside of your studies? I am the tired parent of two teenagers. Thankfully, one is away at college, but the other plays the trombone. So naturally, I enjoy spending time away from home walking with my dog Frodo, or hiking in the woods and just kicking pine cones. During the growing season, I also like to spend time in the garden raising vegetables and herbs.
Read about our past featured students in the Featured Students section.