Pandemic conditions created serendipity leading science teacher Kevin Postma to MSU
Entomology graduate student Postma experienced a chain of events allowing him to teach science in Manistee while earning his PhD.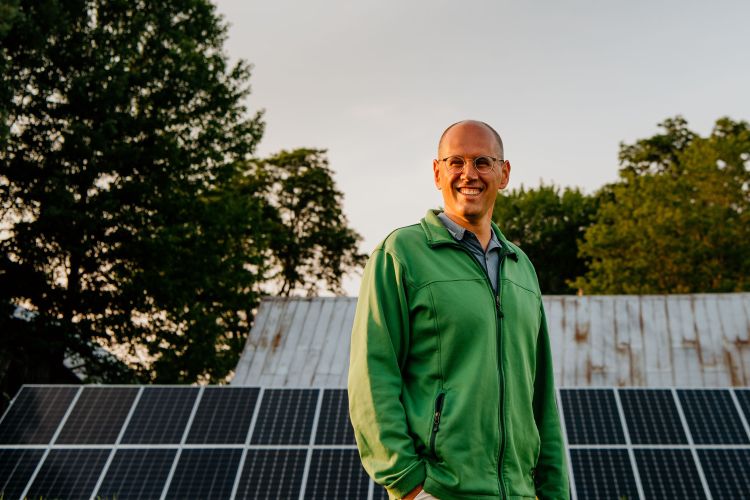 Name: Kevin Postma
Hometown: Port Clinton, Ohio but currently live and teach high school science in Manistee, Michigan.
Previous education: BS Botany, Miami University; MA Curriculum and Instruction, University of Mississippi.
Major advisor: Julianna Wilson
What was something positive you experienced as a student during a pandemic?
Due to the pandemic, Entomology professor Larry Gut was unable to find an undergraduate scout for his research in orchards in the Hart and Manistee areas. He needed a scout to check traps for codling moths and potential new invasive species that haven't shown up yet but could be harmful for the fruit growing industry. He begged local growers to find him a scout, which led to the local biology teacher (me) taking the job! Though just a scout, I enjoyed the research and getting to interact with really intelligent people. At the end of the summer, Julianna Wilson and Gut asked if I would be interested in pursuing a PhD!
Because I am working full time as a high school science teacher, I have to complete most of my coursework virtually during the school year. Before the pandemic, few of us could zoom or use other online tools so I doubt that I could be a PhD student if the pandemic hadn't forced us all to learn these tools.
Tell us about how you experience being a teacher and a grad student.
I have taught high school science for 23 years at a small school, so I have taught almost every subject area. Teaching has pushed me to deeply understand concepts so that I can help students reach an understanding. While I hope that they will all grow to love and understand science, I know that many of them struggle and get frustrated because science is hard.
Being a grad student lets me experience some of the struggle and frustration that comes with pushing as earning a PhD isn't easy. Learning isn't always easy. I realize how little I know and that I have to work to understand the material and reach out to my professors for help when needed. While this feeling is uncomfortable, I ask my students to do this every day. Hopefully my frustrations and moments of intellectual insecurity will help me become a better, more compassionate teacher.
What are you researching?
I am researching whether orchards sequester significant amounts of carbon dioxide from the atmosphere and whether the grass alleys between the trees can be manipulated to increase soil carbon sequestration. While my research is primarily biogeochemical, plant changes affect insect populations. Everything is multidisciplinary.
What is your favorite thing about MSU?
I enjoy the people. My professors have been great and I enjoy my fellow students. I do miss participating in the activities happening on campus. MSU is such an intellectually engaging place and I wish I could attend all of the seminars in all of the departments.
What is your favorite way to spend your time outside of your studies?
My spouse and I have two high school daughters who are brilliant, forward-thinking, politically-engaged people. In all honestly, I am just trying to hang with them by getting a PhD! While I would love to hang out with them all the time, they don't seem to feel the same way, so it frees me up to ride my mountain bike with friends. It gives me a chance to burn off stress, break and fix stuff, and experience nature at a high speed.