How a Lack of Funding Led to Nematology
Amanda Howland believes that, through a lack of funding, it became her fate to study nematology.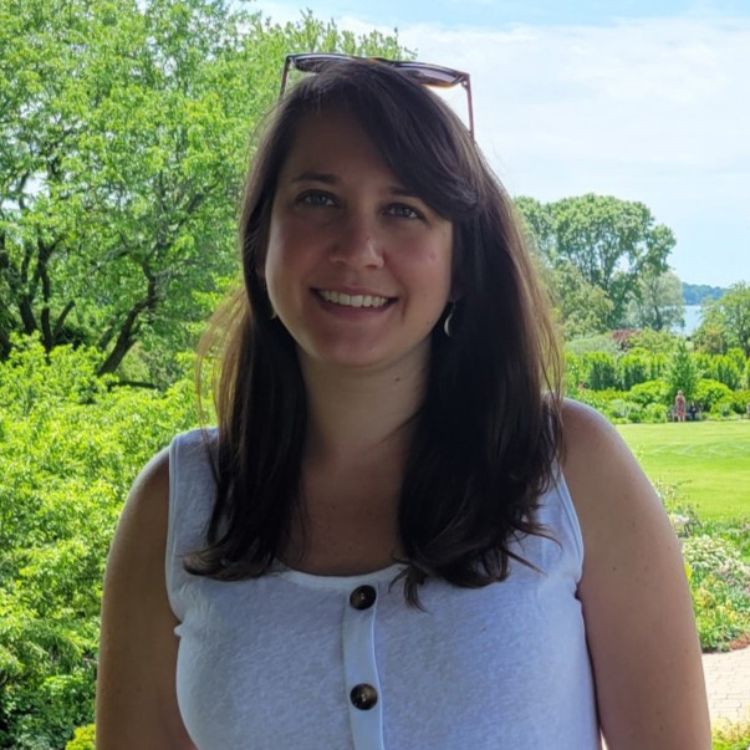 Name: Amanda Howland
Hometown: Richmond, VA
Previous Education: MS in Horticulture and Soil Science at Oregon State University and a BS in Environmental Science at the University of Mary Washington
Major Advisor: Marisol Quintanilla
What or who inspired your interest in entomology?
I have always joked that it was fate that made me become a nematologist. Since high school, I was always interested in science, so once I graduated with my bachelor's degree in environmental science, I found a master's project on climate change at another university to pursue my dream as a scientist; unfortunately, due to funding, did not work out. After that I frantically tried to find another master's project, which luckily, I did at Oregon State University studying plant-parasitic nematodes in Washington vineyards. I moved to Oregon and fell in love working with and studying plant-parasitic nematodes. It's still amazing to me how these tiny pathogens can cause so much damage to agriculture worldwide and can infect almost every plant. I really enjoy working with growers and extension specialists to help determine ways to manage these pests and reduce their detrimental impact on agriculture.
Tell us about how you experience being a teacher and a grad student. What is your favorite activity, class or responsibility as part of your graduate studies?
As a PhD graduate student, I have really enjoyed mentoring the undergraduates in our lab and teaching them about plant-parasitic nematodes. At my old job at the University of Missouri, where I was before coming to Michigan State University to get my PhD, I also mentored many students, teaching them about nematodes, how to soil sample, extract nematodes from soil, counting on a microscope, and taking care of plants, and I am happy to have that opportunity to do that here as well. Additionally, MSU has a lot of undergraduate research symposiums like Mid-SURE, and I love helping our undergraduates design research projects, conduct the research, and present their findings to succeed as a scientist. I am very passionate about my research focus and how our work has an actual impact on agriculture, and I love to share that with our undergraduates and encourage them to also go to graduate school to find their passion which hopefully is nematology!
What are you researching?
My PhD research focuses on determining new and alternative management strategies to control the northern root-knot nematode, Meloidogyne hapla, in ornamental plant production fields. Plant-parasitic nematodes are a major pathogen and are estimated to annually cause $173 billion in economic loss to agriculture worldwide. To accomplish my PhD goals, I have conducted three 3-year field trials testing many management strategies, such as chemical nematicides, bio-nematicides, composts, and steam, to reduce M. hapla population levels. Additionally, I am looking into host status and threshold screenings of several plant-parasitic nematodes found in Michigan ornamental fields such as root-knot nematodes, pin nematodes, stubby-root nematodes, and more. Next, I will molecularly identify which exact species these plant-parasitic nematodes are to help with management strategies. Lastly, my project is investigating potential soil suppression naturally occurring in these long-term ornamental fields.
What is your favorite thing about MSU?
The architecture and landscape. Michigan State University is a beautiful campus, with many beautiful gardens like the Horticulture and Beal Botanical gardens. It's always so green and there are so many places to have lunch outdoors or places to relax outside. Additionally, MSU is an architecturally beautiful campus with many old, historic buildings. It's a great place to be a student!
What is your favorite activity/way to spend your time outside of your studies?
When I am not working on my research or studies, I really enjoy relaxing with my dog, Jackson, and taking him for walks. We have explored a lot of the area surrounding Lansing, and going to different river trials and parks is a great way to explore a new location, especially if you are new to the state. I also really enjoy cooking, and the pandemic was a great way for me to hone my cooking skills and try new recipes.