Forestry student receives American FFA Degree
Eric Richard, a sophomore in MSU's forestry program, will receive the award at the National FFA Convention & Expo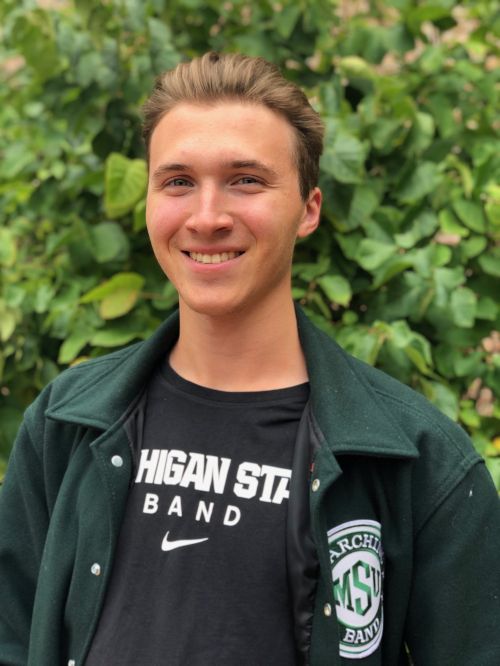 Eric Richard, a sophomore in the forestry program at Michigan State University (MSU) is a 2019 recipient of the highly respected American FFA Degree.
The American FFA Degree is one of the organization's highest honors, with less than one percent of FFA members receiving the award yearly. Richard will receive this award at the 92nd National FFA Convention & Expo in Indianapolis, IN Oct. 30 – Nov 2. In addition to his degree certificate, Richard will also receive a gold American FFA Degree key.
The FFA (Future Farmers of America) are "a dynamic youth organization that changes lives and prepares members for premier leadership, personal growth and career success through agricultural education." (2019, National FFA Organization)
Richard, reflecting on his time with FFA, says his experience wasn't exactly typical, given that his dad is the advisor of his chapter. In fact, he recalls participating in his first event at the age of six – Adopt a Highway. Richard's older brother was also involved in FAA, and also received the American FFA degree. Richard says he's always aspired to be like his older brother.
Richard credits his family for this award. He said his family has always inspired him, and FFA has been a major part of his life for as long as he can remember.
"This award is the culmination of all my experiences with FFA. All of my community service hours of agriculture experience, all builds up to this one moment where I get to walk across that stage. It's a really big experience," he said.
Richard said he places the most value on the relationships he has built in FFA, not just within his own chapter, but with members in all parts of the country. Having grown up in an FFA family, he always wanted to be involved, and said FFA "is always a good time, and we get to help people out."
It was through the FFA forestry skills contest that Richard became interested in becoming a forestry major. He said he recalls his sophomore year in high school when his team had no idea what they were doing the first time, but then returned the following year to take fourth place in the state.
Richard said he has been surprised by the classes he has taken so far in MSU's forestry program.
"It's a lot more hands-on than other classes I take, and it's something I've really been enjoying," he said. "Being able to walk around the woods for three hours with your other forestry classmates, and even some students that aren't forestry majors is a lot of fun."
Richard said that his time working with FFA has helped him develop leadership skills, and he hopes to make the world a better place by helping protect and serve the world's forests.
"We need to reinforce the natural order that was there before and help find the balance between humans and the natural ecosystem."