Grad Spotlight: Charuta Parkhi
Charuta is a fourth-year student in the Agricultural, Food, and Resource Economics (AFRE) Ph.D. program.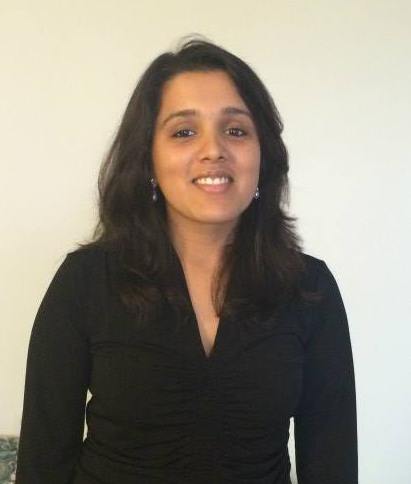 Why did you decide to choose AFRE for your graduate studies?
AFRE was a top choice for me because of my interest in development economics. The diversity of development work carried out in AFRE in terms of scope and geography was attractive to me. I was always interested in pursuing research related to real-life questions. The involvement of researchers in fieldwork and the direct impact of their work on people's lives was exciting. Also, AFRE is closely associated with the economics department at MSU. This ensures strong training in econometrics which is needed for conducting rigorous empirical research.
What is your favorite thing about the AFRE department?
Professors at AFRE work very closely with graduate students. This mentorship provides opportunities to learn more and also broaden one's research interests. Moreover, the department provides many opportunities such as brown bags and various departmental seminars for students to discuss research.
What has been your favorite class in the AFRE major, and why?
Development major classes such as AFRE 861 and AFRE 961. These classes provide the essential theoretical background and tools to conduct development research. Also, I really enjoyed AFRE 841 on Food Systems and Organization. It focuses on transformations in food systems and value chains. Apart from the material taught, these classes were also crucial for honing important skills required for writing and presenting research.
If you could go back in time and give any advice to yourself as a first-year AFRE student, what would it be?
Just hang in there patiently, and look forward to taking all interesting classes once you are done with prelims. Also, study groups are the best part of the first year. Make the most of this time with your peers.
What is one thing that you are looking forward to doing once we are able to return to campus?
Dine-in at Brody square… it is one of my favorite places to work and eat. Also, I miss getting coffee at Sparty's market.
What one invention would you uninvent, and why?
I would say the smartphone, and by extension, apps. I feel smartphone apps are a distraction in both work and recreation. Although smartphones now seem indispensable for life, we all have lived happily once upon a time without one.
What is a saying or expression that you probably say too much?
"Oh woowwwww"… I have realized I say this too often while expressing surprise or awe.