Grand Rapids area tree fruit update – May 31, 2022
Tree fruit is beginning fruit sizing, with most apples between 8-12 mm and stone fruit 15-20 mm. Warm weather has been very good for thinning. Storms Tuesday may result in to cooler, dry conditions later this week.
Weather and phenology update
Over the past week in the Grand Rapids area, there was a dramatic change in conditions. Cool temperatures last week, with highs in the 60's (degrees Fahrenheit) gave way to hot conditions beginning on Sunday, with highs in the upper 80's and overnight lows in the upper 60's to 70's. The area received significant rainfall last week. Approximately 1-1.5 inches of accumulation recorded at most locations over Wednesday and Thursday. As of May 23, the Michigan State University Sparta Enviroweather station has accumulated 747.9 Degree Days Base 42 degrees F (DD42). This is slightly above average, which is 694.6 DD42, and approximately three days ahead of normal.
Tree fruit is now beginning fruit sizing. A very good potential crop is setting well in most locations. Most varieties of apples are between 8-12 mm. Earlier blocks and varieties such as Ginger Gold and zester are nearing 15-20 mm. Peaches and cherries are out of the shuck beginning fruit sizing as well.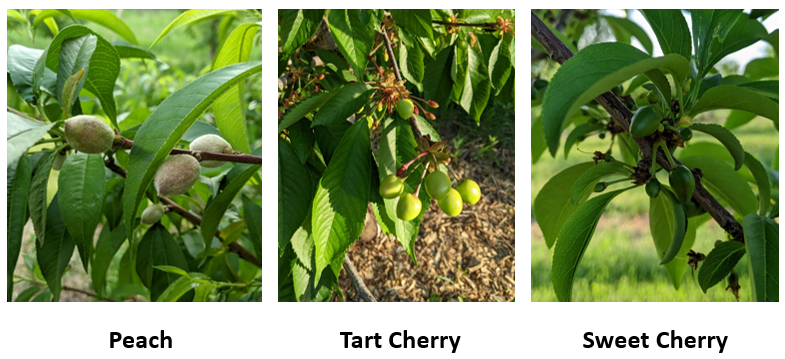 Expect the hot, dry weather to continue through Tuesday. A storm system will move through the area Tuesday evening, overnight to Wednesday. Then expect a return to more seasonable conditions, including highs in the 70's and lows in the 50's. Conditions will be mostly dry, with the next chance of precipitation at the end of the weekend and early next week. The medium range weather outlook from the NOAA Climate Prediction Center indicates cooler and wetter than normal conditions for the first half of June.
A risk of severe thunderstorms is in effect for much of the Midwest Tuesday night, including high winds and the possibility of severe weather. The most severe weather will be in the Southwest US, but the storm is tracking toward Michigan. You can find more information at the NOAA/NWS Storm Prediction Center Website.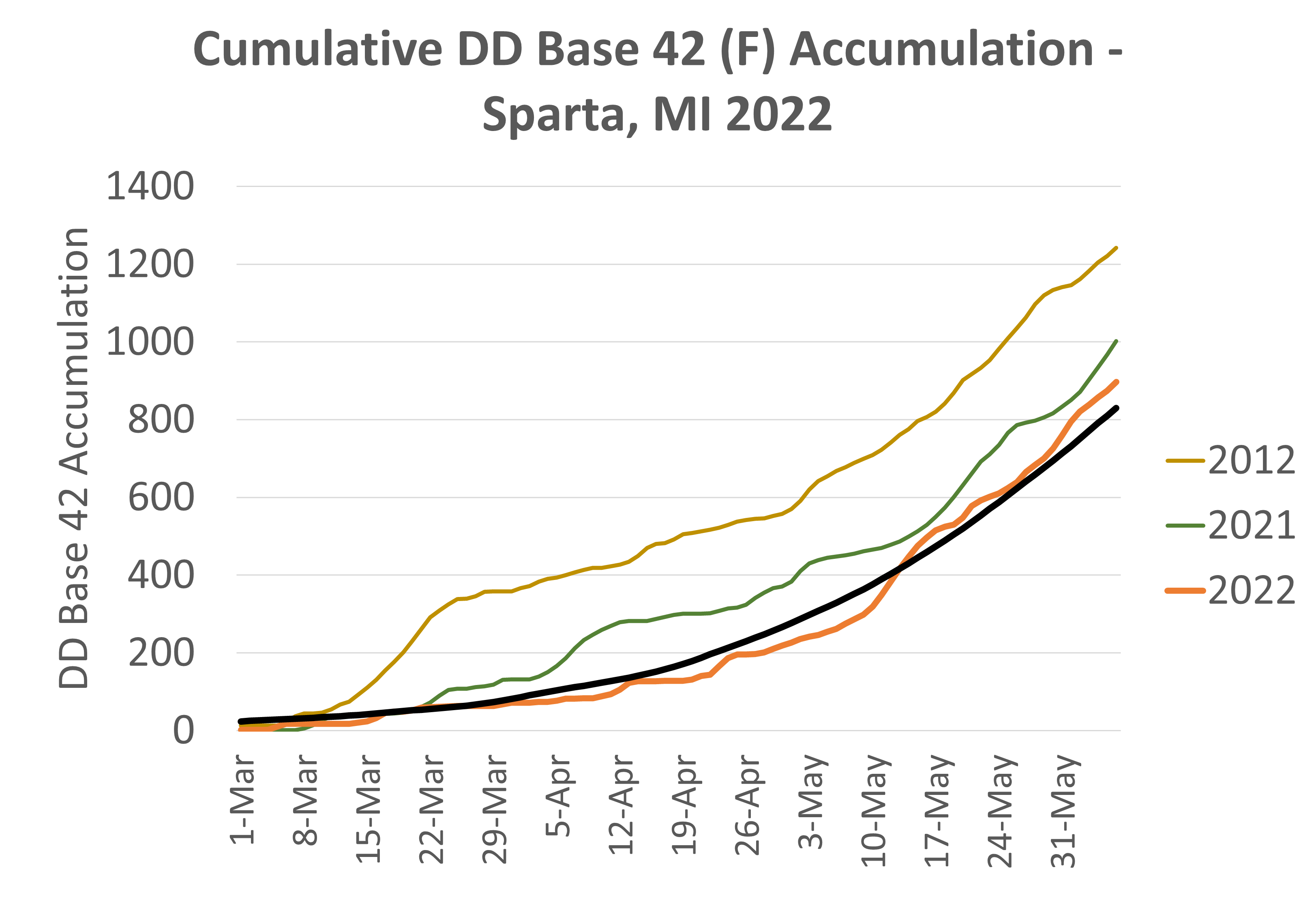 Degree day accumulation at Enviroweather stations in the Grand Rapids area

Weather Station
Degree Days Base 32 from Jan. 1
Degree Days Base 42 from Jan. 1
Degree Days Base 50 from Jan. 1
Aetna - Fremont
1354.3
723.4
398.4
Alpine
1445.8
775.6
428.7
Belding
1402.9
750.3
417.3
Clarksville (CRC)
1452.9
773.2
326.9
Conklin
1426.8
760
411.8
Fremont
1375.5
732.3
406.2
Grant
1396.6
745.6
413.9
Kent City
1386.9
740.1
409.3
Reeman-Fremont
1378.2
728.7
399.2
Sparta
1403.6
747.9
411.5
Sparta 20m Tower
1416
754.2
414.4
Sparta - North
1416.8
756.6
416.5
Standale
1503.1
811.3
456.3
Average DD from Sparta historical data for Jan. 1 to date
1396.3
694.6
353.3
Comparative Date of Averages @ Sparta
31-May
2-June
4-June
Days +/- Average @ Sparta
+1 days
+3 day

+5 days
For these updates, we used averages for 1997-2021 from the Michigan Automated Weather Network (MAWN) to represent normal conditions. Weather data was gathered from MSU Enviroweather.
More information and reports on normal weather conditions and departures from normal can be found on the NOAA Climate Prediction Center website, NOAA U.S. Climate Normals website, NOAA Climate Normals Quick Access Page (which may be searched by region) and Midwest Regional Climate Center website.
Pest update
Tree fruit diseases
Primary Apple Scab should be nearing an end for the 2022 growing season, but it is not over yet. Do not reduce primary scab fungicide rates just yet. All spores should be mature for the general Grand Rapids area around June 5 or 6 and then a few nice rains will be necessary to discharge all remaining spores. There is a bit of apple scab showing up in unsprayed apples and very little to report in commercial managed blocks. Careful scouting is needed from now until the end of June to be sure no primary scab got through.
Warm and humid weather this week is the ideal environmental conditions for Powdery Mildew to again be an issue. In many tree fruit crops, there is an abundance of lush, tender leaves and small, fuzzy fruits – all very susceptible to fungal pathogens for the next few weeks.
Fire Blight risk is lower now that bloom is over. MaryBlyt predicts early symptoms from bloom infections on May 14, 2022 that will begin to express on June 2, 2022. Careful scouting over the next week will be key to prevent unexpected fire blight in blocks for the rest of the season. Keep an eye on bloom present in newly planted blocks – they are out of sync with established blocks. Fire Blight could be an issue in these new trees.
Tree Fruit Insects
Some insects to be thinking about now as you plan for monitoring and management.
Plum Curculio activity should be higher with the much warmer weather of late. Keep cover sprays tight. Continue to monitor and maintain cover sprays until fruit are 20 mm.
Codling Moth adult flight has been steady – warm evenings have been ideal for flight. Grand Rapids regional biofix was set for May 15, 2022 (254 DD50), with 157 degree days since. Eggs are being laid.
Early egg hatch will begin soon for the May 15 biofix – predicted for June 5-7. High populations and earlier biofix dates require earlier cover sprays for egg hatch – 5 to 7 days sooner. Low populations can delay until 350 DD50 or 5 to 7 days later.
Obliquebanded Leafroller overwintering larvae are mostly rolled up in leaves with pupation underway. No adult flight yet in this area. There are various late instar leafroller larvae present as well – Apple Bud Moth, Red Banded Leafroller, and Fruit Tree Leafroller – all in very low numbers. Traps for OBLR should go up this week to capture first adult flight so an accurate biofix for the summer generation larvae can be set.
Adult flight continues for Oriental Fruit Moth. A Grand Rapids regional biofix was set for May 12, 2022 (312 DD45), with 292 degree days base 45 accumulated. Early egg hatch should be underway and cover sprays are needed in stone fruits. Peak egg hatch for first generation predicted for June 5 – 7, 2022. Cover sprays will be critical in stone fruits to prevent shoot infestation.
Rosy Apple Aphids are curled up in apple terminals. Green Apple Aphids are also now starting to be found on apples terminals. Woolly Apple Aphid are also present, having overwintered in some blocks well this year. Various predators present in aphid populations – monitor for them too and consider their effectiveness in your general IPM program.
Very few male San Jose Scale have been caught in pheromone traps – they seem to be very late this year. I am still waiting for a sustained catch to calculate a biofix date. This pest rarely requires whole orchard applications to manage in apples. Careful scouting is key to identify hot spots to target spray.
European Red Mite eggs and nymphs are present. Adults are likely to appear soon with the push of the hot weather this week. Predatory mites found in ERM populations. There are a few two-spotted spider mites in some areas. Continue to monitor for all mites.
I continue to find a few White Apple Leafhopper nymphs and no adults yet. The next storm system could bring adults Potato Leafhopper from southern U.S. to the Great Lakes.
Beneficials Witnessed on orchard visits include: Ladybug beetles, syrphid flies, and beneficial mites and chiggers, ground beetles and earwigs.