George Greenleaf, CANR and AFRE alumnus, turned 100 years old this year and paid a visit to his alma mater for Homecoming 2018.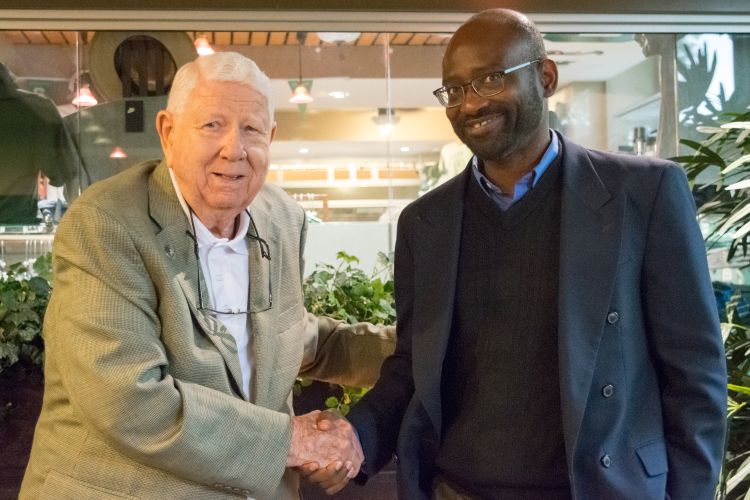 George Greenleaf has had an adventurous life — from walking uphill both ways to school, to fighting through two wars, to establishing important programs at land grant universities. But now, at 100 years old, Greenleaf says some of the things he's most proud of involve giving back to students at Michigan State University.
Greenleaf received his Bachelor's Degree from the College of Agriculture and Natural Resources in 1943, and later returned to MSU to get his Master's in Agricultural Economics, now Agricultural, Food, and Resource Economics (AFRE), in 1959. He was the director of the short course program, a predecessor to the Institute of Agricultural Technology, for several years before moving to Ohio to be the executive director of the Ohio Agribusiness Association.
"I've really always been focused on teaching — giving people skills they could use to make themselves better," said Greenleaf. "I did that first in rural Michigan as a teacher, then before and during World War II, returning to Michigan to form two-year programs, and throughout my career in agribusiness, using the skills I picked up in Ag Econ."
Titus Awokuse, chairperson of AFRE, met with Greenleaf on Friday of the 2018 Homecoming Week, to welcome him back to campus.
"It was an honor and a privilege to spend time with AFRE alumnus George Greenleaf," said Awokuse. "It was an educational and inspirational experience to hear him recount stories of how he overcame so many challenges as a young man, to serving in the US Army as member of General George S. Patton's brigade in Europe during WWII and then returning to the US to build a successful career that included selfless giving and service to others."
Throughout his entire career, Greenleaf was focused on helping others under the umbrella of agriculture. Today, he's helping Spartans interested in agriculture and sustainable business see the world. The George and Agnes Greenleaf Scholars Enrichment Fund through the Bailey Scholars Program at MSU was established after Greenleaf learned of the program through his granddaughter, and is now helping to fund Bailey Scholars in their international research travel.
"You can't beat the experiences you get from traveling abroad and learning," said Greenleaf. "I've created some scholarships in other institutions that are close to me, but this is my proudest achievement."
Never away from campus for long, Greenleaf has stayed very involved in many MSUAA alumni activities and is a pinned member of the CANR Farm Lane Society.
When asked about the key to living to 100 years, Greenleaf replied, "Have a birthday once a year...100 times."
Learn more about the Bailey Scholars Program and the history of AFRE.