How much physical activity does your child need?
Follow current physical activity recommendations to keep your children healthy.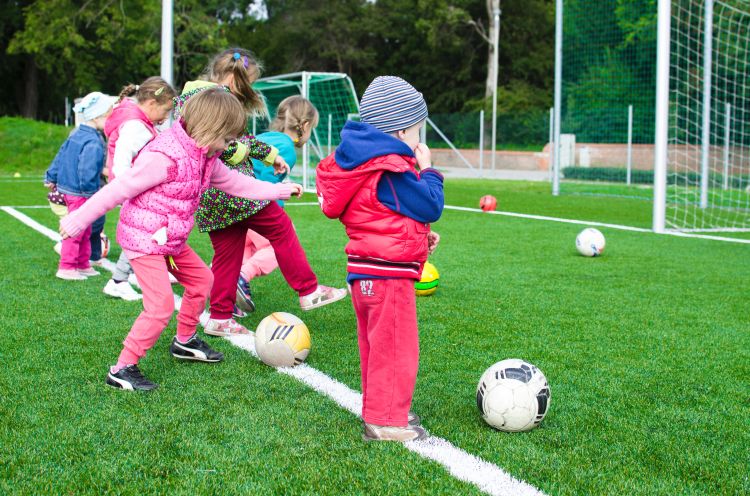 Due to the importance of exercise, there are physical activity guidelines for both youth and adults. Overall, physically active youth have stronger muscles and bones, lower body fat and lower risk for depression and anxiety than physically inactive youth. Physically active youth are usually healthier adults with a lower risk for cardiovascular disease, type 2 diabetes and numerous other chronic diseases. The current guidelines for children 6 to 17 years of age include being physically active for at least 60 minutes or more each day with aerobic, muscle and bone strengthening activities.
Aerobic Activity
Aerobic or cardiovascular exercise is defined as activity in which an individual is rhythmically moving large muscle groups thereby increasing one's heart rate and use of oxygen. In turn, this increases an individual's cardiorespiratory fitness. Examples of aerobic activity include biking, running, jogging, swimming, jumping rope, etc. Majority of a child's daily physical activity should be either moderately or vigorously intense aerobic activity, with the latter included in at least three days of the week. Examples of moderately intense aerobic activity includes hiking, biking and brisk walking and examples of vigorous-intense aerobic activity include running, active games with a running component like tag, some sports like basketball or tennis and martial arts.
Muscle Strengthening Activity
Muscle strengthening activity is movement in which the body's muscles perform more work than is usually done in daily life. When we think of muscle-strengthening activity, we commonly think of lifting weights, however, this is not necessarily the case. Examples of other muscle-strengthening activities for children include bodyweight exercises like push-ups, squats or curl-ups, resistance exercises with bands, games such as tug-of-war and playing on playground equipment. Muscle-strengthening activities should be included as part of the 60 minutes or more of daily physical activity at least three days per week. For further information related to muscle-strengthening activity in younger male and female children, refer to the Updated Youth Resistance Training Position Statement from the National Strength and Conditioning Association.
Bone Strengthening Activity
Bone strengthening activity is primarily designed to increase bone strength and growth by providing an impact or tension force on the bones. Bone strengthening activities can also be muscle strengthening or aerobic activities as well. Examples of these include jumping rope, running, gymnastics, basketball, volleyball, etc. Bone strengthening activities should also be performed as part of the 60 minutes or more of daily physical activity at least three days per week.
What about children under 6 years of age?
The Centers for Disease Control and Prevention acknowledges that physical activity in children less than 6 years of age, including infants, is important, however, there currently are not any recommended guidelines. The recommendations emphasize that physical activity be performed to promote health-related fitness and movement skills that are age appropriate. For further information, refer to Physical Activity from Birth – 5 years.
Overall, youth aged 6 to 17 years of age should be performing at least 60 minutes or more of physical activity each day, consisting of primarily aerobic activity, but also muscle and bone strengthening activities at least three days per week. Michigan State University Extension recommends gradually increasing the number of days and time spent being active to help reduce chances of injury.