Inspired by Home
In the early 1980s, a flood wiped out a bridge in Santa Catarina Mita, a small village in Guatemala on the edge of El Salvador.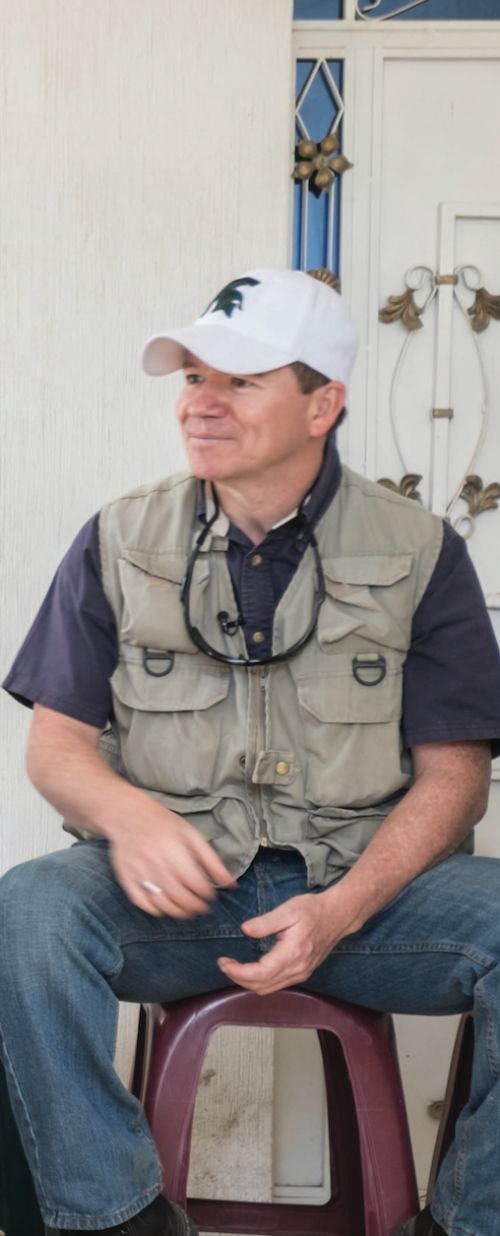 In the early 1980s, a flood wiped out a bridge in Santa Catarina Mita, a small village in Guatemala on the edge of El Salvador. The rebuilding of it was led by Kenneth, a Peace Corp volunteer serving in the village, who also owned the first mountain bike that anyone in that village had ever seen.
We don't know much else about Kenneth, except that he is Luis Flores' hero.
Flores is a faculty member in the MSU School of Planning, Design and Construction. He works in the Feed the Future Innovation Lab for Collaborative Research on Grain Legumes project housed in the MSU CANR.
Santa Catarina Mita is Flores' home village. Every time he visits, he crosses that bridge and is reminded of Kenneth's commitment to volunteerism. That memory inspired Flores' own commitment to give back, locally
and globally.
Flores manages the MASFRIJOL project, a USAID-funded program that focuses on substantially increasing bean production among smallholder farmers in the western highlands of Guatemala and improving the nutritional quality of family diets there by increasing bean consumption. His journey to MSU has been very unique.
As one of eight children whose parents were farmers, Flores swore he would never become a farmer himself. That he would one day come to the United States for college, however, seemed highly unlikely. Fortunately, his parents thought ahead and were able to send him to boarding school at age 12. This opened many doors for Flores and set him on a path that no one, including himself, could have predicted.
First, he had an opportunity to participate in an English immersion program in Modesto, Calif. His teacher told him to listen to "Prairie Home Companion" to help improve his English, which he still does while traveling for work.
After his graduation from the English immersion program, he took a volunteer job in Haiti working with coffee farmers. He had picked up French while living with French-speaking classmates in Modesto. After six months in Haiti, Flores returned to Guatemala and started working for an association of agricultural exporters in Guatemala City. The company moved horticultural crops out of the country into the United States and European markets.
While Flores was working at this association, Thomas Reardon, a faculty member at MSU, started working on a grant proposal. On Reardon's final day of the visit, Flores was asked to spend the day with him finishing up the grant proposal.
They were able to finish it out in about four hours. Reardon was very impressed. He encouraged Flores to get in touch with other MSU faculty members and explore opportunities for continuing his education. Soon afterward, Flores did just that. He started a master's degree in the Department of Agricultural, Food and Resource Economics and later completed his doctorate in Resource Development (now Community Sustainability).
Flores learned a variety of skills while growing up—he is a cobbler, a painter and a woodworker. But those aren't the things that make him effective in his job.
PODCAST INTERVIEW:
Luis Flores believes there are plenty of success stories to share. Flores discusses his background, Garrison Keillor, and the importance of being a volunteer, on In The Field, a podcast originating from the College of Agriculture and Natural Resources at Michigan State University.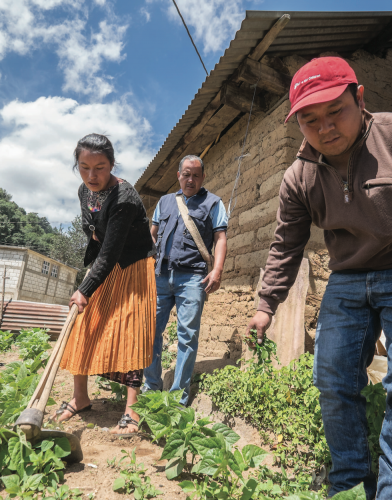 What makes him efficient in his work with smallholder farmers is the combination of his love for the work and his desire to make a difference and teach his daughter the importance of contributing to the world around them. To this he brings the ability to reach people who haven't been reached before and bring them the things that have worked in other places.
He lives by his favorite quote, found in a most unlikely place—a fortune cookie: "You are able to do what others say you cannot do." He spends a lot of time telling his daughter this because, as Garrison Keillor said, "Nothing you do for children is ever wasted."
This also explains the non -profit that he set up in his home village in Guatemala to create vision and hearing clinics. Both have aided in creating scholarships for students from his village to study nursing.
Flores doesn't know what his future holds. He takes each project as it comes and gives it his all.
What he does know is that he feels forever indebted to faculty members at MSU and the CANR for taking a chance on a young kid from Guatemala. Flores opened the doors to the world himself. MSU and people across the globe continue to benefit.
This article was published in In the Field, a yearly magazine produced by the College of Agriculture and Natural Resources at Michigan State University. To view past issues of In the Field, visit www.canr.msu.edu/inthefield. For more information, email Holly Whetstone, editor, at whetst11@msu.edu or call 517-355-0123.