Department of Agricultural, Food, and Resource Economics (AFRE) professor Thomas Jayne has been appointed as a part-time special advisor to the president of the African Development Bank (AfDB), to assist the Bank's efforts to build the African Development Institute and promote collaborative partnerships with African governments, national African research institutes, and international universities.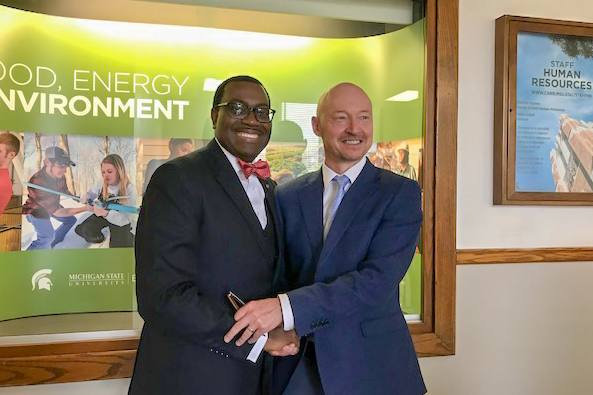 Thom Jayne with Dr. Akinwumi Adesina, president of the African Development Bank.
Starting this past November, Jayne has been working with Dr. Akinwumi Adesina and members of the Bank to build the capacities of the African Development Institute. The Bank's goal for the Institute is for it to become a world-class policy organization that provides thought leadership, knowledge management and capacity development support to African governments, pan-African organizations, and non-state actors.
"I was attracted to this initiative because of its potential to provide a strong African voice in the shaping of policy issues affecting Africa, to essentially shift the center of gravity of where policy analysis on Africa takes place," said Jayne. "I was also attracted to the idea of linking existing African policy research institutes around the continent to this pan-African institute in ways that would mutually support each other. There are also major opportunities for long-term collaboration between the AfDB and international universities like MSU with a longstanding commitment to research, policy analysis, and capacity building in Africa."
As part of his activities under MSU's Alliance for African Partnership, Jayne is working closely with Dr. Richard Mkandawire, the Africa Office Director of the Alliance for African Partnership (AAP), Dr. Jose Jackson-Malete and Dr. Amy Jamison, the campus-based co-directors of the AAP, to explore partnerships with the African Development Bank. The AfDB has rolled out an ambitious "High-Fives Initiative" to address Africa's challenges related to agriculture, energy, trade, industrial development, and quality of life, and is developing strong partnerships with African and international collaborators to address these challenges.
"Over his career, Thom has developed a global reputation for being at the forefront of emerging issues impacting African development, conducting policy analysis to guide governments in addressing these challenges, and supporting African organizations to lead this analysis themselves," said Steve Hanson, dean of MSU's International Studies and Programs. "He brings a set of skills and experiences that uniquely align with the AfDB's economic and social development approach to improving lives on the continent."
"Thom's part-time appointment as special advisor to the president of the African Development Bank in the development of the Africa Development Institute is a special honor and recognition of Thom's expertise and reputation as a scholar who has made significant contributions to African agricultural development," said AFRE chairperson Titus Awokuse. "This new role should provide Thom an opportunity to further build on his past efforts in promoting African-led research organizations and enhancing regional technical capacity for conducting economic policy analysis."
Learn more about Thom Jayne, the Alliance for African Partnership, and the African Development Bank.