Knighthood bestowed to MSU professors by Burkina Faso
Past directors of the USAID Feed the Future Legume Innovation Lab receive high honor for their advocacy and cowpea research supporting the livelihoods of women seed producers.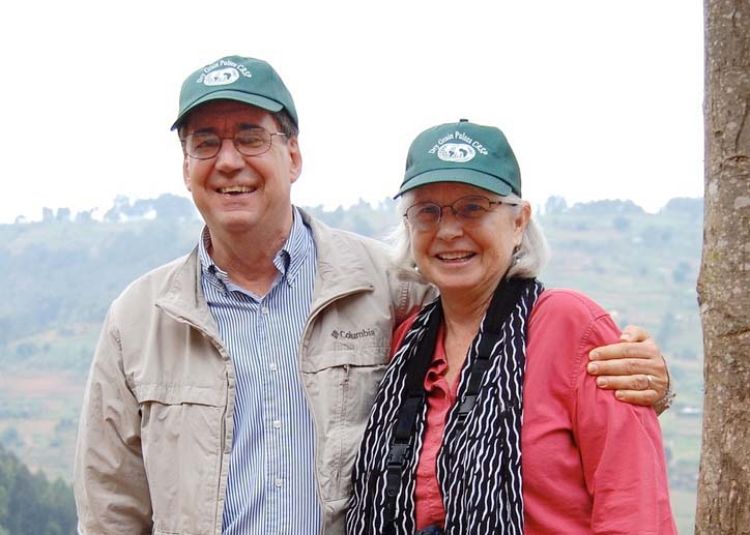 Irvin (Irv) E. Widders and Cynthia Donovan were bestowed a knighthood by the West African country of Burkina Faso for their work as past directors of the USAID Feed the Future Legume Innovation Lab supported by Michigan State University.  Both were recognized for their support of the cowpea research program of L'Institut de l'Environnement et de Recherches Agricoles du Burkina Faso (INERA) and honored for improving the livelihoods of thousands of women artisan cowpea seed producers.

Through their efforts, Burkina Faso has become identified as a "Regional Center of Excellence in West Africa for Cowpea Research" by the leadership of the West and Central African Council for Agricultural Research and Development (CORAF) and the International Institute of Tropical Agriculture (IITA), gaining international recognition for the INERA cowpea research team.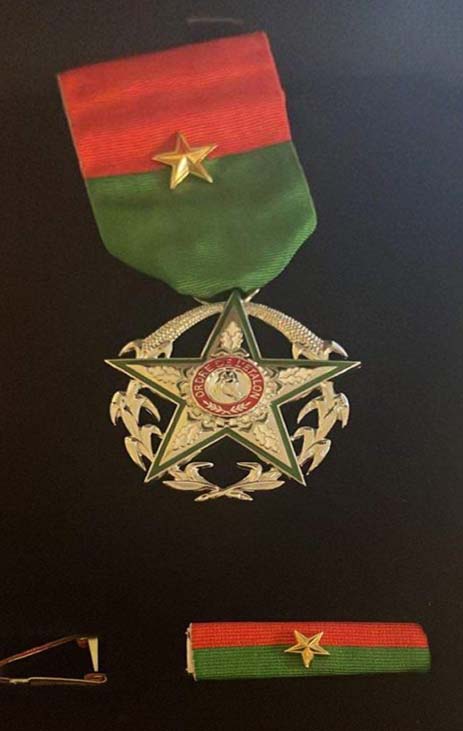 Widders is a professor emeritus in the Department of Horticulture. Donovan is also an associate professor in the Department of Agricultural, Food and Resource Economics (AFRE). On August 27, 2020, President Roch Marc Christian KABORE of Burkina Faso signed a decree awarding "Chevalier de l'Ordre de l'Etalon" (Knight of the Order of the Stallion) to them both along with six other international cowpea scientists. Cowpea is a critically important food and economic security crop for households in Burkina Faso with most of the population depending on it as a primary source of protein. Cowpea is also high in B-complex vitamins and iron, providing vital nutrition for the region.

"This high honor from the government of Burkina Faso is emblematic of the tremendous impacts that Irv and Cynthia made through their work with the Legume Innovation Lab (LIL)" said AFRE Chairperson Scott Swinton.
"Through the LIL, they built enduring partnerships across three continents that have advanced legume production, farm incomes, and human nutrition.  Cowpea is a staple food in Burkina Faso, making this honor especially meaningful." 

Donovan, a member of the Food Security Group (FSG) said, "Irv and I are very honored to receive this recognition. This award reflects the amazing efforts of the USAID Legume Innovation Lab collaborators in the US, Burkina Faso and elsewhere. The funding from USAID over the years, as well as commitment of the national government, were fundamental to building the research and outreach capacity of the national institution, INERA."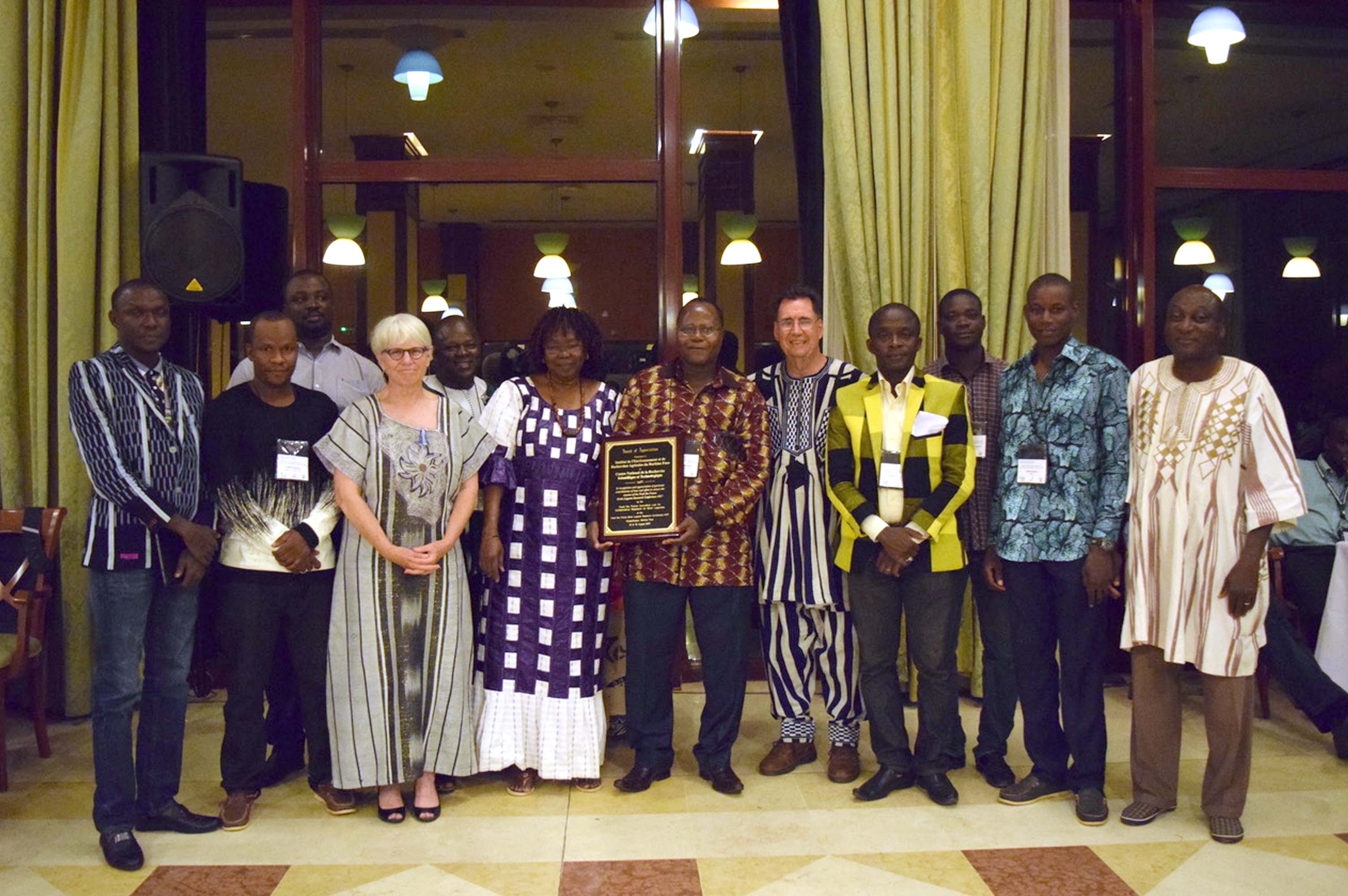 "The men and women farmers of Burkina Faso do amazing work to ensure their food security, and they now have new cowpea varieties and new production systems to help them in this effort, thanks to these efforts. I look forward to getting back to Burkina to thank them in person for this amazing honor." 

Driven by local farmer's needs, interdisciplinary researchers from the LIL created improved varieties of cowpea. These varieties are high yielding, with resistance to local insect pests and diseases. They are adapted to drought, high temperatures, and low fertility. LIL and INERA also worked with farmers to incorporate integrated pest management techniques to increase sustainability. 

"Irv and Cynthia are both very deserving of this honor. Their individual commitments represent life-long dedication in promoting global food security. It has been a privilege to work with them." said Barry Pittendrigh, Director of the Feed the Future Innovation Lab for Legume Systems Research led by Michigan State University.
On-the-ground researchers worked with families and businesses to incorporate cowpea into food systems in new and expanded ways, reducing growth faltering and gut inflammation in young children across the region.  

"We had incredible respect for the scientific leadership of the INERA cowpea research team in such areas as biotechnology, genetic improvement, entomology and IPM utilizing biocontrols for Marca vitrata management, and of course their vision to organize women farmers throughout the country to produce affordable high-quality cowpea seed for their communities," said Widders.

"This became a model for the West Africa region and enabled them to attract significant additional international donor funding. Prior to CRSP and LIL engagement in 2002, INERA in Burkina Faso received little attention from USAID and the Gates Foundation. It is thus with great pride to see the growth and international leadership of INERA'S cowpea team over the past two decades and the impact that they have achieved both within Burkina Faso and internationally."  

Widders became the deputy director of the bean and cowpea CRSP in 1998. In 2000, he was named director of the program and in 2002, with a new grant from USAID, the program began to establish connections with INERA gaining the trust of regional scientists. The name of the MSU lab was updated again in 2013 to become the Feed the Future Legume Innovation Lab, as it's known today.

The Legume Innovation Lab's global mission is to alleviate rural poverty, achieve food and nutritional security, and sustainably improve the livelihoods and resilience of stakeholders of grain legume value chains in Feed the Future focus countries in Africa and Latin America and in the United States.  

FSG Co-director David Tschirley said, "We're so proud of Irv and Cynthia for the sustained commitment and creativity they brought to their work and that resulted in these achievements. They embody the high ideals and desire to make a difference that animates the work of FSG and everyone who does this kind of work."

Travel restrictions due to COVID-19 kept Widders and Donovan from attending award ceremonies in Burkina Faso. However, they did receive commendations and medals in the mail for their hard work and dedication to the women farmers of Burkina Faso.