Learn about lakes, streams, and watersheds with MSU Extension
Whether you want to dip your toes or take a deep dive, we have an educational experience for you.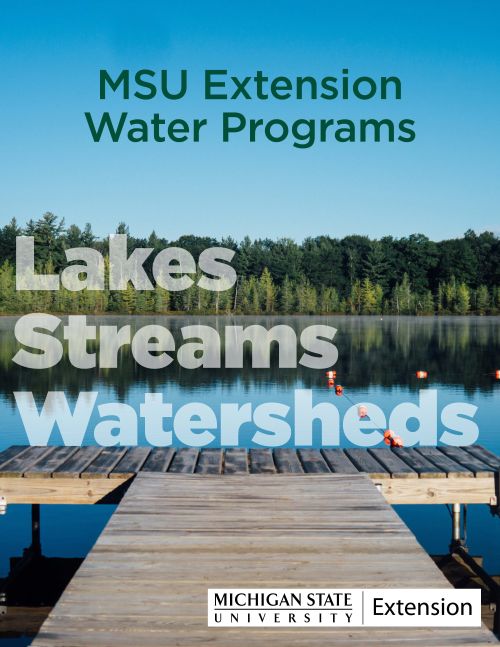 Similar to Michigan's lakes, streams and watersheds, Michigan State University Extension education programs come in a variety of shapes and sizes, offering each participant a unique experience. Our water resource programs are designed to increase your awareness and knowledge of environmental issues, enhance your problem-solving and decision-making skills, and connect you with federal, state and local partners and resources.
Michigan's waters are an invaluable asset, offering a sense of place and wonder and are a rich economic resource. However, with such astounding value comes responsibility. At MSU Extension, we recognize the value of an informed citizenry that is equipped with knowledge and skills necessary to protect and manage aquatic ecosystems. This is why we're continuously enhancing and expanding our educational offerings - our new publication "MSU Extension Water Programs Lakes, Streams and Watersheds," highlights some of our most popular water programs.
Interested in getting out in the field and collecting scientific data? You are in luck. MSU Extension supports many citizen science programs including the Michigan Natural Features Inventory Vernal Pool Patrol and the Michigan Clean Water Corps. The Vernal Pool Patrol relies on trained citizen scientists to identify and map locations of vernal pools in their communities and collect information about their biological and physical characteristics. The Michigan Clean Water Corps comprises lake and stream volunteer monitoring programs. Data collected by volunteers is used in their local communities and by the Department of Environment, Great Lakes and Energy for use in water resources management and protection programs.
Thinking of expanding your leadership skills and knowledge of Michigan's ecosystems but don't know where to start? The Lake and Stream Leaders Institute focuses on local water resource management planning and program implementation through classroom and field sessions. The Michigan Conservation Stewards Program is a volunteer leader training program highlighting Michigan's ecological foundations, history of conservation activities, aquatic and terrestrial ecosystems, and current environmental threats.
Concerned about preventing the spread of invasive species? You may be interested in the Mobile Boat Wash program - a trailer-mounted boat washing unit with trained staff who educate boaters and provide educational materials on aquatic invasive species prevention. Another innovative invasive species program is Reduce Invasive Pet and Plant Escapes or RIPPLE. Pet and pond professionals, hobbyists, and educators are invited to explore RIPPLE resources and become program partners by learning how to prevent invasions and sharing materials and information with their clients and communities.
If lakes are your thing, MSU Extension plays an active role on many different levels across the state. Do you want to go back to the classroom and learn the fundamentals of lake ecology, aquatic plants, watersheds or law? The online Introduction to Lakes course may be exactly what you need. Shorelines play a significant ecological role on inland lakes. In collaboration with the Michigan Natural Shoreline Partnership, MSU Extension assists with the implementation of a variety of programs that help individuals, professionals, and lake communities understand and implement best practices on lake shorelines to protect water quality.
It is impossible to think about Michigan lakes without immediately thinking of the Great Lakes. Michigan Sea Grant is a cooperative program of the University of Michigan, Michigan State University, and the National Oceanic and Atmospheric Administration. Michigan Sea Grant's mission is to "support research, outreach, and education to enhance sustainable use of Great Lakes resources, benefiting the environment, the quality of life, and the Michigan, Great Lakes and national economy."
Are you a local government official desiring to learn the fundamentals of water science to support sound water management decisions and increase your awareness of local and state water issues? The policy-neutral, fact-based Michigan Water School: Essential Resources for Local Officials may be of interest. When thinking about water quality, we can't forget the impact that septic systems have on our aquatic ecosystems. MSU Extension partners with county health departments, industry consultants, and other organizations to provide educational programs on the proper use and maintenance of these systems to protect the health of families, communities and the environment.
Whether you want to go back to the classroom, become a citizen scientist, expand your leadership skills, tackle aquatic invasive species, or explore the Great Lakes - MSU Extension has a program for you!