MassTimber@MSU
Sandra Lupien, the Director of MassTimber@MSU, shares an update on the program and the new STEM Teaching and Learning facility.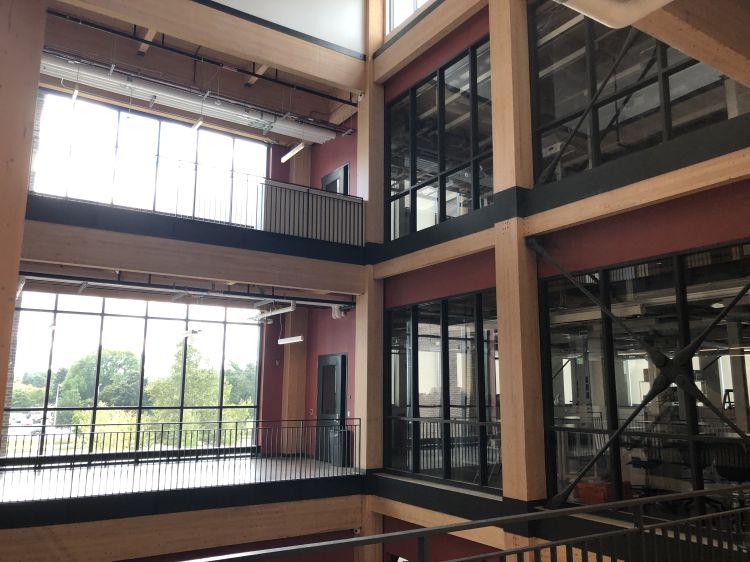 Michigan's first mass timber building – the MSU STEM Teaching and Learning Facility – opened its doors in early July of 2021. Great timing from my perspective – I had just joined the University as the first Director of MassTimber@MSU, a new program that harnesses outreach, engagement, research, and education in support of efforts to advance sustainable mass timber construction in the Great Lakes State and the surrounding region. MSU's STEM building serves as a beautiful living laboratory for those interested in mass timber construction.
I love providing tours of the facility to show off how the mass timber structure works; to share planning and construction insights gleaned by MSU and the project team as the first mass timber building in our state; and to enable people to experience the unique happy feeling of being in a large wood building.
HOW DO WE USE MASS TIMBER IN BUILDING CONSTRUCTION?
People are using mass timber in a variety of ways – in small buildings to contain boilers, in single-family homes, in art installations – but the most powerful way to harness mass timber's benefits is by using it in large buildings that would normally rely on steel and concrete to create the building's structural system.
Mass timber's properties – strength, fire resistance, and lighter weight – make it a compelling substitute for steel and concrete in many buildings. Some buildings use mass timber – usually a combination of glue-laminated timber (glulam) and cross-laminated timber (CLT) – to form the entire structural system. More frequently, we see mass timber in combination with steel and concrete. In the MSU STEM facility, you'll see a hybrid structural system featuring exposed glulam columns, beams, and girders with steel fasteners and cross-bracing, as well as CLT ceilings and CLT walls in the stair towers.
This hybrid model demonstrates the flexibility of working with mass timber and results in a design that is both warm and airy, with an aesthetic that blends natural materials and natural light with an industrial look that melds the site's history as a coal-fired power plant with its current use as a dynamic environment for STEM learning and innovation that will help create a bright future.
WHY DOES USING MASS TIMBER MATTER FOR SUSTAINABILITY?
Reducing significantly the emission of greenhouse gases (GHGs), like carbon dioxide (CO2), that hasten climate change is a key priority worldwide, including in Michigan. In 2015, buildings and the construction industry (manufacturing building materials like steel, concrete, and glass) accounted for nearly 40 percent of global carbon dioxide (CO2) emissions (28 and 11 percent, respectively). So, choosing building materials that help keep CO2 out of the atmosphere is an important part of any strategy to tackle climate change. Mass timber has an important role to play for several reasons.
First, mass timber is made from wood – a renewable resource – in contrast to steel and concrete, the basis of which consist of finite mined material.
Second, mass timber typically has a lower embodied carbon footprint than steel or concrete. In other words, it takes less energy and emits less CO2 to produce. Steel and concrete both require very large amounts of – typically fossil fuel – energy to mine, manufacture, and transport. Mass timber, which is lighter-weight and less processed, typically uses less energy for harvesting and milling lumber, operating a press, and transporting materials from forests to manufacturers to building sites. Increasing energy efficiency, using renewable energy sources, sourcing mass timber from nearby manufacturers all further reduce the carbon footprint.
Finally, mass timber materials actually store significant volumes of carbon. As trees grow in forests, they absorb CO2 from the atmosphere and store it as carbon in their branches, leaves, trunks, and roots. If a tree decomposes or burns, much of its carbon releases into the atmosphere. Long-lived wood products, such as furniture and dimensional lumber used for stick framing, store much of the trees' carbon, keeping it out of the atmosphere as long as the products remain in use.
That's why mass timber buildings, which can stand for decades or centuries, are particularly powerful carbon storage solutions. For example, the 3,000 cubic meters of glulam and CLT in the MSU STEM facility store 1,856 metric tons of carbon dioxide equivalents – that's like not driving the average vehicle about five-million miles or not burning more than two-million pounds of coal. And when the mass timber's wood comes from sustainably managed forests, like the Forest Stewardship Council (FSC)-certified Black Spruce in the STEM building, we're ensuring that the forests themselves maintain their carbon-absorbing-and-storing functions.
We're proud that the FSC recognized MSU in 2021 with a Leadership Award for its use of sustainable mass timber in the STEM facility. As more MSU students, faculty, and visitors reap the benefits of teaching, learning, and meeting in the first mass timber building in the state, I look forward to expanded collaboration with stakeholders and I encourage you to visit the MSU STEM Teaching and Learning Facility in 2022 to see for yourself what the buzz is about.