Meet the work from home colleagues of CSUS
There are many new, friendly faces in our work from home offices! Meet the pets and children keeping CSUS staff and faculty company.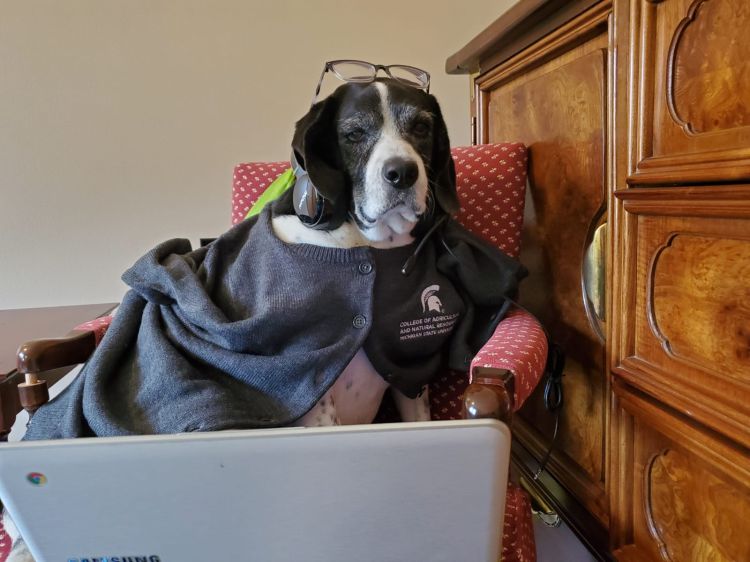 During this time in which CSUS faculty and staff are working from home, we all miss our human colleagues and friends. However, through our online meetings, we have been able to meet some new (often fuzzier) friends who have been helping their humans do their jobs.
Here are some of the adorable CSUS colleagues who we've been meeting over the past few weeks.
---
Beardsley, the Bearded Dragon
"He isn't great with the math, but he is great at finding the bugs in the formulas….."
Owner: Kris Hasenfratz Ten-Eyck, Grants Manager
---
Toohey, the Catahoula Leopard Dog
"She's 14 years-old and sits next to my new workspace where I now spend about 12 hours a day!"
Owner: Robert Richardson, Professor
---
Luna, 100% good dog
"Luna sometimes joins me for class and zoom calls, but only when I'm done talking about carbon pricing..."
Owner: Doug Bessette, Assistant Professor
---
Montgomery, human cuddler extraordinaire
Monty for short. Will never let your lap get cold. Keeper of the calendars.
Owner: Steven Gray, Associate Professor
---
---
Charlie and Nora, yellow lab and human
Here for the cuddles and games. Always ready for a good Zoom meeting.
Owner and parent: Crystal Eustice, Assistant Professor of Practice
---
Morrie and Whitney, research and writing supervisors
Excellent paper weights, 10/10 manuscript feedback.
Owner: Amanda Sorensen, Communication and Outreach Specialist
---
Shelburn, handsome old hound
His friends call him Shelby. Nailing his work from home set up, complete with some Spartan swag.
Owner: Rebecca Jordan, Professor and Department Chair
---