The Department of Agricultural, Food, and Resource Economics (AFRE) hosted more than 100 Michigan stakeholders at the 2018 Michigan Agricultural Credit Conference on October 26, 2018. Attendees were updated on agricultural trade and current agriculture policy, as well as dairy, grain, soybean, and livestock outlooks.
Hosted at the Kellogg Hotel and Events Center on MSU's campus, conference attendees came from Michigan, the greater midwest region, and Washington DC, to hear speakers from AFRE, MSU Extension, Ohio State, and Agricultural Economic Insights.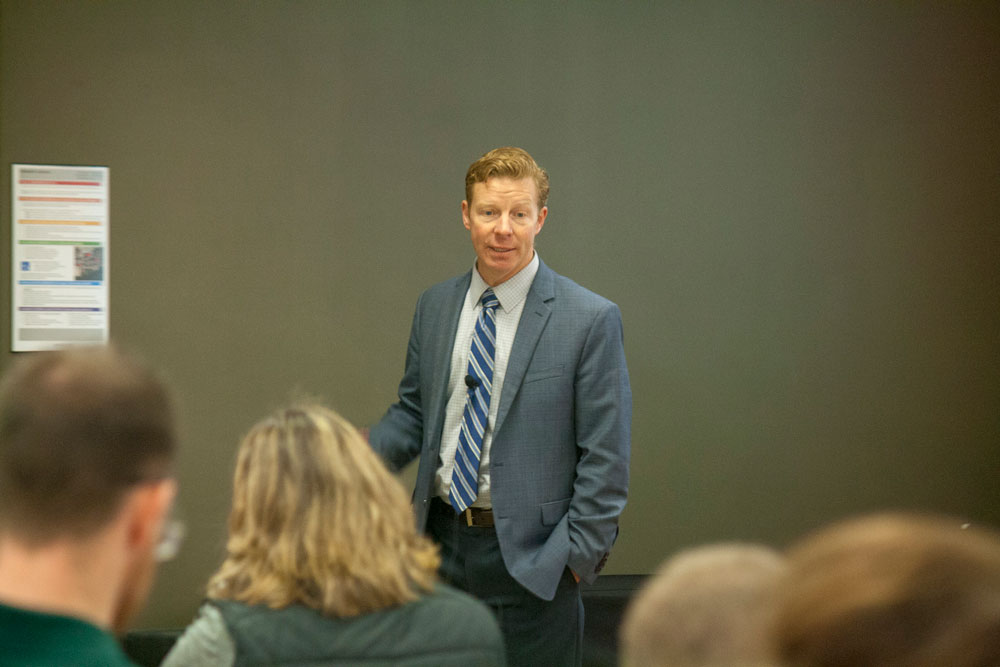 Chris Wolf presenting the "Dairy Market Situation and Outlook."
"The conference is a great way for us to interact with ag lenders and stakeholders in the state," said Chris Wolf, AFRE professor and coordinator of the conference. "Unfortunately the overarching theme of the day was that it's financially tough for farmers in Michigan right now, but it's important for that objective view of the industry to be available and heard."
To kick off the conference, David Widmar of Agricultural Economic Insights outlined the general state of the agricultural industry. AFRE's Trey Malone then gave a talk on behavioral economics for ag managers, highlighting the importance of relationships and communications between farmers and their networks. Carl Zulauf from Ohio State University gave an update on the the current state of agricultural policy, which included insights on the Farm Bill and the political climate. AFRE professor Chris Wolf presented the dairy market outlook, detailing the tough times Michigan dairy farmers are facing, before MSU extension educator Suzanne Pish talked about the MSU Extension Stress Management Programs and mental health in the agricultural community. Finally, AFRE's Jim Hilker presented his update on grains, soybean, and livestock prices.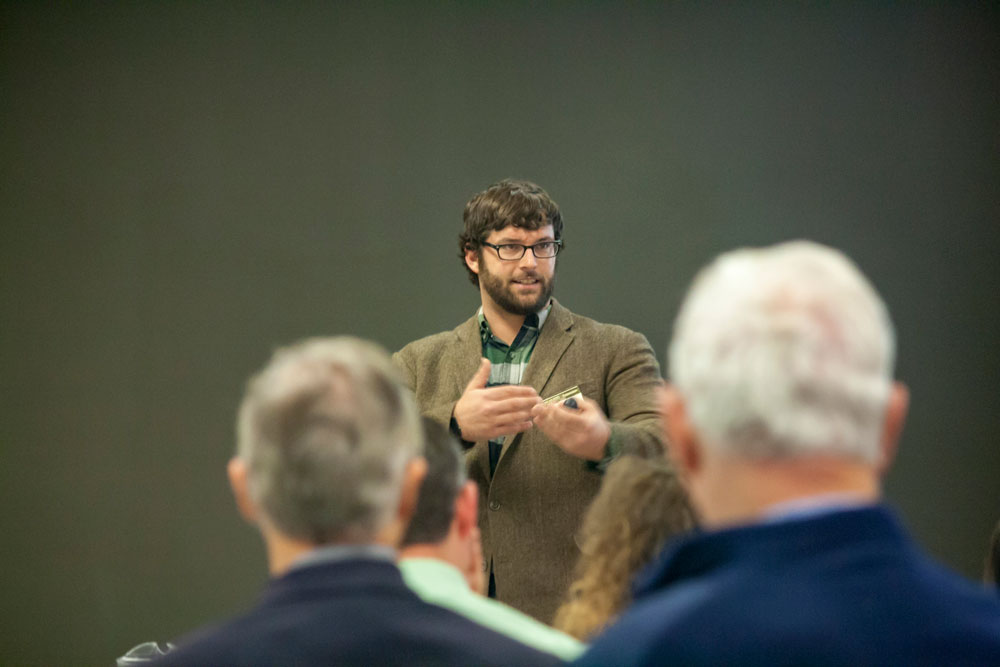 Trey Malone presenting "Behavioral Economics for Ag Managers."
"The conference was a great opportunity to learn from experts about the agricultural climate in the United States and the greatest challenges facing farmers today," said Samantha Padilla, an AFRE graduate student and job candidate who attended the conference. "In the future, I hope AFRE students will use this conference as a network opportunity and a source of inspiration for future research projects."
Approaching its 30th year at MSU, the Michigan Agricultural Credit Conference has been coordinated by Wolf for the past 15, with hopes of expanding its topic areas in the future.
"It's critical to give our standard industry outlooks, but we also want to bring in experts on timely issues," said Wolf. "Dr. Malone and Suzanne Pish's talks were steps into those relevant issues this year, and we hope to continue to bring in similar new information and speakers."
Jim Hilker presenting the "Grains, Soybean, and Livestock Price Outlook."
The presentations from each conference speaker are available for download below.
Presentations
Agricultural Trade and the General Economy | David Widmar, Agricultural Economic Insights
Behavioral Economics for Ag Managers | Trey Malone, MSUAFRE
Agricultural Policy Situation and Outlook | Carl Zulauf, The Ohio State University
Dairy Market Situation and Outlook | Chris Wolf, MSUAFRE
MSU Extension Stress Management Programs | Suzanne Pish, Extension Educator
Grains, Soybean, and Livestock Price Outlook | Jim Hilker, MSUAFRE