Michigan grape scouting report – September 7, 2022
September is a key month for Michigan grape growers and it is the time to focus on disease and bird management to protect clusters. Sour rot is being reported around the state.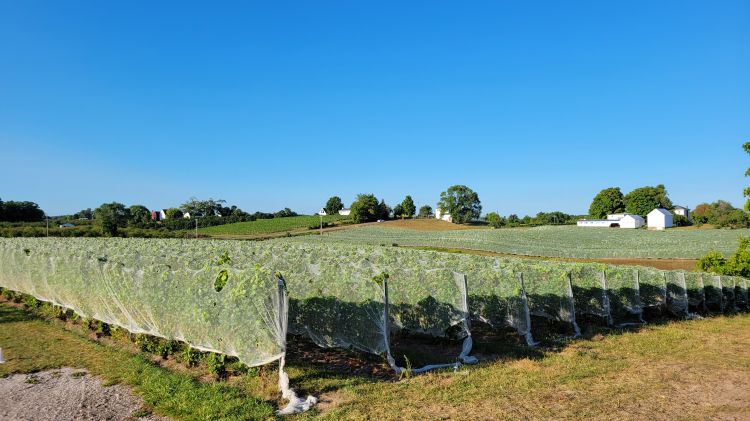 Weather
Click below for detailed seven-day forecasts for various grape production regions
Southwest
Southeast
Northwest
Michigan had another typical week, with slightly less GDD accumulation than the previous week on average.
Southern and southeast Michigan were the warmest AVAs in Michigan and picked up a few more GDD than the week before, but northwest Michigan had an unusually cool week and picked up 11 GDD based on 50F.
Southwest Michigan GDD Summary from March 1 through Aug 24, 2022
Southeast Michigan GDD Summary from March 1 through Aug 24, 2022
Northwest Michigan GDD Summary from March 1 through Aug 24, 2022

Enviroweather station

Current GDD 50 F

GDD 50 F last week

Collected the past week

Benton Harbor (SWMREC)

2544

2399

145

Fennville

2317

2176

141

Lawton

2497

2355

142

SW Average

2468

2328

140

Romeo

2382

2246

136

SE Average

2406.5

2274

132.5

Old Mission

1967

1845

122

Petoskey

1913

1797

116

Traverse City (NWMHRS)

2053

1928

125

NW Average

1936.5

1817

119.5
Vine growth
In southwest Michigan, harvest is ongoing for early wine grape varieties for sparkling wine.
Veraison is nearly complete in some varieties, such as Pinot noir (Photo 2), and harvesting Chardonnay for sparkling wine will begin in northern vineyards within the next 10 days or so.
See this chart for grape growth stages.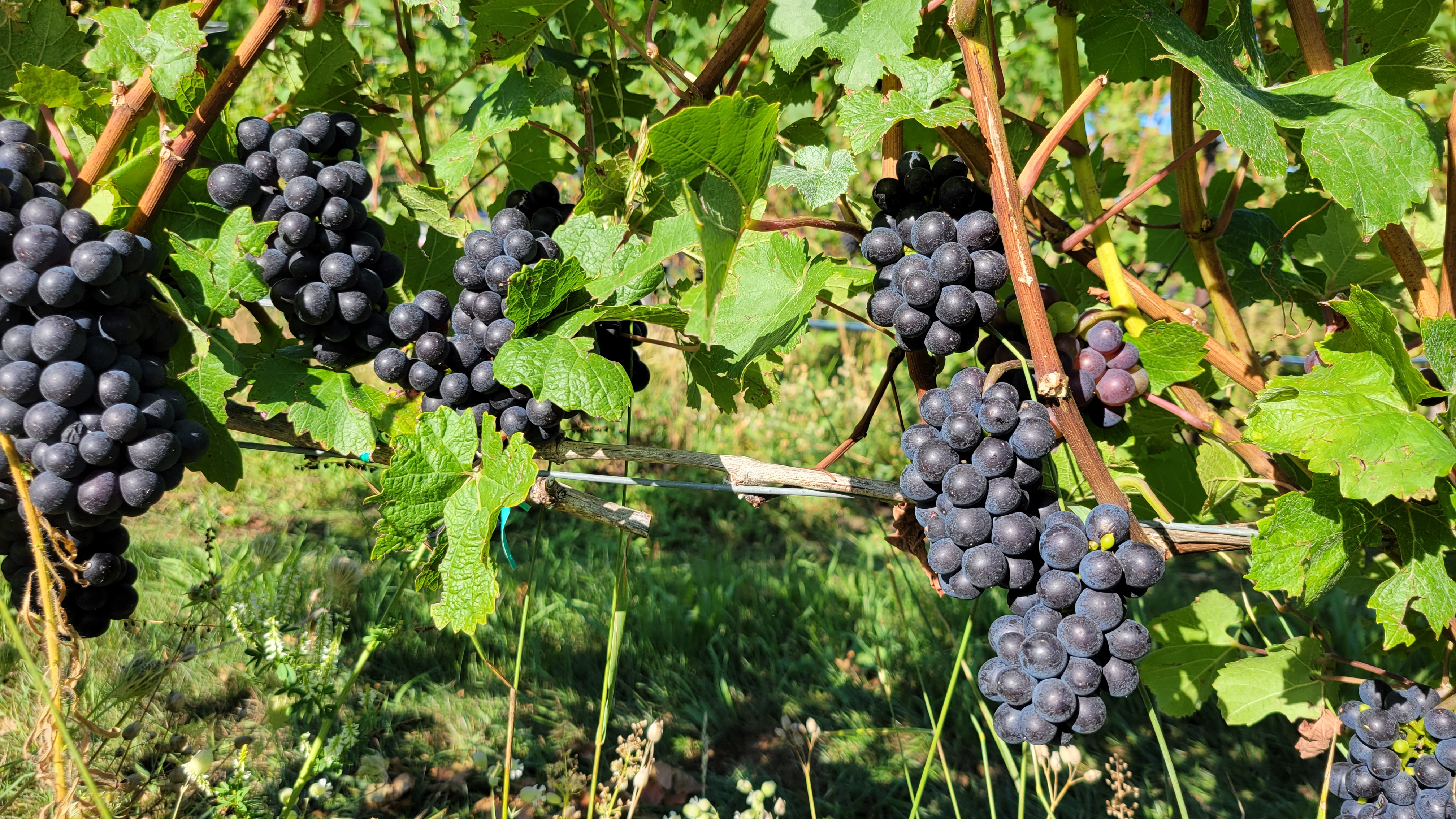 | | | |
| --- | --- | --- |
| Variety | Northwest region (Brix) | Southwest region (Brix) |
| Riesling | 13 | -- |
| Chardonnay | 16.1 | -- |
| Pinot noir | 16.9 | -- |
| Pinot Blanc | 16.2 | -- |
| Pinot Gris | 16.3 | -- |
| Cabernet Franc | 8.7 | -- |
| Marquette | -- | Not available |
| Seyval | -- | Not available |
| Aromella | -- | Not available |
| Concord | -- | 13.5 |
| Niagara | -- | 14.5 |
| Chancellor | -- | 18.5 |
Horticulture
As almost all of the Michigan vineyards are at veraison or just past it, this is an important time of year to control bird damage (Photo 3), which can be expected to begin and increase as fruit ripen. If you haven't noticed any damage yet, don't think you're safe because birds will harvest your berries a day or two before you are. The most effective kind of defense is netting. Inflatable "used car lot" balloons, propane cannons, laser bird repellents, and auditory fright calls are occasionally utilized as well, but their efficacy is debatable and their nuisance factor is high. Please check out this article for more information.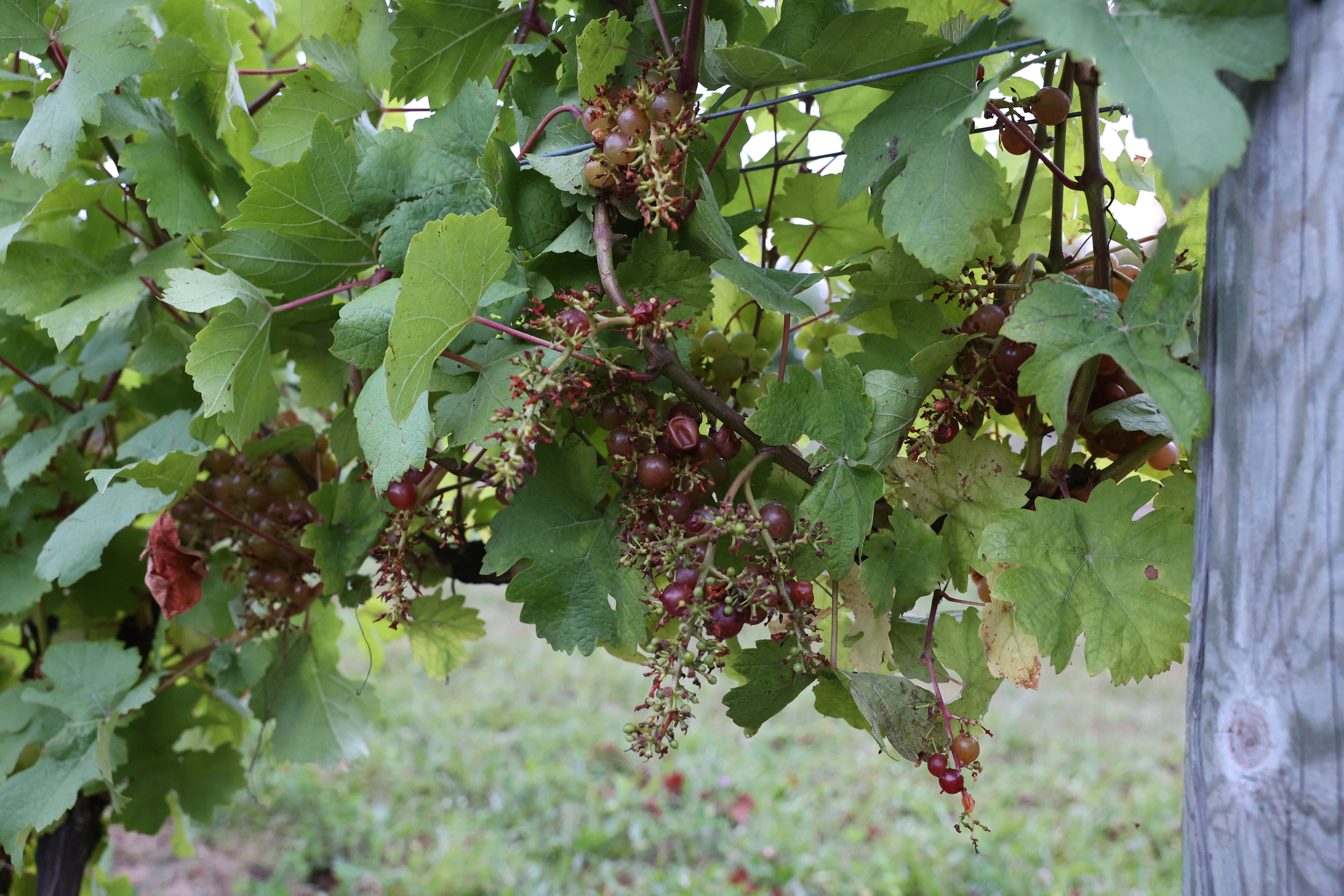 Weeds
Weed control is important at this time of the year to reduce weed interference in machine or manual harvest and to reduce the soil weed seed bank for the following season.
The application timing for most of the herbicides before harvest is mainly based on the pre-harvest interval (PHI). Aim (three-day PHI), Rely (14-day PHI) and Gramoxone (Restricted Use Pesticide) provide quick burn-down of weeds. Rely and Gramoxone control both broadleaves and grasses, but Aim is only effective for broadleaves. Venue (zero-day PHI) can be added to improve burn-down and broaden the weed control spectrum. Some herbicides will damage grape green bark, new shoots, leaves or vines, so minimize contact with vines during application.
Glyphosate also has a short 14-day PHI, but it is not advisable to apply it after bloom. Significant injury may occur during the current season or the following year if glyphosate comes in contact with leaves, green shoots or is absorbed by bark.
Detailed information related to the herbicide rates and efficacy on weeds can be obtained in the Herbicide section of E154 Michigan Fruit Management Guide, that contains lists of all currently labeled herbicides along with specific remarks for their use in vineyards.
Diseases
The disease focus for most grape growers in Michigan is still powdery mildew, downy mildew and cluster rots. Pay close attention to preharvest intervals for specific products. Insect and bird damage and fruit splitting are major contributors to rot development. This week, some southwest vineyards are showing cluster rot symptoms and powdery mildew and downy mildew have been apparent for a while. The time to manage sour rot is now as berries are ripening quickly in southwest Michigan.
At this time, we continue to be concerned about defoliation caused by downy mildew which will reduce vine winter hardiness. This article provides more information on late season downy mildew control. Downy mildew is caused by a fungal-like organism, so many site specific systemic fungicides that target other spring diseases do not work on downy mildew. Effective fungicides for downy mildew include products in FRAC codes 4, 11, 21, 40 and 45 as well as phosphorus acid salts, captan and some biologically-based products.
Several strategies contribute to good botrytis bunch rot management. These include opening up the canopy, properly applying fungicides and using resistant cultivars when possible. Good botrytis control depends on getting good coverage. Fungicide resistance management is also important. The most effective products for botrytis are site specific and prone to resistance development. A new Michigan Grape Fact Sheet is now available for managing botrytis bunch rot.
Sour rot can be particularly difficult to control on tight clustered varieties. Enhancing airflow through the canopy and clusters can help, so leaf pulling, thinning, shoot positioning and weed control can all provide some reduction in sour rot risk. Another important aspect of control is preventing berry damage (e.g., bird pecks, insect feeding and mechanical damage) to reduce the initiation of berry infections. We are finding more cracked berries, too, after the recent rainfall. Combining an insecticide with a contact fungicide can be effective in managing both the insect vector and the pathogen. In high risk cultivars (e.g., Vignoles) and in hot and humid conditions, these treatments should be applied before symptom development and clusters have reached 13-15 Brix. Under high disease scenarios, reapplication may be needed on seven- to ten-day intervals until harvest, with careful attention to pre-harvest intervals.
Remember as you choose a fungicide, check the guide for potential phytotoxicity of certain sprays on Concord grapes especially (this has been particularly noted for fungicides like Revus Top). Phytotoxicity risk is higher with high temperatures and quickly growing vines. Also, there is a significant phytotoxicity risk with specific contact products such as copper and sulfur for Labrusca type grapes (Concord and Niagara).
Insects
With consistent warm temperatures and an early third generation of GBM, it is likely that there will be a fourth generation of GBM in southern Michigan this season. The fourth generation begins at 2430 GDD from biofix (wild grape bloom). The GBM model is predicting the fourth generation egg hatch begun on Sunday, Sep. 4 in Berrien County, and will begin Wednesday Sep. 7 in Van Buren County. (Photo 3). Many vineyards we are scouting already have a very low infestation of this pest and may not require any further control, but if there has been poor control so far this season, early September protection of the clusters should prepare growers for the harvest with vineyards with a lower risk of damage in the pre-harvest window. Always be aware of the pre-harvest intervals, and also watch out for rain showers over the coming week and avoid application just before the rain.
After the 2021 experience, we are carefully watching vineyards with weekly scouting and growers should be doing the same to make sure that cluster rots and vinegar flies do not develop to be too much of a challenge. Cracking damage has been seen in some varieties in SW Michigan and vinegar flies and wasps have been seen visiting cracked fruits. These insects can spread rots to new clusters as they move throughout the vineyard. (Photo 4). Continue to monitor this as we approach harvest and be prepared to control rots and their vinegar fly vectors with treatments once the berries reach 14 Brix.
Scouting for spotted lanternfly has started after one detection was made in Oakland County..) Traps for early detection have been placed at several vineyard sites and at rest areas along the freeway (Photo 4).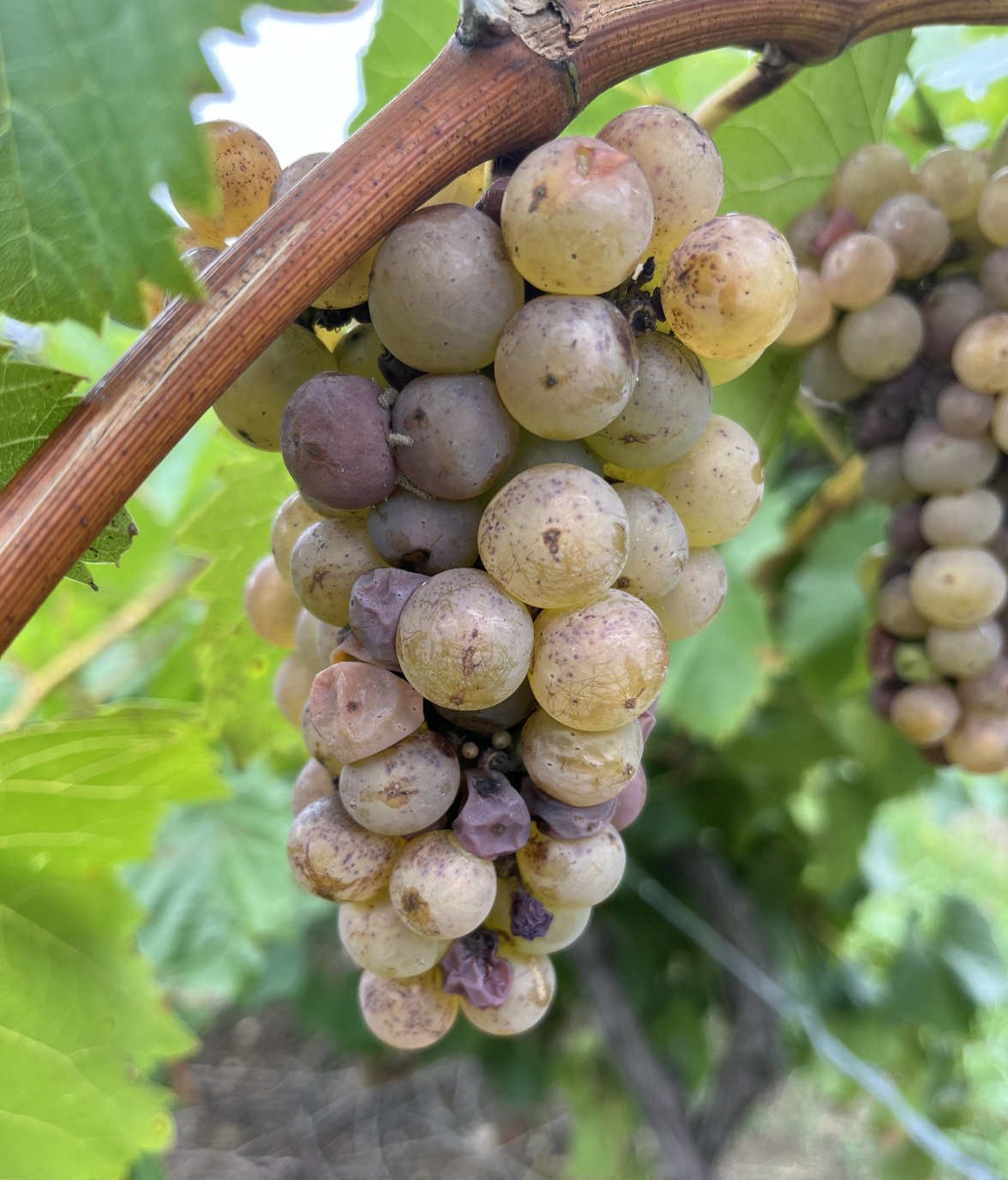 Annual Open House at the Northwest Michigan Horticultural Research Center and Bill Klein's Retirement Celebration
On Thursday, Sept. 8, 2022, the Northwest Michigan Horticultural Research Center (NWMHRC) will host its annual open house. The event this year will include a wine tasting and hors d'oeuvres during the social hour and an educational tour of the station.
Paolo Sabbatini will be present, and there will be an opportunity to discuss your vineyard management at Veraison and pre-harvest with Sabbatini from 3:00–5:00 p.m.
The evening social hour will begin at 5:00 following the vineyard educational discussion. The social hour will include wine tasting and hors d'oeuvres and will be free of charge. The NWMHRC farm manager, Mr. Bill Klein, will be retiring from Michigan State University in October 2022, so we'll take a moment during the social hour to honor him. Join us as we honor Bill's 40 years of service to the NWMRHC!
For more information, contact the NWMRHC at 231-946-1510. We hope to see many of you at this fun and educational event! The event is sponsored by Michigan State University Extension and AgBioResearch, the Leelanau Horticulture Society, P45 Vines and Wine, and the NWMHR Foundation.
Related articles
---
This work is supported by the Crop Protection and Pest Management Program [grant no 2021-70006-35450] from the USDA National Institute of Food and Agriculture.