MSU alumnus Brian Matchett honored as Outstanding Educator
Brian Matchett, '03 agriculture, food and natural resources education and '06 agricultural and Extension education, was one of 10 recipients of the 2022 Outstanding Educator Award.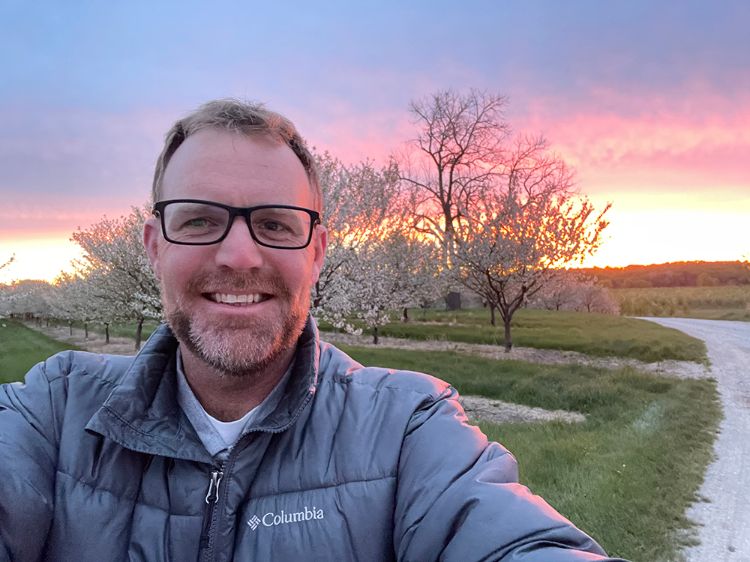 Michigan State University (MSU) alumnus Brian Matchett, of Traverse City, Michigan, was one of 10 educators recognized as 2022 Outstanding Educator Award recipients on June 1 at the Traverse City Opera House.
The Outstanding Educator Awards recognize school employees in northwest Michigan who have made exemplary contributions to the academic success of students, educational collaboration and professional development through a partnership between Northwest Education Services (North Ed), Traverse Connect and TBA Credit Union.
"Receiving the Outstanding Educator Award was a true honor," Matchett said. "I feel very fortunate to have worked in the agriscience education field for 20 years and to have an opportunity each day to help students discover and pursue career paths in Michigan's agricultural industries. My students often hear me say 'you get out what you put into your education.' I feel this award is an affirmation of the committed and hard work my students and I put in each day."
Since 2018 Matchett has been the Career Tech agriscience educator for the Northwest Education Services and in that role, also serves as the Career Tech FFA advisor. He is innovative and finds new opportunities to enrich the student experience. Under his leadership and mentorship, 12 students have attained their State FFA degrees and over 80 students have achieved district, regional and state honors at FFA leadership contests. Matchett also added a hands-on animal science component to the program where students raise chickens, rabbits and lambs from birth. His involvement with professional groups and community demonstrates his willingness to remain engaged in the field and grow as an educator. Through his collaboration with community partners, he tirelessly seeks out new opportunities to advance the program and improve the educational experience for his students.
"Brian brings excitement to his classroom each day and he truly enjoys connecting with his students," said Christopher Hanes, curriculum supervisor at Northwest Education Services Career Tech when recommending Matchett for the award. "He is a leader within our building and promotes excellence in his classroom. He is a master at the craft of teaching and creates an engaging learning environment that is fun and dynamic."
Hailing from a multigenerational family of Spartans, Matchett earned a master's degree in agricultural and Extension education and a bachelor's degree in agricultural education (now named agriculture, food and natural resources education, AFNRE), from the MSU Department of Community Sustainability within the College of Agriculture and Natural Resources.
The AFNRE major prepares graduates as secondary education teachers (grades 6-12) in agriculture and natural resources, as well as educators in government, community organizations and nonprofits and graduate studies. The major also has a unique focus on agriculture, food and natural resources sustainability for the benefit of communities in Michigan, the U.S. and the world.
"My time at MSU was pivotal for me to realize that agriscience education was my true calling," Matchett said. "The supportive network of faculty and staff in the College of Agriculture and Natural Resources significantly helped shape me into the educator I am today. I still work closely with several MSU faculty and staff who I met during my time at MSU and appreciate the support our university provides to agriscience education and the Michigan FFA Association,"
Previously, Matchett taught agriscience education at Alcona Community High School, Lowell High School and Ravenna High School. Additionally, he served five years as program coordinator for the MSU Institute of Agricultural Technology in northwestern lower Michigan and as an instructor in the MSU Field Studies in ANR Education course in Isle Royale National Park.
Matchett has been honored for his service by the Michigan Farm Bureau as the 2012 Educator of the Year and received a 2012 Appreciation Award from the Michigan Alliance for Environmental and Outdoor Education. In 2010, he was recognized as a key partner by Michigan State University Extension.
Established by the then Traverse City Area Chamber of Commerce in 1984, the Outstanding Educator Award program is facilitated by North Ed in collaboration with TBA Credit Union and Traverse Connect. Each year, nominations are submitted by public, private and parochial school administrators, colleagues, students, parents and community members throughout Antrim, Benzie, Grand Traverse, Kalkaska and Leelanau Counties. Nomination materials are reviewed by a selection committee representative of school and community leaders and scored based on points awarded for demonstrated educational excellence.