Star of the West Milling Company creates endowment to support FFA
The Star of the West FFA Endowment will support the Michigan FFA program – an intracurricular student organization for youth interested in agriculture and leadership.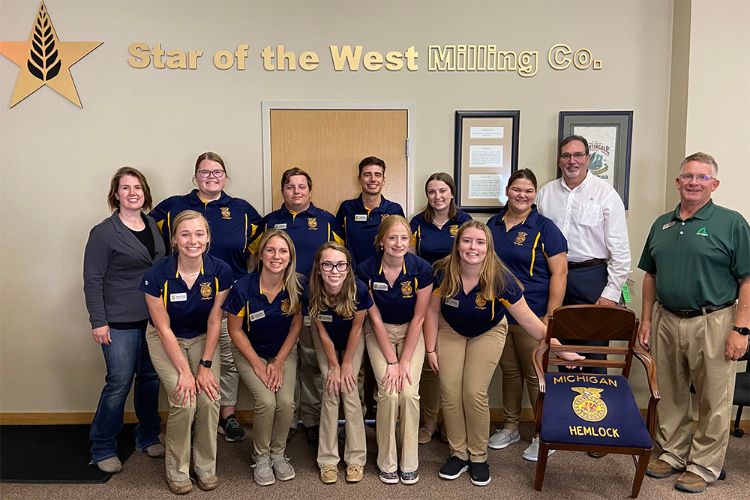 Star of the West Milling Company, headquartered in Frankenmuth, Michigan, has established the Star of the West FFA Endowment at Michigan State University to support the Michigan FFA program.
"The Michigan FFA Association would not be able to impact as many young leaders as we currently do without the incredible people who believe in the future of agriculture. From scholarships and conferences to contests and awards, nothing we do would be possible without support from organizations such as Star of the West. This new endowment will allow us to support our members not only this year, but for many years to come," said Michigan FFA State President Clara Milarch.
According to the Michigan FFA Association, the program is a dynamic youth organization that makes a positive difference in the lives of students by developing their potential for premier leadership, personal growth and career success through agricultural education.
The letters "FFA" stand for Future Farmers of America, however, the official name of the organization is the National FFA Organization. The letters are a part of the organization's history and heritage. With more than 8,700 members in 126 chapters across Michigan, FFA is not just for students who want to be production farmers; FFA also welcomes members who aspire to careers as teachers, doctors, scientists, business owners and more.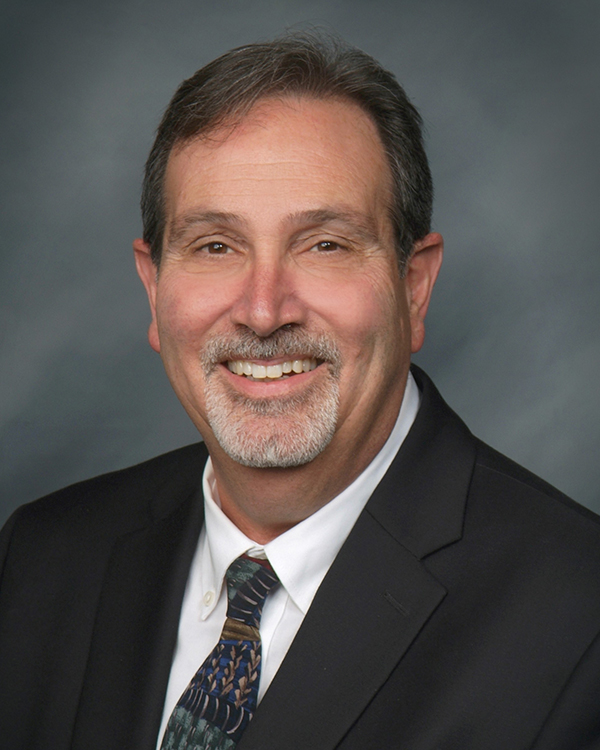 "We are paying it forward," said Jim Howe, Star of the West president and CEO. "The investment that we make in young people today will help them to be able to support the next generation and beyond."
The endowment will help fund the Michigan FFA Association's programs, events, awards and activities, which help students develop public speaking skills, conduct and participate in meetings, manage financial matters, strengthen problem-solving abilities and assume civic responsibility. Award programs honor students in areas such as public speaking, commodity marketing and agriscience for their achievements and encourage them to excel beyond the classroom and develop career skills.
"We just think the FFA program is a great start to get some of these skills that otherwise youth are not exposed to," he added.
The Star of the West FFA endowment is consistent with the company's mission statement: Partnering with food producers and food processors to feed the world. They feel that supporting FFA is vital as today's youth are the leaders of tomorrow.
Howe explained that creating this endowment for FFA was twofold, "For us, it's giving back and it's making sure that tomorrow's youth get the opportunities that we know are valuable," he said. "It's not just writing a check. It's being active and engaged."
He added, "I am a big fan of FFA – it helps shape youth in many different ways."
Howe is an FFA alumnus of the Hemlock FFA Chapter where he served as chapter president and participated in FFA Parliamentary Procedure contests. His experiences through FFA changed his outlook on life. He explained that his trip to the National FFA Convention was the first time he traveled to Chicago, saw tall buildings, visited the Chicago Board of Trade, met students from different schools and listened to famous speakers – President Jimmy Carter and Paul Harvey, one of Howe's all-time heroes.
"I had no intentions of going to college until I went there," Howe said. "The following year, I enrolled at MSU. If I wouldn't have had those opportunities, I don't know where I'd be today."
While attending MSU, Howe accepted an internship at Star of the West. He was offered a position prior to graduation, staying on while finishing his degree in agricultural economics with a minor in crop and soil sciences. Growing up on his family's farm, he had full intentions of returning to the farm after college. However, due to the economy, he decided to continue working at Star of the West – a decision that turned into a career for the past four decades as he worked his way up through the company.
Star of the West Milling Company was established in 1870 as a flour milling company converting locally grown wheat into flour. The company was purchased by 50 farmers in 1903. Over the past 150 years, the company has become a vertically integrated organization to include all stages of plant agriculture: from plant genetics and production to harvesting and processing for food companies, both domestic and abroad. Though still headquartered in Frankenmuth, the company has expanded to 27 locations.
However, Howe isn't the only FFA — and MSU — alum at Star of the West; the agricultural roots grow deep within the company. Many employees were involved with FFA in their youth and continue to support FFA today.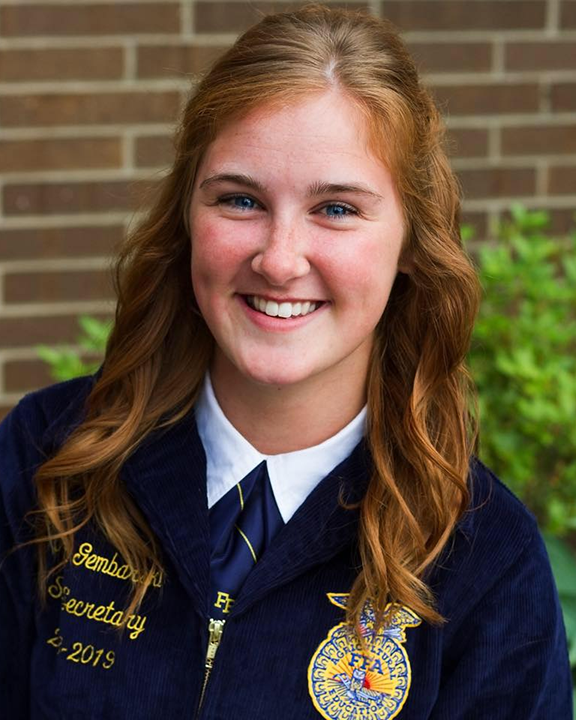 Today, Raegan Gembarski serves as Star of the West's Rapson edible bean and grain coordinator, where she coordinates dry bean contracting, works daily with growers and reports their daily position on wheat, corn, soybeans and edible beans. But, only a few years ago, Gembarski was traveling the state promoting the program as the state FFA secretary during her undergraduate years at MSU. Gembarski earned a bachelor's degree in 2021 with a major in agribusiness management. After completing an internship at Star of the West, similar to Howe, she also decided to accept a full-time position at the company.
"I feel very fortunate that I work for a company that sees and values FFA, and now wants to give that back," she said.
Gembarski acknowledges Michigan FFA for all the opportunities the program provided her with. She served as the North Huron Chapter president, her region's reporter and ultimately, state secretary. She started out focused on equine science but then switched her supervised agricultural experience (SAE) to agricultural communications. This led to an FFA trip to Uganda to teach sustainable agriculture.
"I did not grow up on a farm. Although, I was surrounded by agriculture, and FFA fell into my lap in junior high. I fully credit who and what I am to what FFA taught me," she said. "All of the opportunities it gave me – I got to travel to Africa, speak to people and just do so many things I never thought I'd be able to do," she said.
Gembarski explained that one of Star of the West's initiatives is Let's EAT: Experience Ag Together. "We don't care if you come to work for us – though we'd love to have you come to learn more. We want people to stay in agriculture," she said.
Howe explained the company's motive further, "We want to give young people opportunities in agriculture. We try to encourage as many interns as we can facilitate and introduce them to other possibilities because we know that not everyone wants to be out in the fields. We've got marketers, computer techs, human resources and specialists in environment and sustainability. We try to sculpt our internship opportunities to be very broad so people can see what agriculture is about."
To further support this notion, last summer Star of the West hosted the Michigan FFA State Officer team – a team of 12 state officers, typically college students, who play a key role in planning the state convention and other events and travel more than 20,000 miles during their year of service representing and promoting Michigan FFA.
"When that group visited last summer, that was really exciting for me," Howe said. "There were a lot of young people that didn't come from traditional farming, but I'm compelled to think that we could find jobs for each of them."
As part of their business and industry tour, the state officer team learned about Star of the West and other companies in the region, but perhaps more importantly, the youth got to meet the people that make these businesses successful, all while learning about agriculture and food.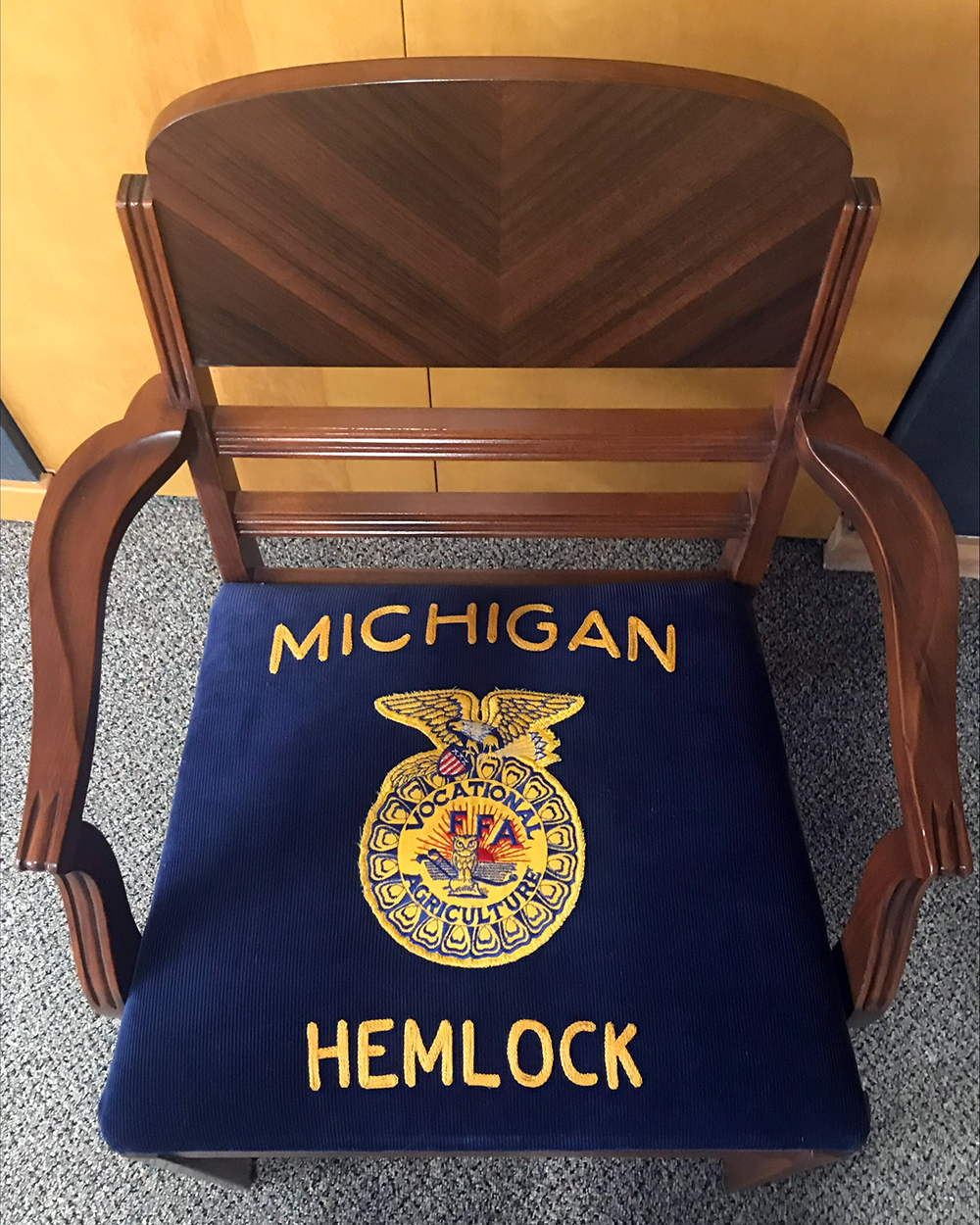 Howe and the state officers were photographed with a personal FFA memento of Howe's – his grandfather's chair that Howe personally repurposed and reupholstered it using his first FFA jacket as the fabric. The chair is a fixture in his office today at Star of the West.
"The chair reminds me of where I came from and keeps me grounded," he said.
About Michigan FFA
The Michigan FFA Association is headquartered on MSU's campus within the College of Agriculture and Natural Resources (CANR) Department of Community Sustainability (CSUS). The Michigan FFA Association charters new chapters; provides direction, programmatic materials and support; and hosts the State FFA Convention. Local chapters, housed in school districts across the state, are organized under the state association headed by an advisor, an executive secretary and a project consultant. Middle and high school students aged 12-21 enrolled in agriculture, food and natural resources (AFNR) education programs are eligible for FFA membership. Many of the chapter FFA advisors are graduates of MSU's Agriculture, Food and Natural Resources Education program within the CSUS department.
To learn more about giving to Michigan FFA, visit https://michiganffa.org/donate.