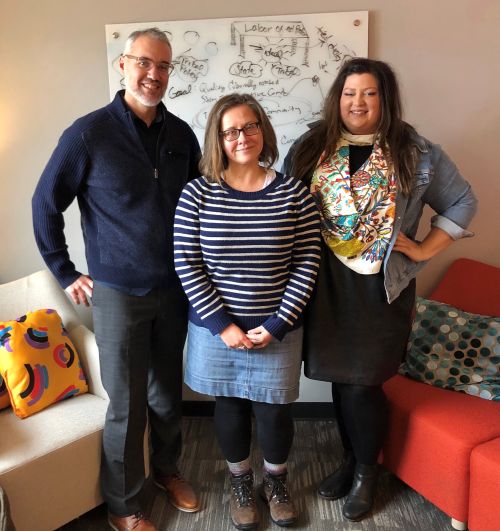 Michigan State University (MSU) has been awarded close to $1 million from the National Science Foundation (NSF) for a five-year study of renewable energy options using a cross-disciplinary research approach in eight Michigan communities, including two Native American communities.
The project, "Socio-Technological System Transitions: Michigan Community and Anishinaabe Renewable Energy Sovereignty," will use community-engaged research to collect and analyze local renewable energy risks, barriers and opportunities that can help with decision making and future transitions to renewable energy systems.
This research crosses academic disciplines in the MSU colleges of Agriculture and Natural Resources and Arts and Letters. The principal investigator (PI) is Doug Bessette, assistant professor in the MSU Department of Community Sustainability. Project co-PIs are Laura Schmitt Olabisi, associate professor in the Department of Community Sustainability; Kristin Arola, associate professor in the MSU Department of Writing, Rhetoric and American Cultures; and Christie Poitra, interim director of the MSU Native American Institute (NAI). Arola and Poitra are also affiliate faculty members in American Indian and Indigenous Studies program at MSU.
Michigan Technological University (MTU) is a partner on this project, receiving an additional $2.7 million over five years in support of this collaborative research.
The broader implications of this project include better understandings of the cultural, political and economic contexts that shape how different communities view renewable energy technologies. The research aims to engage people in activities that can empower local communities to make renewable energy decisions that will increase sustainable adoption.
"Real-world deployment of community-owned renewable projects and research is rare, and there's no framework that considers the social and technological trade-offs associated with such projects, especially in tribal communities," Bessette said. "I think this work will be critical in identifying areas that need research and resources and will establish the relationships necessary to transform energy systems."
The project will investigate energy system transitions in two Anishinaabe tribal nations and six non-tribal Michigan communities, to help understand renewable energy decision making. The research will focus on the Keweenaw Bay Indian Community, Sault Tribe, non-tribal communities in Traverse City and Northport, and four rural communities that are in the process of being chosen.
"Creating a space for tribal perspectives to be voiced in research is a positive step," Poitra said. "This particular project provides an opportunity for the research, practitioner and policy communities to better understand tribal perspectives on renewable energy needs and issues."
MSU researchers will also develop a new Socio-Technological System Transitions (STST) discipline to help promote ongoing partnerships between tribal nations, non-tribal communities and universities grounded in research collaborations that bridge humanities and social, natural, computational and engineering sciences.
"Both tribal and non-tribal communities have been included from the conceptualization of the project," Arola said. "This is particularly important when working with tribal communities because energy sovereignty is connected to tribal sovereignty. Renewable energy is intimately linked to issues of land rights, use, and value."
The project will engage K-12 teachers and university students in activities connected with the developed STST foundations, transdisciplinary science skills and principles, community-engaged research practices and renewable energy design.
Undergraduate students will participate in tribal community college research assistantships and courses in sustainable energy and public policy at MSU and at Keweenaw Bay Ojibwa Community College. Graduate students will be part of degree and certificate programs at MSU and MTU, including an online joint graduate seminar.
"Our project fills the gap that exists between identifying renewable energy technologies that are technically possible and potentially beneficial, and really empowering communities to take control over their own energy systems," Bessette said. "We intend for scholars, practitioners and community stakeholders to co-develop both the decision-support tools and potential energy systems."
Related Article