MSU Extension instructor recognized as a "Children's Champion"
Community nutrition instructor LaShanda "Shane" Jackson takes home a prestigious award for her service in Genesee County.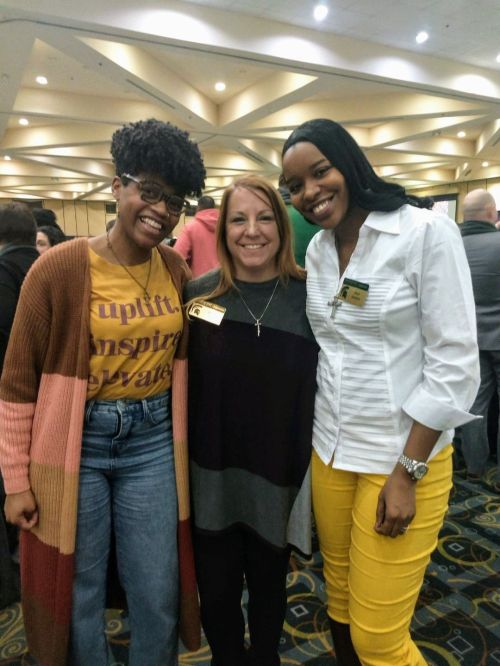 For 25 years, the Children's Champion Awards have celebrated individuals, businesses, government agencies and organizations making exceptional contributions to the lives of children in Genesee County.
On Friday, February 7, Michigan State University Extension community nutrition instructor LaShanda "Shane" Jackson was the proud recipient of one of these awards.
At a ceremony held at the Riverfront Banquet Center in Flint, Jackson took home the Crim Fitness Foundation's Active and Healthy Leader Award. The award recognizes an exceptional community leader who promotes participatory health and fitness activities that benefit the children of Genesee County.
"Shane brings passion, drive and genuine care to the children she teaches every day," said Deanna East, associate director of health and nutrition programming for MSU Extension. "All of her colleagues here at MSU Extension are proud of her achievements and recognition, and we know her community is as well."
While Jackson won the Crim Fitness award, she was also nominated for two others — the Roy E. Peterson Caring Adult Award, which recognizes an adult who goes beyond the call of duty to provide services to children or youth in Genesee County, and the Lifetime Achievement Children's Champion Award.
"Ms. Jackson was nominated multiple times, in multiple categories, which tells its own story about all the excellent work she is doing," said Sarah Zyburt, director of advocacy and advancement for Voices for Children, the organization that hosts the event. "Nominators had wonderful things to say about her and the impact she has had on their lives and their children's lives."
This is not the first time Jackson's tremendous work has received accolades. In June 2019, Jackson was awarded FOX66's Golden Apple Award, taking home the majority of tens of thousands of votes, edging out 26 other outstanding K-12 educators in the mid-Michigan area.
LaTashia Perry, a maternal infant health program instructor at MSU Extension, was also nominated for a Parent's Choice award at the event, for her work as an author. Perry has written multiple successful children's books that celebrate black youth and encourage children to love themselves and understand each other's differences.