MSU professor a 'pioneer' in dairy cattle fertility management
J. Richard Pursley is a global leader in fertility synchronization, pregnancy loss management research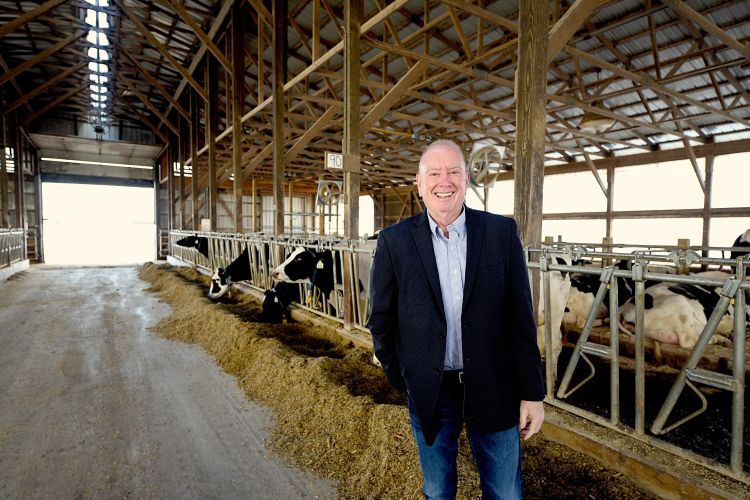 For more than a quarter century, Michigan State University professor J. Richard Pursley has been at the forefront of world-renowned research and dairy cattle fertility management programs that have played a pivotal role in bolstering Michigan to the sixth-largest dairy producer in the country. His work has propelled the state's $15-billion dairy industry toward a more productive, profitable, efficient and sustainable future.
Michigan's dairy industry includes more than 1,000 farms raising 440,000 cows that support nearly 40,000 jobs, both on and off the farm. The state's dairy farms produced nearly 12 billion pounds of milk in 2021.
Effective fertility synchronization and fertility management programs, like those developed by Pursley and his collaborators, have sustained and enhanced the productivity of Michigan farms and farms around the country. These programs increase dairy profitability by approximately $135,000 a year on a 1,000-cow dairy farm, Pursley said.
Fertility management programs are designed to increase the likelihood that cows become pregnant during first artificial insemination (AI). This allows farms to:
House fewer animals while maintaining high production rates.
maintain high fertility rates among the herd.
reduce health issues after calving.
maintain greater average milk production from their herds.
"Dr. Pursley is one of the pioneers of fertility synchronization programs. There's not a herd that we work with in Michigan that is not on some form of synchronization program that stems from aspects of Dr. Pursley's research," said Rachelle Bennecke, veterinarian and owner of Stoney Hills Veterinary Service, which works predominantly with large dairies in Michigan.
"When I started practicing 20 years ago, a farm was doing fantastically well if they were getting a 15% fertility rate. Now, it seems like if you're not bumping up close to 30%, then you're falling behind. As veterinarians and as an industry, I think we're always trying to be more efficient, and Dr. Pursley's work has helped us accomplish many of those goals."
Some Michigan dairy farms have seen a 50% increase in first-AI success rates since implementing fertility methods Pursley and his team developed. It's that direct impact that motivates Pursley and endears him and his work to dairy farmers across the state.
"I have a lot of respect for Richard, personally," said co-owner of Nobis Dairy Farms, Kenneth Nobis, whose family-farm in St. John, Michigan, has hosted MSU research tours since the 1970s. "I think he's doing very practical research that is a benefit to every farm in Michigan today. His discoveries on timed breeding and the methods developed from those carry so many benefits for the animals and for the operators."
Ovsynch fertility protocol
Pursley's research program began with a simple question: How can dairy farmers better monitor and control cows to enhance first insemination fertility rates?
Previously, farmers spent time and resources monitoring herds for cows showing signs of heat, allowing many variables to impact the success of insemination. Pursley, along with collaborator Milo C. Wiltbank, published a series of findings on what they would call the Ovsynch Protocol.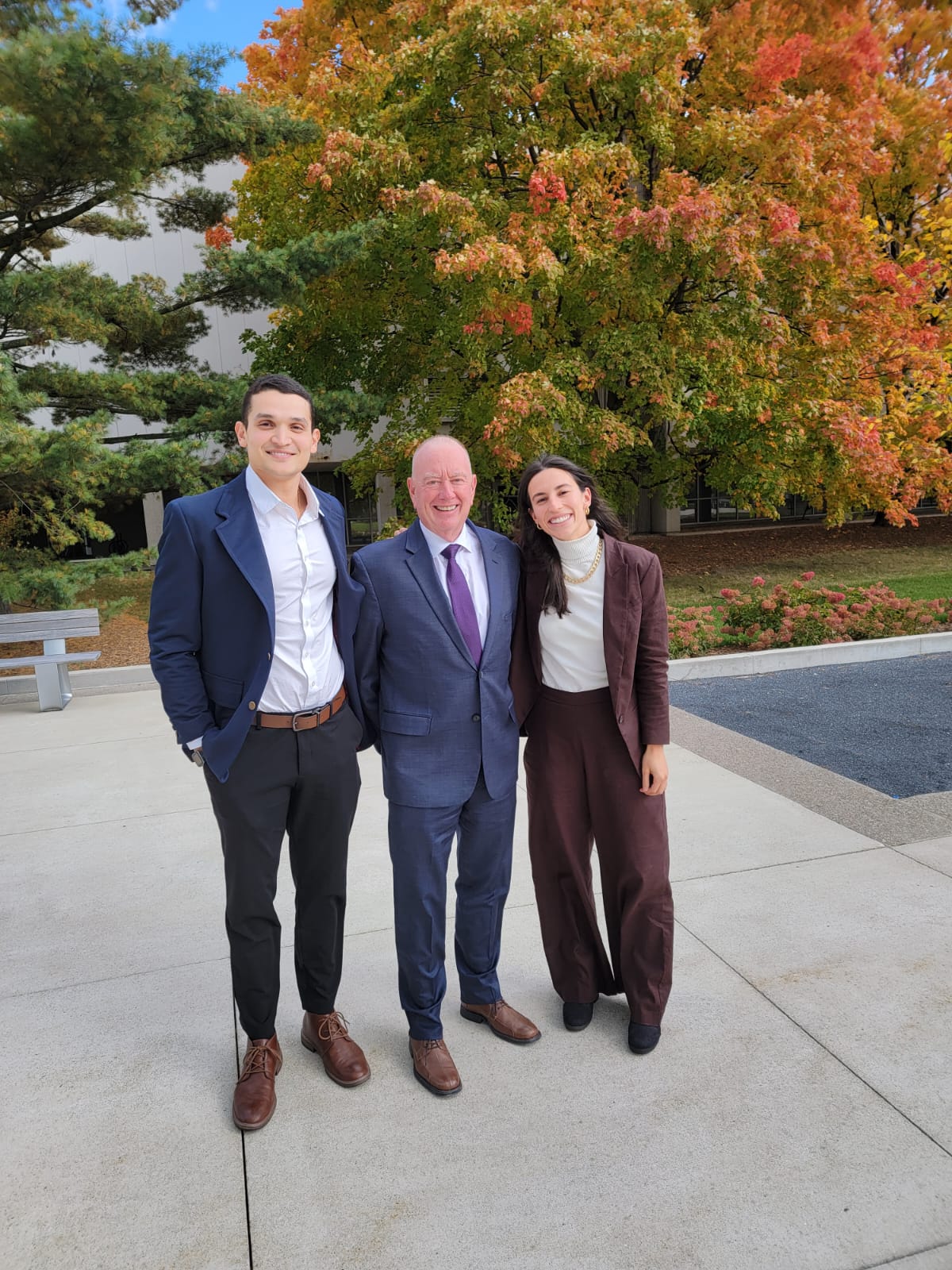 Ovsynch enabled AI to be performed at specific times allowing farmers and veterinarians to synchronize programs. Ovsynch is now the basis for premier AI management tools and has been adapted to the changing needs of producers.
"Pregnancy rates from first AI increased significantly once these protocols became commonly implemented," Pursley said. "When fertility rates increase, dairy producers can keep a higher percentage of their herd pregnant, making both the cows and the farm more productive and efficient."
Cows that become pregnant on first insemination tend to also have better health outcomes, Pursley said.
"Cows that become pregnant late in lactation have lower fertility rates after calving and more health problems at the time of calving," he said.
Nobis, who formerly served as board president of the Michigan Milk Producers Association (MMPA), has seen the benefits of Pursley's research on his own farm, as well as others across the state.
"The willingness and ability of MSU researchers to respond to the needs of industry stakeholders has allowed researchers like Dr. Pursley to ensure their efforts are practical and applicable," Nobis said.
The cooperation and collaboration between MSU, dairy industry stakeholders, farmers, veterinarians, commodity organizations and state organizations, like the Michigan Department of Agriculture & Rural Development, are keys to Michigan's success as a dairy state, said Nobis, who received an honorary MSU alumni award in 2019. Pursley's fertility research is supported through funding from MSU AgBioResearch, the Michigan Alliance for Animal Agriculture among several other federal funding agencies.
"From MMPA's point of view, as well as mine, the dairy industry in Michigan is at the forefront of the dairy industry in the United States, and we are fortunate that we have a world-class university with researchers that have been forward-thinking in their research, yet responsive to the issues our industry has faced," Nobis said.
"We have a really good group of producers in this state who are pretty open-minded and willing to try new things and find more efficient ways to produce milk. The university has listened to the producers' needs, and I think that's critically important."
Reducing pregnancy loss in cows
More recently, Pursley's research has focused on reducing pregnancy loss in cows.
"Once dairy cows have a calf, fertility drops 50%," Pursley said. "We want to understand where and why these losses occur and what methods can be implemented to prevent future loss. If we can solve that problem, it would be as big of an efficiency increase for dairy farms as the fertility programs."
Through a USDA Agriculture and Food Research Initiative (AFRI) grant, Pursley's research team discovered a specific protein that increases in pregnant cows at approximately 21-22 days following AI. The release of this protein correlates with the time of conception.
This discovery provides a roadmap and potential tool for Pursley to develop methods to prevent pregnancy losses.
The timeframe between insemination and when the embryo bonds to the uterus for a heifer (21-22 days) was consistent in Pursley's findings, however that period varied (19-27 days) for dairy cows who already had a calf. Pursley's team found that any embryo attachment after 21 days has a significant chance of loss.
He will test ways to enhance pregnancy mechanisms and develop fertility management programs to increase the number of cows that have embryos 21-22 days after insemination.
Much of Pursley's interaction with dairy producers comes through relationships with state veterinarians, who serve as "boots on the ground" for researchers to better understand producer problems.
Through MSU Extension, Pursley helps train and support the state's veterinarians and animal caretakers on updated fertility management programs and additional programming to enhance herd reproductive efficiency.
"I've worked with hundreds of veterinarians over the last 20 years to understand what they need from the researchers, because they are the ones out on the farm actually doing pregnancy diagnosis and treatment. They're the ones helping producers run their reproductive programs," he said. "Collaborating with veterinarians is key for keeping our research up-to-date with what is happening on our dairy farms."
It's a two-way street of scientific inspiration for Bennecke, who graduated from MSU's College of Veterinary Medicine in 2003.
"The discoveries and research Dr. Pursley's team brings forward pushes us as veterinarians to be more efficient with our programs and to get better pregnancy outcomes and better long-term reproductive strategies in both our heifer herds and our cow herds," Bennecke said.