MSU represented at the DC Innovation Lab Director's Meeting
PRCI and the Legume Lab represented MSU at the annual Feed the Future Innovation Lab Directors meeting in Washington D.C.
Washington D.C. – Michigan State University was well represented at our nation's capital by the Innovation Lab for Food Policy, Research, Capacity and Influence (PRCI) and the Innovation Lab For Legume Systems Research (LIL).
The two-day conference was held at the National Press Club, where Innovation Labs representing top universities from around the country gathered. Feed the Future Innovation labs are part of the U.S. Government's global hunger and food security initiative with the goal of developing innovative and scalable solutions to reduce global hunger, poverty and undernutrition.
The public meeting theme was "Harnessing the Power of Agricultural Research to Transform Food Systems." The purpose of the meeting was threefold. Firstly, to demonstrate how the Innovation Labs are strengthening food systems to withstand shocks and stresses. Secondly, to identify game-changing research that has significant potential to address food insecurity, and thirdly, to show how the Innovation Labs are inclusive and work at the local level to translate their research into scalable solutions.
The first day, a number of topics relevant to the Innovation Labs as a whole were discussed at the closed Innovation Lab Council meeting, at which the PRCI director and Department of Agricultural, Food, and Resource Economics (AFRE) professor, David Tschirley, presented on J-I visas. The Board for International Food and Agricultural Development (BIFAD) Chairman, Laurence B. Alexander, spoke to the gathered directors, as did BIFAD member and Ohio State professor Rattan Lal. Presentations on USAID Mission engagement, leveraging innovations, and launching product life cycle implementation rounded out the day.
The second day was for the public presentation of Innovation Lab research. Attendees from USAID and the Innovation Labs were able to peruse Innovation Lab materials presented at tables throughout the venue. Presentations were given on the following topics:
USAID research and Development Priorities
Food Systems Research
Game-Changing Innovations and Expanding and Promoting Localization
Expanding and Promoting Localization
Building Inclusive Innovation for Development, and
Translating Science for Measurable Impact
As part of the presentation for Expanding and Promoting Localization, Nalishebo Meebelo, executive director of the PRCI supported Regional Network of Agricultural Policy Research Institutes (ReNAPRI) gave a pre-recorded presentation: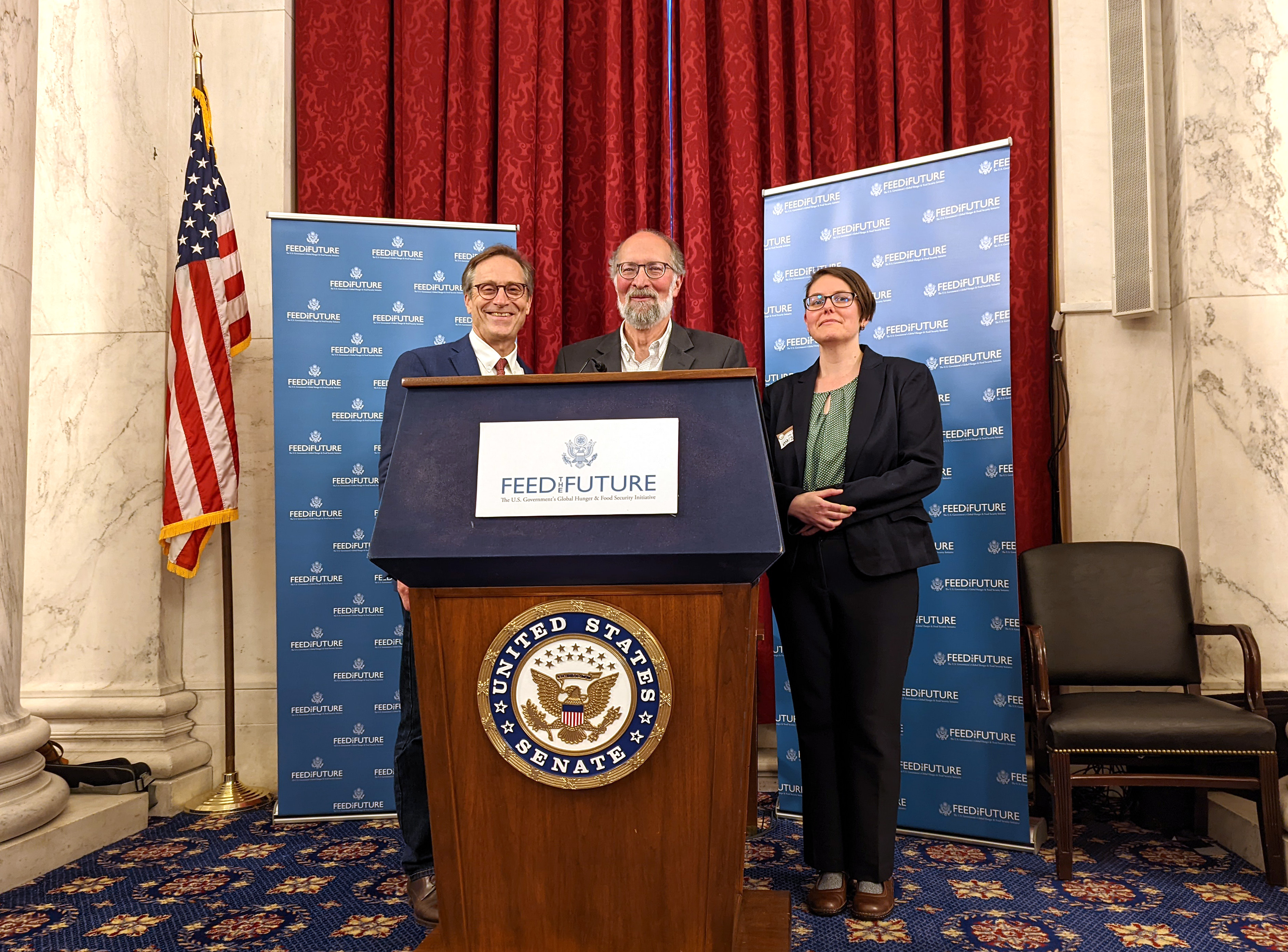 Afterwards, Innovation Labs were invited to share their research materials at a congressional reception that hosted a number of distinguished speakers from Michigan, as well as Robert Bertram, the Chief Scientist for USAID's Bureau for Resilience and Food Security. Douglas Buhler, Assistant Vice-President of Research and Innovation at MSU, spoke as did Congresswoman Brenda Lawrence, representing Michigan's 14th district. She congratulated MSU and the Legume Innovation Lab for their leadership during the Innovation Lab meeting and led the assembled congresspeople, USAID representatives, aids, and Innovation Lab attendees in a rousing cheer of, "Go Green, Go White!"