MSU's Next Generation Of World Changers
Growing up in Ann Arbor, Laura Schmitt Olabisi never imagined that she might one day become a Spartan.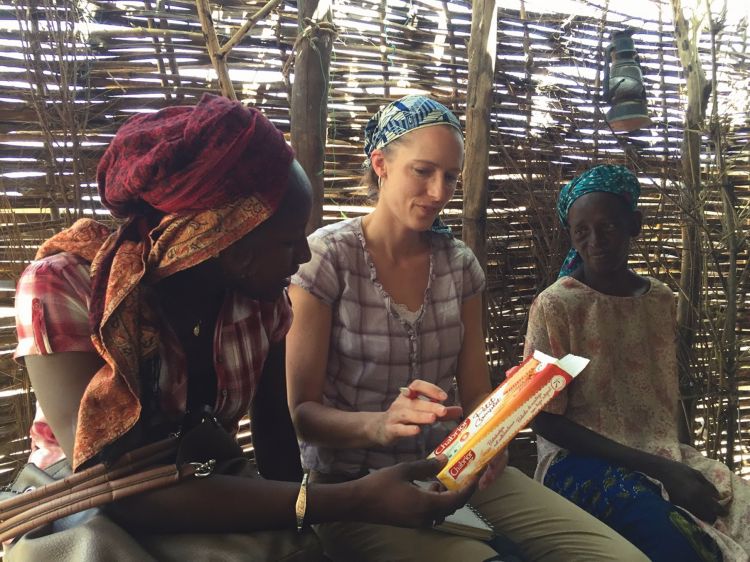 Growing up in Ann Arbor, Laura Schmitt Olabisi never imagined that she might one day become a Spartan.
"When I took this job, my father jokingly threatened to disown me because he and my mother are both U-M grads and passionate Wolverines," she says with a laugh. "He's eased over the years."
One thing she was always sure of, however, is that she wanted a career in science.
"Ever since I was a little kid, I've wanted to be a scientist," she says, giving a nod for that inspiration to her grandfather, who was a physicist. "He made science seem so fascinating, and I loved talking to him about science."
Schmitt Olabisi, an assistant professor in the CANR Department of Community Sustainability, is a systems modeler researching issues of food security in West Africa.
"I look at things like agriculture and climate change in terms of systems," she says in her small, wood-paneled office in the Natural Resources Building. "Rather than looking at pieces of a system in isolation, we try to look at the whole picture."
"I believe that one of the biggest challenges we have is how we are going to feed 9 billion people without wrecking the planet that we're depending on to provide food. In whatever small way I can help respond to that or help guide some of the decisions that are made around that, I feel like that is a really important challenge."
In West Africa, the booming population, rapid urbanization and the increased demand for land, combined with the effects of climate change, make the region a natural destination for Olabisi.
Olabisi received a bachelor's degree in environmental science from Brown University and a Ph.D. in systems ecology from the State University of New York College of Environmental Science and Forestry. She continued her postdoctoral work at the University of Minnesota Ecosystem Science and Sustainability Initiative before coming to MSU in 2009.
In 2014, Olabisi got the opportunity to take her international research to the next level when she was chosen as one of nine faculty members to comprise the inaugural cohort of the Academy for Global Engagement (AGE) Fellowship Program.
The AGE was launched when the CANR teamed with the College of Engineering to create this one-of-a-kind fellowship program on campus. It's a yearlong intensive training that offers early and mid-career faculty members an innovative opportunity to expand their scholarship on a global level while building networks across the globe and forming problem-solving relationships with international partners.
The AGE has an ambitious goal: Create a new generation of international research experts to support MSU's global mission.
Olabisi's participation in AGE led her to focus on the region where she currently has three large projects under way.
"I'm really excited to be working in West Africa because it's an important and dynamic region," she says. "It's the story of the coming century, just like India and China were the growth stories of the past few decades."
The insight and experience she gained from AGE helped bring her international work into focus.
"It forced me to think about my international research as a program, as opposed to, 'Oh, here's a grant, I'll apply for that… oh, here's a grant, I'll apply for that.' I've learned to be more deliberate about where I am doing work, how I am going to build a program, what topics I choose."
At every step, AGE is designed to help boost fellows' capacity to launch large-scale, high-impact international research programs.
"I only wish that I had been able to do it a little bit earlier in my time at MSU," Olabisi says. "I spent a little bit of my time floundering around, as I think probably many assistant professors do. This program gave me a lot of good momentum."
Fellows are able to receive mentoring, training and exposure to national and international stake-holders. They learn best practices for pitching scientific ideas to potential funders, how to give skillful presentations, and the importance of leveraging resources to create new partnerships and expand networks. Fellows have the opportunity to put these skills into action during meetings, networking events and conferences with representatives of several federal agencies, NGOs and other entities that can provide essential funding and access to other funding sources.
"I applied to a lot of jobs at places where I asked about inter-disciplinary research, and was told, 'Just forget about it.' At MSU, it's the opposite. They said, 'You should do it! In fact, there is a program where we're going to encourage you and show you how to do it.' I loved that."
Olabisi often thinks of an African proverb to underscore the need for collaboration: "If you want to go fast, go alone; if you want to go far, go with others."
"Yes, you can maybe just spring out there ahead and do things on your own, and you might get things done faster, but you're not going to go as far, and you're not going to achieve as much, and you're not going to learn as much as if you're going with a group of other people."
LEARN MORE:
This article was published in In the Field, a yearly magazine produced by the College of Agriculture and Natural Resources at Michigan State University. To view past issues of In the Field, visit www.canr.msu.edu/inthefield. For more information, email Holly Whetstone, editor, at whetst11@msu.edu or call 517-355-0123.