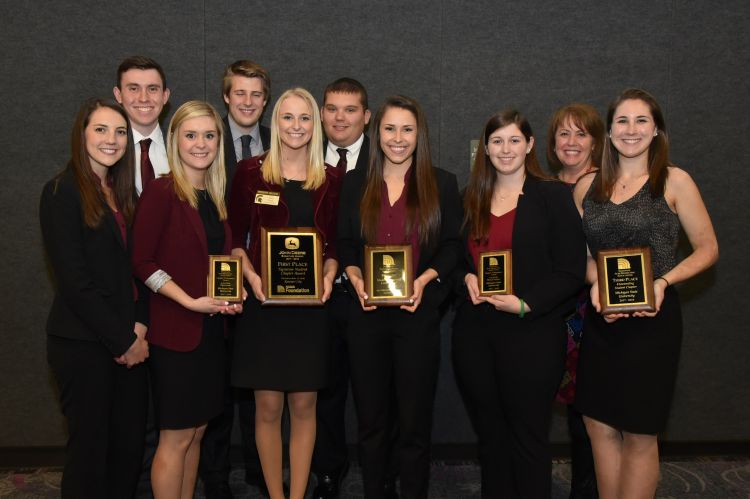 Nine Michigan State University students attended the National Agri-Marketing Association (NAMA) Convention in April to compete in the National Student Marketing Competition. The year the students in the MSU chapter of NAMA spent developing a marketing plan paid off, as they placed fifth overall in the marketing competition, at the convention in Kansas City, Missouri and competed against approximately 30 other colleges.
In addition to placing fifth in the marketing competition, the MSU team won first place in the John Deere Signature Award and third place for Outstanding Student Chapter. The team was also recognized with the awards for Chapter Programming and Chapter Management. On top of the team awards, Madi Heath, an ABM junior, and Sarah Lokey, an FIM junior, received scholarships from NAMA.
"This past semester preparing our marketing plan, has been very stressful with many late nights and early mornings," said ABM senior Madi Heath. "However, we were extremely excited to finally be in Kansas City, and so happy our hard work paid off!"
Of the nine Spartans who attended, seven made up the Presentation Team, including ABM students Nick Baessler, Julia Chamberlain, Justin Gruden, Madi Heath, and Elissa Mutschler, Agriculture, Food, and Natural Resource Education student Elena Boxey, and Animal Science student Kayla Keyser.
MSUAFRE professor Laura Cheney is the advisor of the MSU NAMA and says it will be a great hands-on experience for the students.
"Every year I am amazed and inspired by the dedication and talent of our MSU NAMA marketing teams. This year is no different. We have an incredible group of students who have spent countless hours and so many late nights in preparation for the conference and competition," said Cheney. "They do this not as part of any class, but because of the professional development, team work, and experiences that are MSU NAMA."
NAMA is the nation's largest association for professionals in marketing and agribusiness, and its 2018 convention will feature the Student Marketing Competition, keynote speakers from across the industry, and award ceremonies honoring the best representative of NAMA.
The trip is not only made possible by MSU NAMA's generous donors, the CANR Alumni Association, Greenstone FCS, Corn Marketing Program of Michigan, Michigan Agricultural Commodities (MAC), Culver's, Nutrien Ag Solution, and Mullins Auto Supply, but also MSUAFRE alumni who have supported the group with expertise and resources including, Ricky Southward, Nicole Pinage, Claire White, Spencer Short, and Erin Koglin Allen.