New CSUS master's program to address ag educator shortage: A conversation with a recent graduate, Katelyn Kelley
Katelyn shares how the agriculture, food and natural resources education master's program has helped her advance in her teaching career.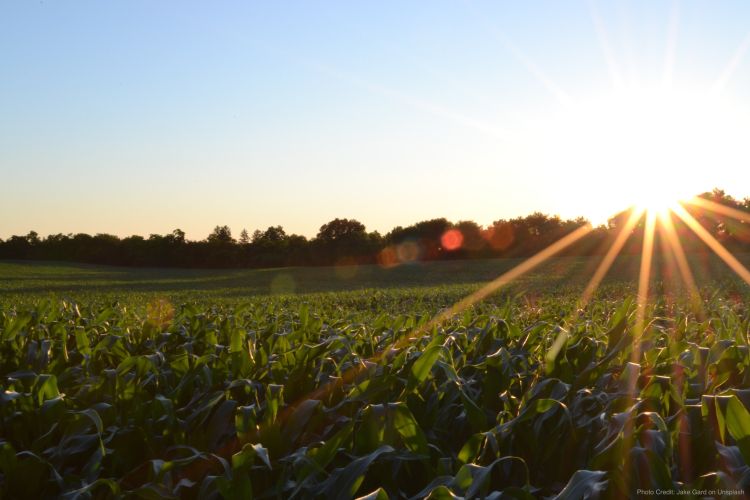 The national shortage of agricultural educators has impacted Michigan, creating an uncertain future for the agricultural education programs across the state. Without enough qualified agricultural educators, programs across the state may either need to significantly reduce programming capacity, or even shut down.
To address this shortfall of qualified agricultural educators, the Department of Community Sustainability created and now offers a Master of Arts (MA) degree in Agriculture, Food and Natural Resources Education (AFNRE). This degree is designed for individuals who are interested in pursuing careers as educators, advancing their knowledge of agriculture, food, and natural resources and developing and bringing this depth and scope of knowledge to their teaching.
This program can help ensure future generations of Michiganders have access to high-quality, engaging agricultural educational experiences.
Dr. Michael Everett, the AFNRE program coordinator, says, "This program is the only of its kind in Michigan to address the need of training ag educators and that provides a largely online experience for teachers already working in the field."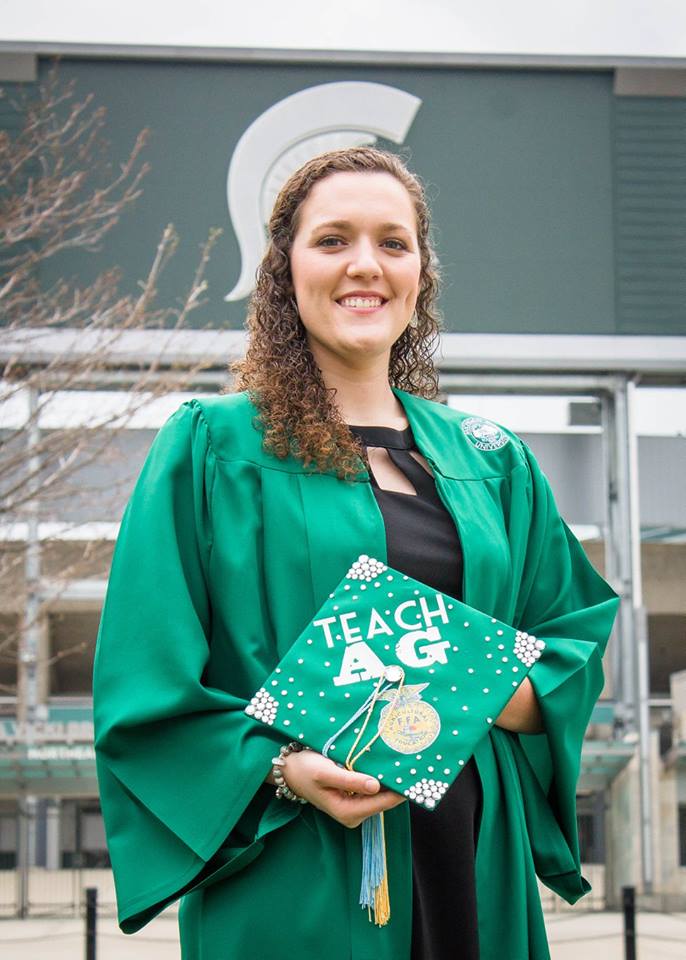 In the fall of 2019, the AFNRE Master of Arts program graduated its first cohort of students. Now a year later, we follow up with one of those graduates, Katelyn Kelley, to talk about her experiences in the program and reflect how the AFNRE MA has impacted her career.
Katelyn completed an undergraduate degree in AFNRE in 2018 and went directly into teaching before returning to CSUS as a master's student. Katelyn currently works as an Agriculture, Food and Natural Resources Educator at Charlotte High School and serves at a Future Farmers of America (FFA) advisor in Charlotte, MI. This interview has been lighted edited for clarity.
What made you choose the AFNRE MA program?
I had such an amazing experience working with the CSUS and AFNR Education programs that I wanted to continue to learn and work with those same people. The professors of the AFNRE undergraduate and master's programs are incredible individuals that push you to be your best and prepare you for your career as an AFNRE teacher. They have created a community within their department that makes everyone feel welcome to the program.
How did getting your Master of Arts in AFNRE help move you along the path towards your professional goals?
I have always wanted to develop relevant teaching resources for AFNRE teachers and FFA Advisors. Through my final master's project, I was able to create a middle school FFA workbook that many teachers are using this school year. In the future, I would like to continue to develop and integrate relevant and rigorous resources and curriculum that can be shared with AFNR Education colleagues across Michigan.
Are there any specific elements of the program that you found particularly valuable?
When considering the most valuable elements of the program, its the relationships and experiences is what sticks out to me most. The professors take the time to get to know each student and the goals that they have in mind. They set up opportunities for students to get more hands-on experience in classrooms and in the industry and foster relationships with other AFNRE teachers and industry people.
What words of advice would you share with anyone looking to pursue a similar career path?
A piece of advice that I give anyone that is thinking they want to pursue a career in AFNR Education is to gain experience being in an AFNR classroom and build relationships with other ag teachers in the state. Sub for a day, long term sub, shadow teachers at both career centers and comprehensive high schools, attend FFA events, etc. Anything to gain experience! AFNR Education is unlike any other teaching position. By building relationships with other teachers in the field you are able to have people to talk to in the hard times and to celebrate with during the good times!