New MSU Survey Reveals Growing Distrust of Food Experts and Widespread Concern Over Food Prices
The bi-annual survey, which sampled 2,111 Americans in October 2022, reports that less than half (43%) of consumers currently say they trust academic scientists on food safety information, down from 52% in 2018.
EAST LANSING, Michigan. – Public trust in scientists concerning the health and safety of food has fallen dramatically over the past four years, according to new results from the Michigan State University Food Literacy and Engagement Poll.
The bi-annual survey, which sampled 2,111 Americans in October 2022, reports that less than half (43%) of consumers currently say they trust academic scientists on food safety information, down from 52% in 2018. Thirty-two percent trust government scientists, down from 45% in the same period. Meanwhile, trust in industry scientists rose slightly from 30% to 34% over the last four years, according to the latest survey results.
"Dwindling trust in scientific expertise is concerning because the food system is so closely tied to our well-being," said Sheril Kirshenbaum, co-director of the poll. "It's possible that the significant decline we observed in public trust may be a casualty of the pandemic, as well as widely circulated misinformation about health and diet online, especially targeted to women."
Attitudes about scientific expertise related to food safety vary significantly among men and women. Forty-eight percent of men and thirty-eight percent of women trust academic scientists. Thirty-eight percent of men and 26% of women trust government scientists. And 39% of men and 30% of women trust industry scientists.
Meanwhile, the survey reveals Americans are united over food price anxiety. Eighty-five percent of all consumers currently describe food prices as high and 83% say they are very concerned about rising costs. Older Americans feel the most unease about food prices with 90% of seniors (55+ years) expressing high levels of concern compared to 64% of those under 30.
"It's no surprise that people are concerned about food prices. The impact on those living on fixed incomes and surviving on lower-paying jobs is particularly acute. There are multiple causes for the current spike in prices making it a complex problem without an easy short-term solution," said Douglas Buhler, co-director of the poll and associate vice president for MSU Research and Innovation.
David Ortega, an MSU agricultural economist and associate professor in the College of Agriculture and Natural Resources, said it is important to keep in mind that food price increases are happening in the broader context of a cost of living crisis, where wages are not keeping pace with rising prices.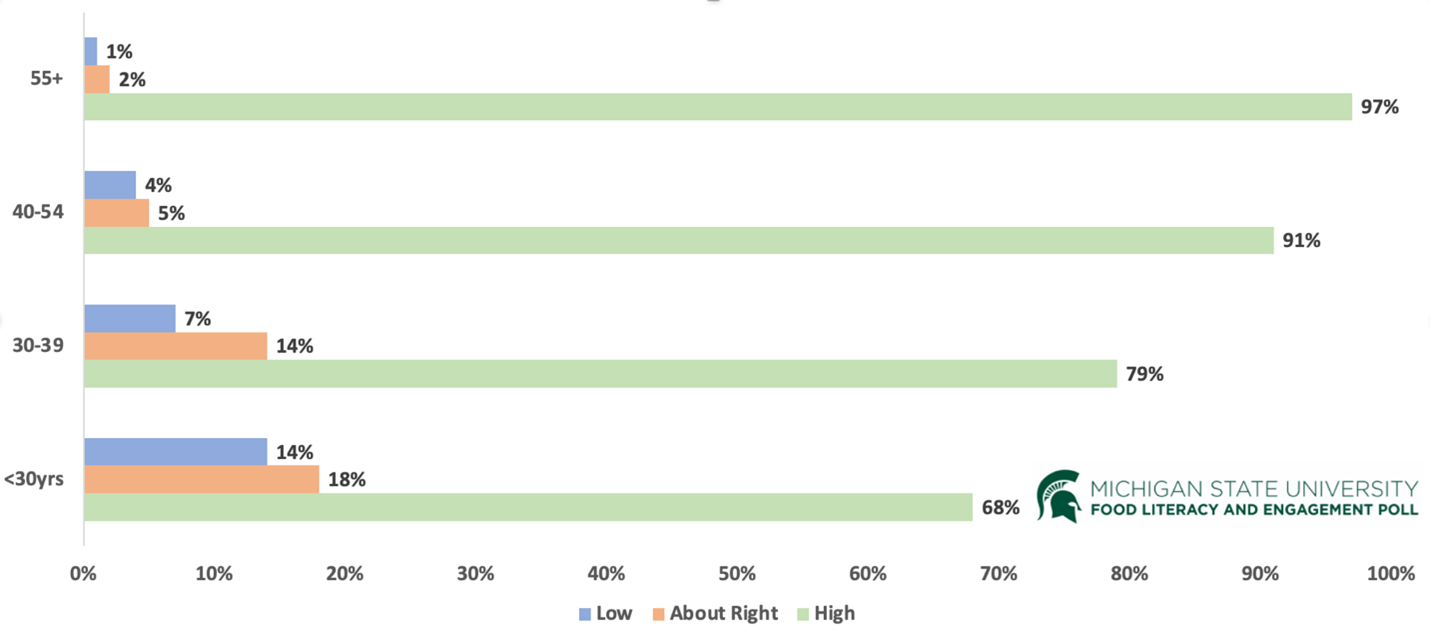 "Pandemic related supply chain disruptions, Russia's invasion of Ukraine, and climate change, among other factors, have led to a significant rise in food prices this year – increases we have not seen in over 40 years. Groceries are 13% more expensive than a year ago, with staples like eggs, butter, flour, and vegetables being significantly more expensive," Ortega said.
"As we head into the holiday season, consumers can expect to pay more to put the Thanksgiving meal on the table, with wholesale turkey prices alone being 20-30% higher than last year. Consumers are feeling these food price increases across the board, but they are affecting low-income households the most—since these individuals spend more of their disposable income on food. Low-income households in particular are changing their food shopping habits and often are having to make tough decisions in order to put food on the table."
High grocery bills continue to shift consumer choices, according to poll results. Over half (59%) say they have changed their food purchases or diet due to rising grocery costs, up from 43% in March. Among this group, 49% have turned to generic brands and bulk items; 48% buy fewer items, and 48% choose less expensive cuts of meat.
Each wave of the biannual poll includes one question to gauge general consumer understanding of the food system. This survey revealed that 80% of consumers believe "local foods are always better from an environmental standpoint," which is not necessarily always true. Environmental impact is typically determined by many factors, including production practices, pesticide use, energy efficiency, climate and other factors.
Additional results from the most recent MSU Food Literacy and Engagement Poll of American consumers include:
50% say geopolitical conflicts have raised their concerns about food availability and prices.
39% say they are familiar with the term "carbon neutral," while just 23% chose the correct meaning when presented with multiple choices.
70% say they look for nutritional information on labels. The two most popular terms are "Natural" (60%) and "Clean"(53%). Notably, both are difficult to define.
55% say sustainability is important to them and most often associate this term with "a cleaner environment" and "better health."
For charts and more information about the MSU Food Literacy and Engagement Poll, click here.
Data from the MSU Food Literacy and Engagement Poll were weighted using U.S. Census Bureau figures, to ensure the sample's composition reflects the actual U.S. population. The poll was developed by Food@MSU and is supported by MSU AgBioResearch. The survey is intended to provide an objective, authoritative look at consumer attitudes and perspectives on key food issues, and is designed to help inform national discussion, business planning and policy development.