New facility will increase hands-on opportunities for agriculture professionals, students, community
More than $1 million in donations will be used to build a new 11,000-square-foot educational facility on the property at the Saginaw Valley Research and Extension Center.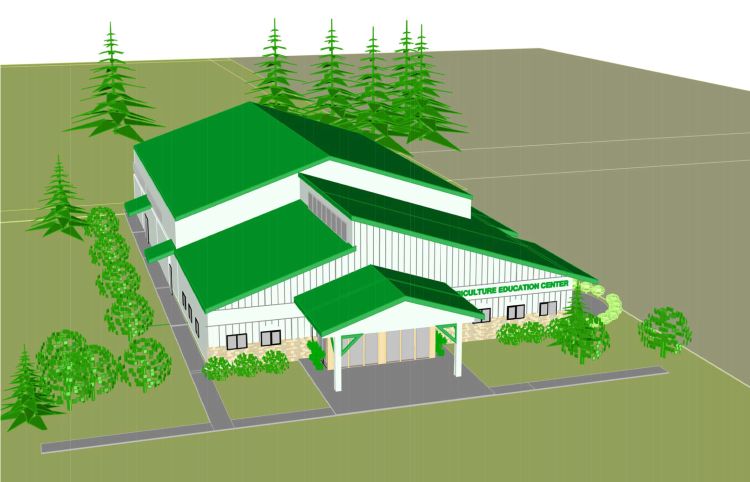 FRANKENMUTH, Mich. – More than $1 million in contributions from agriculture industry groups and Michigan businesses are helping Michigan State University (MSU) broaden its impact in the greater Saginaw Valley community.
The donations will be used to build a new 11,000-square-foot educational facility on the property at the Saginaw Valley Research and Extension Center (SVREC). The new building will provide additional space for industry meetings and hands-on demonstrations, regularly hosted by the College of Agriculture and Natural Resources, MSU Extension and MSU AgBioResearch. Construction is expected to begin in June and conclude in August, with a public unveiling of the progress during an Aug. 26 field day.
Plans for the SVREC Agricultural Education Center include a 250-person meeting room, a 50-person classroom for hands-on learning activities, on-site offices and a multipurpose reception space for events or educational displays. The center will also feature tours that showcase current research.
"We believe this new facility will empower us to engage more with agriculture groups and the Great Lakes Bay Region where we've historically had a positive impact," said Doug Buhler, the director of MSU AgBioResearch, which helps fund SVREC projects and operations. "Through their unwavering support, our industry and business partners continue to show a commitment to the great work that's being done through our research and extension programs."
"MSU Extension has a long history of partnering with growers and industries through outreach and education at SVREC," Ray Hammerschmidt, interim director of MSU Extension, said. "The expanded space will strengthen the partnership by allowing increased educational opportunities that will help industries in the Saginaw Valley region increase production and maximize efficiency."
Since 1971, MSU has operated a research center in the Saginaw Valley area, which is home to most of the dry bean and sugar beet production in Michigan. After the MSU Land Management Office purchased a 250-acre farm in nearby Frankenmuth in 2008, the center moved from Saginaw, more than doubling the acreage of the SVREC. MSU has acquired more land in recent years, bringing the total to 310 acres.
Proceeds from the original 120-acre Saginaw farm were donated to MSU by Michigan Sugar Company and its growers, and the Michigan dry bean growers and industry, represented by the Michigan Bean Commission and the Michigan Bean Shippers Association.
"Michigan Sugar Company is pleased to be partnering with MSU and other agriculture businesses on this project," said Mark Flegenheimer, the president and CEO of Michigan Sugar Company. "Conducting research on sugar beets is critically important to the future success of our cooperative, and now the SVREC will have a state-of-the-art conference and education center where the research can be shared with our current and future growers."
As the No. 1 producer of black beans and No. 3 of sugar beets, Michigan growers are recognized as national leaders thanks, in part, to research at the center. Other crops studied at the SVREC include corn, wheat and soybeans.
"Michigan's bean growers and processors are known as the leaders when it comes to producing and supplying domestic and international markets with the highest quality, safest beans available," said Joe Cramer, the executive director of the Michigan Bean Commission. "Research and education are fundamental to maintaining and improving on the good work that has put us in this market-leading position. The addition of an Educational Center to the ideally located Saginaw Valley research facility will pay dividends for years to come."
"The Saginaw Valley represents a significant area for Michigan agriculture," said Dave Armstrong, president and CEO of GreenStone Farm Credit Services. "Being able to offer local farmers a central location to gain knowledge on ways to improve their farming practices is a direct tie to GreenStone's mission, and benefits not only the producer, but the environment and consumers alike. We are pleased to help bring this resource to our members, as well as provide the community a multipurpose facility for education, outreach and development."
Major contributors providing support for the project are Michigan Sugar Company, GreenStone Farm Credit Services, Star of the West Milling, Syngenta, Beta Seed, Crop Production Services, Cooperative Elevator, Dave Hausbeck Trucking, Bayside Best Beans, Michigan Crop Improvement Association, Thumb National Bank, Frank Farms, Stoutenburg Farms, Atwater Farms and Comerica Bank. Additional gifts are still being sought for the project. All donors with gifts documented on or before August 1, 2015 will be recognized on a "Wall of Fame" in the new Education Center.
Gifts to support the development of the SVREC Agricultural Education Center are part of Empower Extraordinary, the Campaign for Michigan State University, a $1.5 billion capital campaign publicly launched in October 2014, in which, to date, more than $900 million in private gifts have been raised.