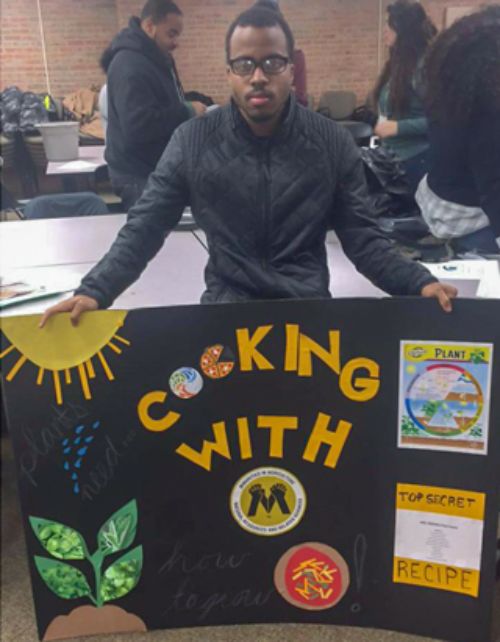 Food Industry Management senior Martin Oglesby led two workshops at the Michigan Family Farms conference in Kalamazoo, Michigan on February 3, 2018. Michigan Family Farms is a conference that offers professionals in the agricultural industry opportunities to learn and network with those from different backgrounds.
Oglesby attended the Michigan Family Farms Conference as a parliamentarian of Minorities in Agriculture, Natural Resources, and Related Sciences (MANRRS), a national organization that promotes academic and professional advancement by empowering minorities in agriculture, natural resources, and related sciences.
Within this conference, MANRRS provided workshops for children ages 4-17. Oglesby and team members first taught the children how to make a pizza garden — a lesson that teaches about the life cycle of plants with hands-on activities like planting basil, thyme, and oregano seeds. MANRRS' second session was focused on composting, and the students were able to create a soil energizer using recycled materials and a kid favorite — worms.
"Not only did I teach the kids about gardening and composting, but I told them about life as a college student, which they were very interested in," said Oglesby. "Seeing the kids having fun is something I admire and is inspiring to me. It was an honor for me to be a part of this conference and I would love to get this sort of experience every year."
Michigan Family Farms hosted other workshops such as Making Food Safety Work for your Farm and What Do You Need to Know About Selling at a Farmers Market? Oglesby said, "These opportunities give farmers a better understanding of how they can make their farm or farmer market more resourceful to the environment."
Oglesby will graduate in May, 2018 and hopes to become a grocery manager for an organization like Aldi, and would eventually like to develop his own grocery store in his hometown of Detroit.